Decentralized Finance, or DeFi as it has come to be famously known in the crypto world, is a fairly novel concept with unlimited possibilities. DeFi is an umbrella term referring to all financial instruments involving smart contracts, crypto assets, blockchain protocols, and decentralized applications. DeFi has been one of the fastest growing categories of crypto assets since 2019. In 2020, DeFi gained prominence as evidenced by the growth of the DeFi sector from USD 700 million in January 2020 to the current USD 42 billion.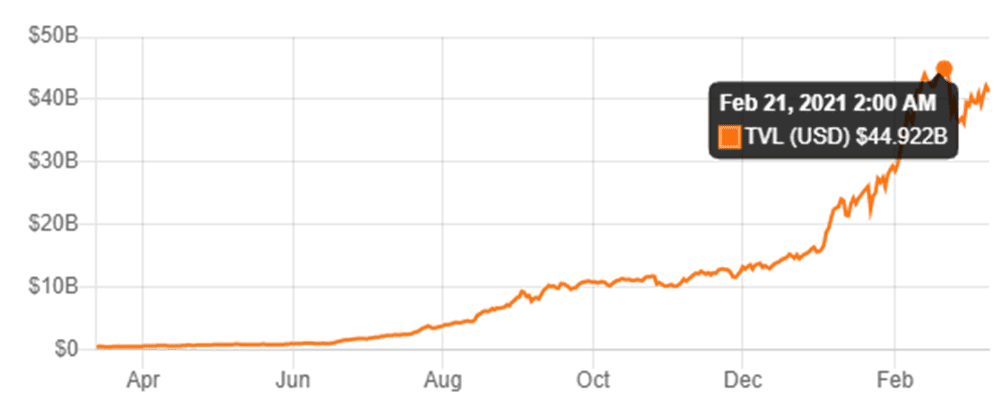 TVL (defipulse.com)
Fortunately, Bityard extends the opportunity to its users to be part of the meteoric rise of DeFi tokens by making it possible to trade DeFi coins on the Bityard platform. You can trade these DeFi pairs on Bityard: AAVE/USDT, ALPHA/USDT, BAND/USDT, COMP/USDT, CRV/USDT, KNC/USDT, LINK/USDT, LRC/USDT, MKR/USDT, REN/USDT, SNX/USDT, SUSHI/USDT, UMA/USDT, UNI/USDT, WNXM/USDT, YFI/USDT.
The success of DeFi coins has been attributed to several reasons. However, central to the success of DeFi is the creation of smart contracts. Smart contracts paved the way for developers to create borrowing and lending instruments that did not require an intermediary to oversee the fulfilment of the transactions.
Smart contracts
The birth of Ethereum made it possible for developers in the crypto space to start building platforms that would mimic instruments in the traditional financial system. These decentralized platforms eliminated the need for an intermediary such as a banker or lawyer to oversee the transaction. Instead, everything was written in code in the simplified form of "if X, then Y". it means that if event X happens, it should be followed by event X. this is the basis for all smart contracts. It's a self-executing contract that that as long as you fulfil your X end of the bargain, the protocol will automatically execute the Y end of the bargain.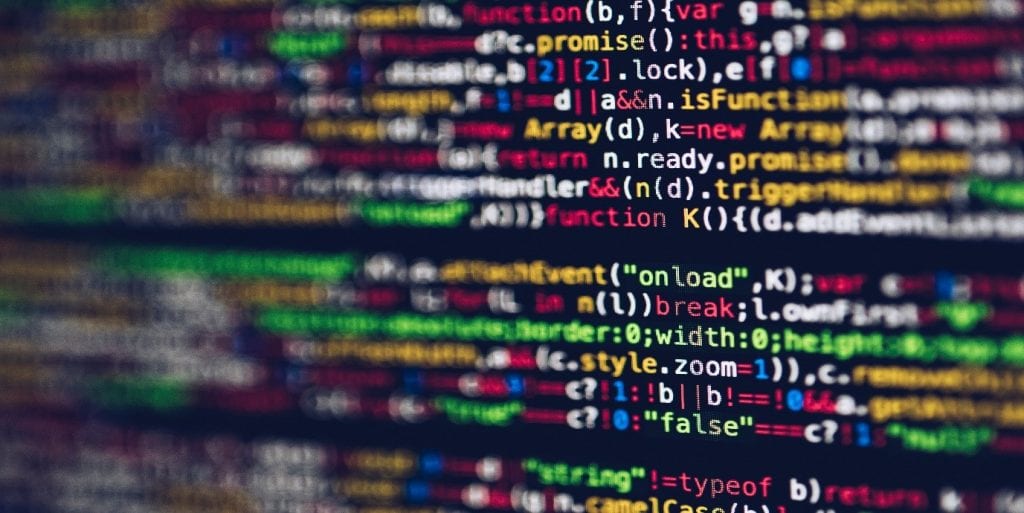 Smart contracts are self-executing lines of code
 The popularity of DeFi
The concept of smart contracts made DeFi a very attractive alternative to banks and mainstream financial services. The main features that have driven the popularity of DeFi are as follows:
With DeFi, there is no central authority to exclude anyone from participating in the decentralized financial services, as is the case with banks who have the discretionary right to deny borrowing or lending services to anyone deemed to not fit a certain profile of creditworthiness.
KYC and AML regulations around the globe have made it difficult for some individuals to participate in centralized financial service. However, DeFi eliminates the need for KYC/AML registration, thus making it possible even for the unbanked to participate.
DeFi is self-regulating and open for all. Anyone who has an internet connection and meets the criteria in the code is free to participate.
The elimination of a middleman has made DeFi cheaper and more efficient than banking services. As a result, users can borrow at much cheaper rates and lend at rates that no bank can beat.
DeFi tokens on Bityard
With the advantages listed above, came the rapid growth of DeFi. Consequently, money has been pouring into these smart contracts. Most DeFi platforms have their own native tokens which you can trade on Bityard. Today, DeFi coins are among the most popular and fastest growing coins on the market. DeFi tokens on Bityard mainly fall into 3 categories, namely Governance Tokens, Revenue Shares Tokens and Platform Tokens. The line that separates these categories is very thin.
Governance tokens are used to power the voting system on a particular blockchain protocol. Examples of these coins on Bityard are AAVE, UMA, MKR, CRV, KNC and COMP. WNXM is a wrapped version of NXM (Nexus Mutual), an insurance platform that offers cover for smart contracts on the Ethereum network. Revenue shares tokens allow holders of said tokens to receive a dividend. Platform tokens are those that offer no governance or revenue sharing, such as LINK.
Conclusion
Defi is definitely the future of finance. The trustless system and cutting out the middleman are an attractive proposition to central finance who are always looking for ways to cut costs, increase efficiency and gain customers' trust. Therefore, the future of savings, lending, trading, insurance, and more determine will be highly influenced by the innovations in the DeFi sector. It is only a matter of time before traditional finance adopts this technology. Therefore, DeFi coins on Bityard are anticipated to continue to grow.