The $YIELD token presale starts on July 14th, $USDY early offering begins on July 16, $YIELD & $USDY are launching on July 18 via PancakeSwap. Want early access to $YIELD? Go to: https://buy.yieldtopia.finance/
YieldTopia was developed by a great team of crypto enthusiasts who really understood finances and economics. They believed that one could derive more profit from their own money than from a bank. "We made it our mission to create a safe and sustainable protocol that's profitable to its investors" — says Mark, CEO of YieldTopia. Learn more about YieldTopia vs. Traditional Banks: "Top U.S. Banks APY vs YieldTopia 's APY — Which one is better? We did the math and the results are shocking! — Click to find out 🤯 — YieldTopia.finance" (source: https://docs.yieldtopia.finance/introduction/yieldtopia-vs-banks)
What is YieldTopia
YieldTopia works on an advanced protocol that delivers high APY returns, along with critical features like auto-staking, deflationary APY, and auto-compounding. It's the mechanism behind YieldTopia that separates it from the crowd. Besides offering a 42,069% APY, the platform provides several beneficial utility DApps to support the protocol.
The project is intended to be scalable and sustainable in the long run, and it's designed keeping these considerations in mind. It achieved that by developing an ecosystem around the various protocols and its native token $YIELD. The token's primary purpose is to constantly add value to the protocol and the YieldTopians (community members), unlike other DeFi platforms that solely rely on a green market, for instance, Celsius, BlockFi, AnchorProtocol. The various components of this elaborate ecosystem include $YIELD native token, $USDY stablecoin, YieldSwap: DEX, YieldPad: Launchpad, Governance Dashboard, Yield NFTs: NFT marketplace, and the most advanced of all, the YieldTopia yield protocol.
All about the exclusive 'YieldTopian Membership Card' (NFT)
That's not all that YieldTopia offers to its community; there is much more! The 'YieldTopian Membership Card' was one of the aspects that drew our attention. It offers unique benefits to the qualified community members across the ecosystem as well as the partners. If you are wondering whether to get a membership card, here are the reasons why you should:
Benefits of holding a YieldTopia Membership Card
Early access to YieldTopia's native tokens, $USDY and $YIELD 

Special airdrops for those holding membership card

Be amongst the first ones to try the Beta applications

Governance: Double voting power

YieldNFTs: Zero platform fees to be charged when trading their NFTs

YieldSwap: Zero platform fees to be charged when swapping tokens

YieldPad: Zero platform fees to be charged when taking part in pre-sales

Staking & Farming Pools: Allows access to members-only farming and staking pools

VIP title on YieldTopia's chats (Telegram & Discord)
Future Benefits:
Both physical and digital Debit Card is offered which is attached to your token's wallet.

A series of private yacht parties, events, and exciting collaborations with partner's events.
Understanding The YieldTopia Ecosystem
$YIELD Token: https://app.YieldTopia.finance
$YIELD will be the native token on the YieldTopia ecosystem and will be used to facilitate transactions. The token and the platform's utilities are designed to benefit the holder and help achieve profit in the long run.
Here, all you have to do is transfer your $YIELD token assets to the farming and staking pools to receive a high deflationary APY. Remember, the rewards, too, will be paid out in the native token, $YIELD. The token can also be lent to other users or borrowed from them. In addition, you can use the swap facility to exchange it for other cryptocurrencies or provide liquidity. Also, the token provides voting power to its holders. The more tokens held by a user, the higher their say! And the best part, you will receive regular rewards just by holding $YIELD.
$USDY, the project's own stablecoin:
YieldTopia yieldtopia $YIELD token yield crypto yield topia finance protocol ecosystem yield ecosystem USDY stable coin $USDY stablecoin
$USDY is a stablecoin pegged at 1:1 to the $BUSD. Mark, CEO of YieldTopia, says, "$BUSD is rated as the most reliable stablecoin in the crypto space, considering that it is owned by Binance, the biggest crypto exchange in the world, we agree with that statement."
The platform offers part of its profit to those holding $USDY, along with the option to provide liquidity on YieldSwap. Remember, the one holding a YieldTopian membership card will be given preference and access to $USDY first.
One of the aspects of YieldTopia that makes it a favorite amongst crypto enthusiasts is that it offers the community the option to draft and present proposals and vote for those introduced by others. It includes proposals that involve changing the tax structure, modifying the platform fees, and fund allocation, amongst others. Those holding the YeildTopia Membership card get 2x voting power.
YieldSwap (DEX): https://YieldSwap.finance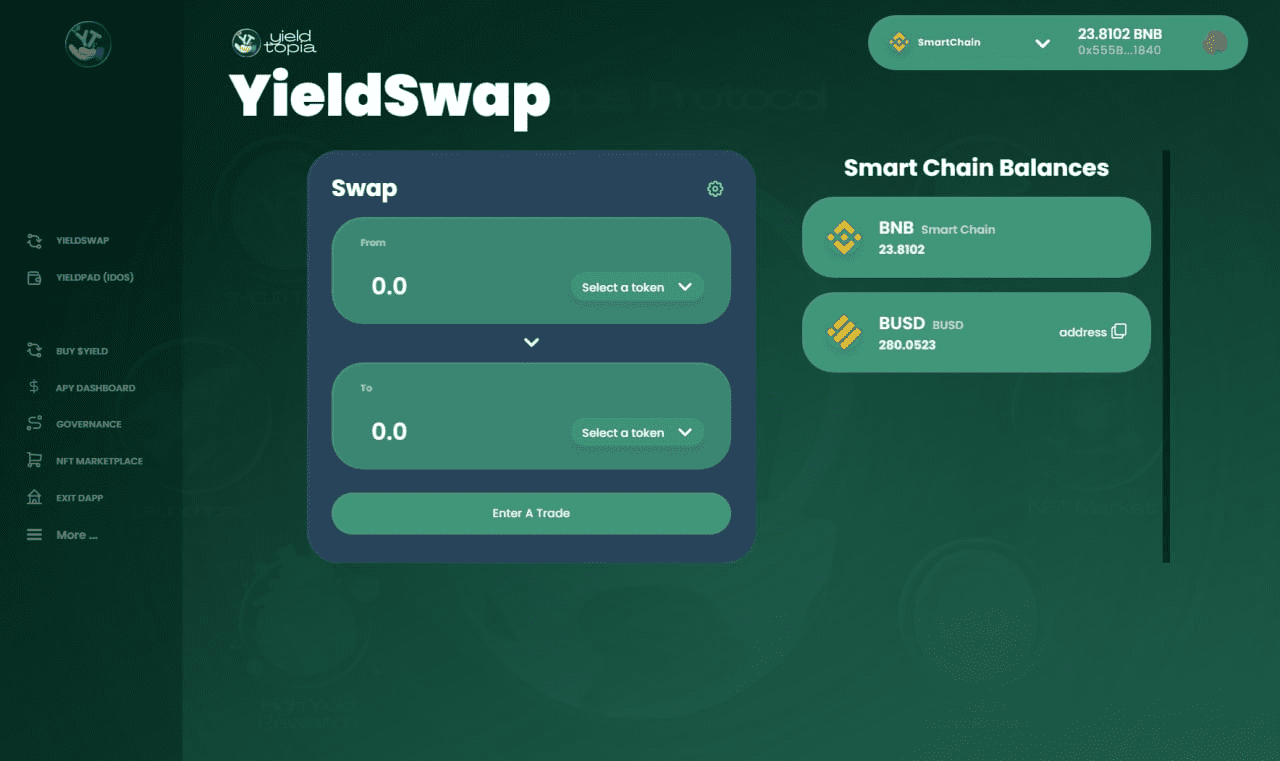 YieldTopia's Swap is a Decentralized Exchange (DEX) to convert one cryptocurrency to the other seamlessly. The fees collected through it will be transferred to the various pools and funds to back the native token, $YIELD.
No platform fees will be charged from YieldTopian Membership Card holders.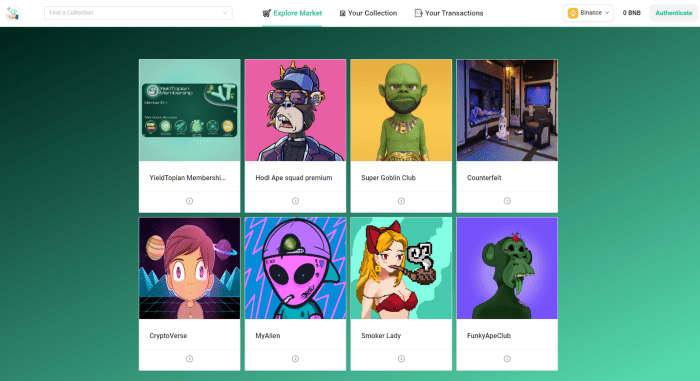 If you have always wanted to create and sell NFTs to customers worldwide, YieldNFTs would be the perfect platform. It supports Ethereum, Polygon, Binance Smart Chain, and Avalanche. The marketplace charges extremely low platform fees, or sometimes none, for collections like BoredApeYachtClub. And as was the case with other components of the ecosystem, YieldTopian Membership Card holders won't be charged for transactions on YieldNFT.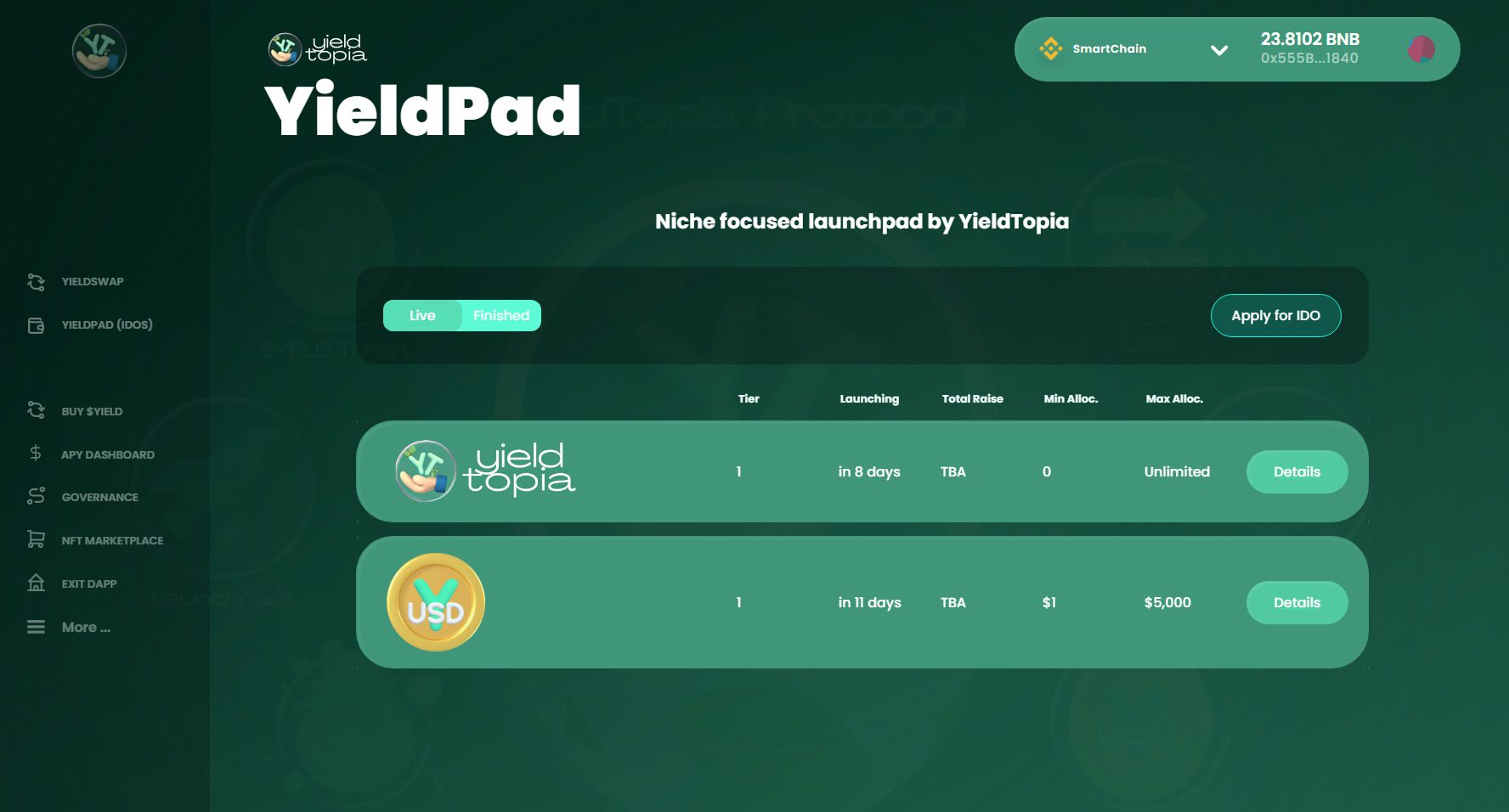 YieldPad lists Yield-related projects already vetted by the team and have the potential to make it big in the market. Those with a membership card won't be charged any platform fees.
The Sustainable Yield Protocol on YieldTopia:
Starting at 42,069% APY for early adopters. Hurry up!
Dashboard: https://app.YieldTopia.finance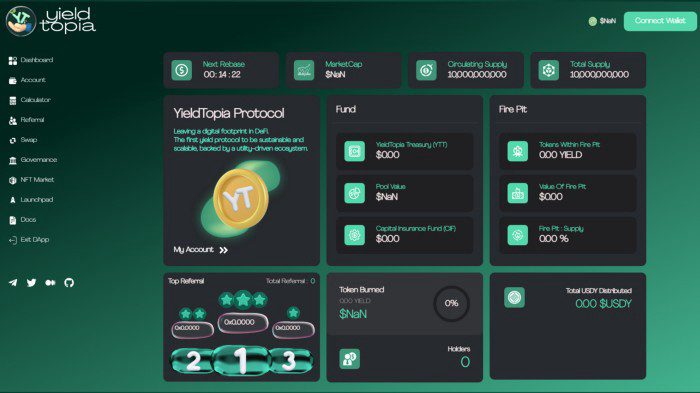 YieldTopia's Yield Dashboard https://app.yieldtopia.finance
#Key Factors Of The Mechanism
Anti-Dump Protection 

Capital Insurance Fund 

Automatic Rebase done every half an hour

Auto-Staking 

Auto-Compounding

Referral Program

Fire-Pit Burn Mechanism

Treasury Fund & Governance Control

Deflationary APY System 

Automatic Rebase, Deflationary APY, Auto-Compounding:
The platform offers APY (Annual Percentage Yield) starting at 42,609%, which undergoes a deflationary process every 30 days, meaning that it decreases by 10% after this period. Also, token holders are rewarded every 30 minutes, which includes auto-compounding and auto-staking.
Referral Program:
Like every other platform, YieldTopia needs more members to sustain and remain profitable to investors in the long run. To achieve that, it rewards existing users who invite new ones. If the person you invited joins, you get 1.5% of their transaction taxes, while the one who was invited will receive a 0.5% discount on their transaction taxes, and both will be for a lifetime. It's a win-win situation for everyone, so invite as many as you can!
To create your referral link: http://app.yieldtopia.finance/referral
Anti-Dump Protection (ADP):
Pump and dump is often regarded as the biggest threat to any project's success. To combat it, YeildTopia has announced Anti-Dump Protection (ADP) to protect your investment, which will be hard-coded into the contract source code of $YIELD. In this, investors can only offer to sell 5-20% of their holdings per day. The trading volume at a given instant determines the permissible percentage, but it can be modified if the community collectively raises and passes a proposal. Also, holders won't be able to make a wallet to wallet transfers since it allows them to bypass the Anti-Dump Protection mechanism.
Capital Insurance Fund (CIF):
The Capital Insurance Fund (CIF) plays a critical role in supporting the APY system. It receives capital from the platform fees for YieldTopia's dApps, and from the 3% & 5% transaction tax levied on Buy and Sell, respectively. The Insurance Fund is used to buy back the $YIELD tokens, which are then burnt. When it happens, the total number of tokens in circulation falls, thus increasing the value of the $YIELD tokens that exist.
Fire-Pit: Burn Mechanism:
The Fire-Pit mechanism is employed to aid the $YIELD token and ensure its sustainability. For instance, if there was a market downtrend and investors were forced to release their holdings, the Fire-Pit mechanism would automatically kick in and start burning $YIELD tokens collected through tax.
Treasury Fund & Governance:
The Treasury Fund, utilized for marketing and development of the platform, receives capital from the transaction tax specifically dedicated to it. Also, the community decides on the allocation of funds through the Governance Dashboard. And this is one of the best parts about YieldTopia; it lets the community take all major decisions. For instance, if you believe that a particular firm could handle a task, raise a proposal for it, and if the majority votes favorably, that firm would be handed over the contract.
Deflationary APY Projections: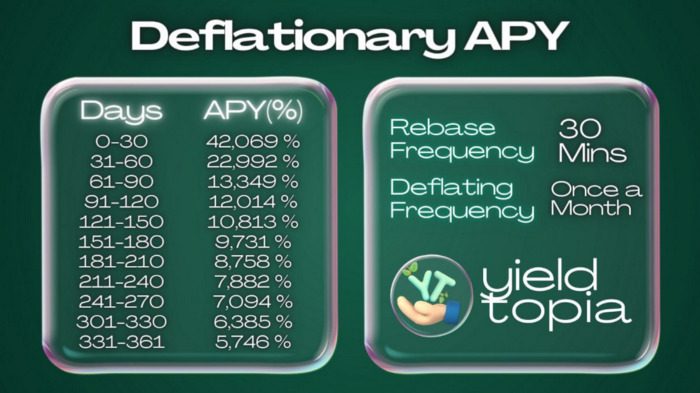 For the full APY Projection list, navigate to: https://docs.yieldtopia.finance/yieldtopia-ecosystem/deflationary-apy-projections
Transaction taxes levied on the $YIELD token
Buy Tax 9%
-2% Liquidity Growth
-3% Capital Insurance Fund (CIF)
-3% Treasury Fund
-1% Firepit (burn mechanism)
Sell Tax 13%
-3% Liquidity Growth
-5% Capital Insurance Fund (CIF)
-4% Treasury Fund
-1% Firepit (burn mechanism)
YieldTopia Contract Audited by: InterFi
https://docs.yieldtopia.finance/native-token/audit-and-kyc__
Join The Community!
Website:https://YieldTopia.finance
Whitepaper:https://docs.yieldtopia.finance
Medium / Blog:https://medium.com/@YieldTopia
Twitter:https://twitter.com/YieldTopia
Instagram:https://instagram.com/YieldTopia
GitHub:https://github.com/yieldtopia
TikTok:https://tiktok.com/YieldTopia
YieldTopia dApps:
YieldTopia Dashboard: https://app.YieldTopia.finance
Governance: https://vote.YieldTopia.finance
YieldNFTs (NFT Market): https://YieldNFTs.finance
YieldSwap (DEX): https://YieldSwap.finance
YieldPad (Launchpad): https://YieldPad.finance
$YIELD & $USDY: https://docs.YieldTopia.finance
$YIELD Index: https://nomics.com/assets/yield6-yieldtopia
$YIELD Token Contract Address: 0xA3a3D699B0a3a027d32C8d5040352ddE1b8A8106
** $USDY Token Contract Address:**0xeCf584ce2c90663eF79F200f82A1FB5732257E88
Early Token Sales:

Presale Link:
https://www.pinksale.finance/launchpad/0x06992e197aE564C82B4Db229A1ab0361A17B5519?chain=BSC
$YIELD Token Presale: July 14–16
$USDY Stablecoin Presale: July 16
**Launching July 18:**7 PM (UTC) / 3 PM (EST)
Participate in the presale: https://buy.yieldtopia.finance
Inquiries & Press Contact Info:
Name: Mark Goldstein (CEO)
Email: mark@yieldtopia.finance