Above: Pieza Madre by Andoni Beristain
For the third year, Le Good Society, a UK based organisation committed to the arts and activism has assembled a group of talented artists to raise awareness around plastic pollution and the importance of the oceans this Plastic Free July. The outdoor art exhibition is featured across billboards in the UK, Denmark, the Netherlands and New York's Times Square to inspire one and all to reduce their plastic usage this Plastic Free July and forever more.
Le Good Society founder Tia Grazette elaborates, "Plastic pollution is one of the greatest threats facing our planet. It is in the air we breathe, the food we eat, the water we drink, and the clothes we wear — killing wildlife and polluting the oceans. We all need to really understand this and take whatever actions we can to help.'
Titled "Let's Live With Less Plastic," the outdoor art exhibition and online art and NFT auction is one not to be missed, showcasing work from standout artists including Anthony Burrill, Sarah Maple, Shingai, Dave Pollot, Matthieu Braccini, Denis Sheckler and Tom Hodgkinson.
Grazette shares, "The art is unexpected, catches your eye, and is a powerful way to communicate a message so critical to life on earth." Other artists include; Paul Davis, Luap, Hunto, Tia Grazette, Heath Kane, Ben Zank, Frank Goffey, Cara Gaskell, Yoanna Bochowski, i, Vincent Zulawski, Damara Ingles, Antoine Aveline, Lucie Cure and Andoni Beristain.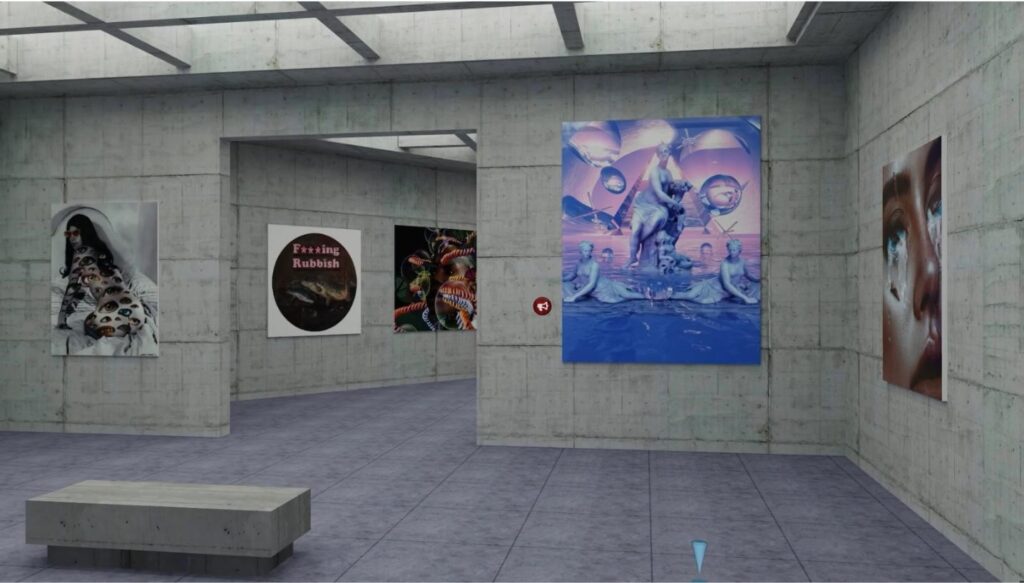 View inside the virtual online exhibition. Art from left to right: The most heightened state of being no.7 by Sarah Maple, F***ing Rubbish by Heath Kane, Time for a revolution by Shingai, The Entire Ocean by Vincent Zulawski and Antoine Aveline, Sea Eyes by Denis Sheckler.
Paul Davis has created a series of illustrated NFTs depicting plastic particulates coursing through parts of our bodies including the lungs, circulatory system, brain and even our sexual organs to provoke conversations about plastic's vast unforeseen health consequences, as researchers now grapple with this. Vincent Zulawski and Antoine Aveline discuss the fate of the oceans in their enticing NFT supported by poetry, as it is reported that 32% of the 78 million tonnes of plastic packaging produced annually is left floating in our oceans – equivalent to dumping a rubbish truck filled with plastic into our ocean every minute. While Tia Grazette focuses not only on the impact the human race is having on the planet in her NFT but also the impact plastic pollution is now having on the human race and our inherent dependence on the oceans and water alike.
This year's event also includes a new online 3D virtual exhibition with Hedera Gallery built on the Hedera network, beach cleans and an online art and NFT auction with the digital versions of the art utilising the greenest, most sustainable enterprise-grade public distributed ledger, Hedera – described as a successor to blockchain technology. The Hedera Network is not only carbon negative but 75 transactions on the Hedera Network use as much energy as one swipe of your Visa card.
The online auction aims to raise vital funds for plastic pollution and ocean conservation through the charity partner, Oceanic Global. Donations support Oceanic Globals work to protect and restore the health of our blue planet and all it sustains. Oceanic Global's work has removed 993,746,227 single-use plastics from entering the ocean long-term. Every £1 raised will help prevent 1KG of plastic from entering the ocean.
"From day one, Hedera has had a keen environmental mindset, and recognises not only the importance of being a carbon-negative network, but also of the key role that technology can play in creating awareness and solving the issues we face around environmental pollution of all kinds," said Christian Hasker, CMO of SwirldsLabs, driving adoption of the Hedera network. "Artists globally are minting their NFTs on the Hedera network and exploring other ways to leverage distributed technology to ensure that their art aligns with their ESG values, and leaves the world a better place than they found it."
The outdoor art exhibition, virtual exhibition and online auction runs until 31st July Access both the virtual exhibition and online art & NFT auction via www.legoodsociety.com Follow @legoodsociety @hedera @oceanic.global on instagram and twitter.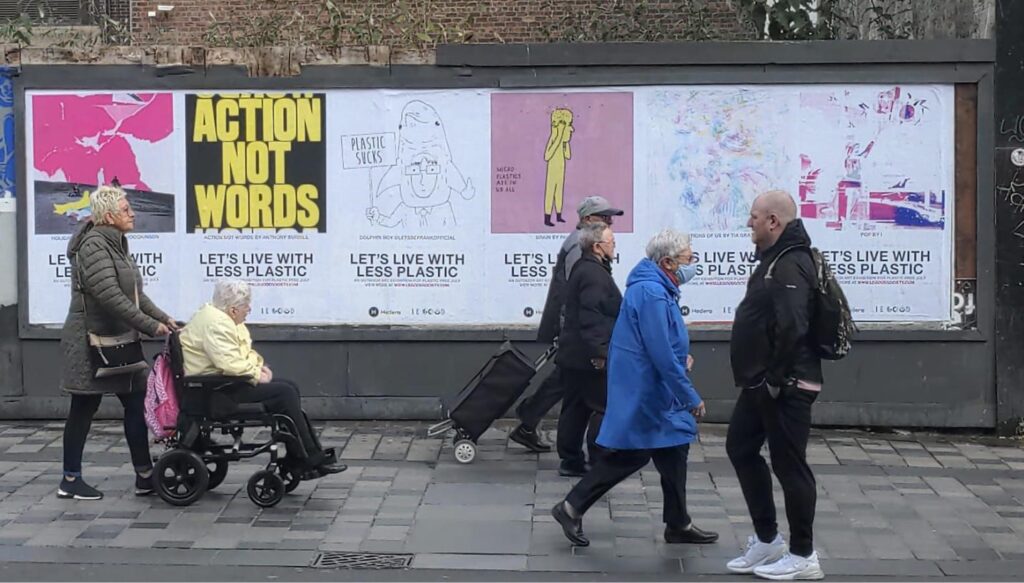 Above art from left to right: Holidays in the sun by Tom Hodgkinson, Action not words by Anthony Burrill, Dolphin Boy by Frank Goffey, Brain by Paul Davis, Reflections of us by Tia Grazette, Pop by i.
RELATED ITEMS:BUSINESS,