Known for creating premium luxury vehicles with outstanding performance features, BMW also provides customers with numerous accessory options aimed at improving the overall appearance and usability of their cars. Boosting the speed, design, and handling abilities of your BMW car with their performance bmw accessories range which is specifically crafted for this purpose. From aerodynamic design to extremely lightweight equipment – The BMW Performance line provides significant enhancements for both the interior and exterior of your car. Rear spoilers and mirror covers are just a few examples of the numerous styling choices available to you.
These are the most popular BMW Performance accessories every BMW driver should get:
Brakes
By choosing to upgrade your BMW's brakes for better performance you can greatly improve its stopping power and agility. Bigger rotors and high-friction brake pads are typically included in performance brake systems as they effectively improve the vehicle's braking capability, particularly in challenging driving scenarios. Such an improved braking system is more resistant to the high temperatures that occur during braking, so even at higher speeds, the brakes are much better.
Spoilers
Made of carbon fiber, the spoiler mounted on the trunk is not only a great design element of the car but also an additional part that helps to improve the aerodynamic characteristics of the car. When driving at a higher speed, the spoiler helps to press the rear axle of the car to the road and increase its grip. Due to this, the car becomes better controlled and more stable.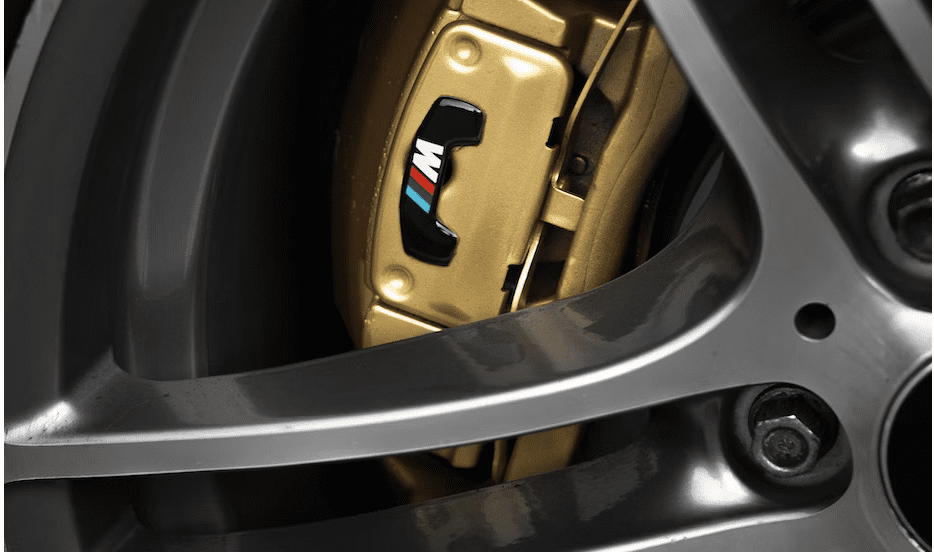 Exhaust system
Achieving optimal exhaust gas flow is made possible by installing a performance exhaust system which is among the top-rated BMW accessories for boosting horsepower. Besides that, having a performance exhaust system installed on your BMW could amplify its sound producing an even stronger and more aggressive tone.
Chassis
The potential to enhance the stability and maneuverability of your BMW exists by improving its suspension system. In order to achieve better handling while maintaining comfort during driving experiences on rough terrain or at high speeds requires the use of adaptive coilovers combined with sports-tuned shocks as well as stiffened sway bars which make up most performance suspensions. Despite the fact that this upgrade is not visible to the naked eye, it is still one of the most popular ways to improve the performance of your car and give it added value.
Performance body trim parts
Contrary to what many people think, sporty BMW Performance body trims have a direct impact not only on the appearance of the car but also on its performance on the road. This is because the front bumpers, sills, and other parts are adapted to maintain good aerodynamics.
Most of these accessories can be found here: lllparts.co.uk. A wide range of genuine products and a team that will always help you choose the best BMW car parts.
BMW is a German multinational automobile and motorbike company. BMW is an abbreviation for Bayerische Motoren Werke, which translates to Bavarian Motor Works in English. The company was formed in 1916 as a manufacturer of aircraft engines and eventually expanded into the production of automobiles and motorcycles. BMW is headquartered in Munich, Bavaria, Germany, and also owns the Mini and Rolls-Royce brands.