New York, USA — TheLuxuryAssetClub.xyz launches the world's first Meta-Raffle with a 3D wearable Hublot watch, signed by Kobe Bryant.
The Luxury Asset Club's (TLAC) first blue-chip NFT offering will consist of a limited edition one-of-three in the world 18k Rose Gold Hublot watch designed and signed by Kobe Bryant, a signed Nike Zoom VIII sneaker, and a custom curated 3D twin created by The Luxury Asset Club's in-house design team.
"The Meta-Raffle," explains project co-creator Gregory Gadson, "combines blockchain technology such as smart contracts and NFT's with the model of a traditional raffle. The winner will be announced through an NFT."
The project roadmap will include member-voted luxury asset offerings, formal charity partnerships, merchandise and exclusive airdrop opportunities. Members will also have access to attend private asset release parties.
Recently announcing a partnership with Virtual Reality & Augmented Reality platform, SuperWorldApp, The Luxury Asset Club will formally tokenize and on-board their physical assets into the metaverse. TLAC co-Creator, Diamonté Zarba, is quoted saying "We have secured strategic international partnerships that will allow us to leverage underlying technologies, the blockchain and a modified gaming structure to give away ultra-luxury physical assets."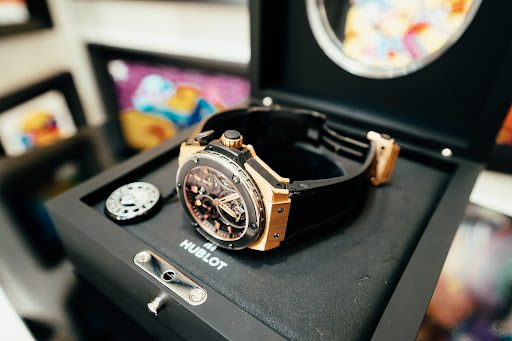 The team at TLAC has partnered with Make-a-Wish Greater Los Angeles to donate a percentage of proceeds. Make-A-Wish was a charity that was near and dear to Kobe Bryant as he made 200 children's wishes to meet him come true. TLAC aims to honor Bryant's legacy by making this pledge. "This donation is making a world of difference to our organization and many children will benefit from it." Says Michael Kalhoff, CEO of Make-A-Wish, Greater Los Angeles.
This model also allows the team at The Luxury Asset Club to bridge the worlds of innovation with impact. Chief Visionary & Strategist Bulolo Jonga states:
"Charitable donations will be made from the proceeds of each raffle based on the charity the community chooses. Every part of the process ensures we are democratizing an emblematic experience mastered in the luxury space to the benefit of the physical and digital world."
Dating back to 2013, when Kobe designed and signed the Hublot King Power Black Mamba watch, which features 27 jewels mono-metallic balance rotating in a turbine carriage, manual winding brushed movements, 18k rose gold titanium case and a ceramic bezel. Furthermore, it features a subsidiary dial for chronograph thirty-minute registers and a sapphire back secured firmly by Kobe Bryant's signature.
The Luxury Asset Club has their official whitelist set to launch in Mid-April with public mint to be announced shortly thereafter. Further details to enter their Meta-Raffle are available at their website: TheLuxuryAssetClub.xyz
ABOUT THE COMPANY
The Luxury Asset Club is an exclusive online community revolutionizing the ownership of rare exclusive collectible assets. TLAC revolutionizes the process in which ultra-luxury assets are sold and held while bridging the advantages of the web3 world to the disadvantaged. By using the group economic model to liquidate high value collectible assets, TLAC aims to bridge the worlds of innovation with impact using web3 technology. By revolutionizing the ownership of luxury assets, TLAC is pushing forward web3 initiatives that support equal opportunities and protections for all.
Social Links:
IG: @theluxuryassetclub 
Twitter: @luxuryassetclub
Media Contacts:
Company Name: The Luxury Asset Club Contact Person: Public Relations Team at TLAC 
Company E-mail: team@theluxuryassetclub.xyz Website: https://www.theluxuryassetclub.xyz/