The HGV industry is currently experiencing a surge in growth and presents a multitude of opportunities for prospective drivers. Recent statistics from a comprehensive study conducted by Logistics UK demonstrate positive trends and highlight the numerous advantages of pursuing a career in HGV driving.
London, UK, July 28, 2023 – The study reveals a significant increase in practical HGV tests conducted in the first quarter of 2022, showcasing a 43% rise compared to the same period in 2019. March 2022 witnessed an exceptional achievement with a record-breaking 10,481 tests undertaken, resulting in an impressive 60% pass rate.
Alongside these encouraging figures, HGV driver wages have also witnessed a substantial increase. Advertised salaries for drivers qualified to handle the heaviest vehicles rose by an average of 25% in Q1 2022 compared with the previous year. This rise in wages aims to attract new drivers and retain existing staff, highlighting the industry's commitment to growth and professionalism.
Tom Mcghie, Managing Director of The LGV Training Company, expressed his enthusiasm, stating, "The HGV driving profession provides an outstanding opportunity for individuals seeking a fulfilling and prosperous career. With the industry experiencing steady growth and increased demand for qualified drivers, now is the perfect time to enter this dynamic field. HGV driving offers job security, competitive wages, and a diverse range of opportunities to contribute meaningfully to the economy."
Despite the ongoing shortage of drivers, the industry is demonstrating a positive trajectory, making it an attractive option for those considering a career change or new job prospects. The LGV Training Company encourages individuals to explore HGV training, which offers stability, attractive salaries, and the chance to contribute to essential sectors such as food supply, fuel transportation, and medical logistics.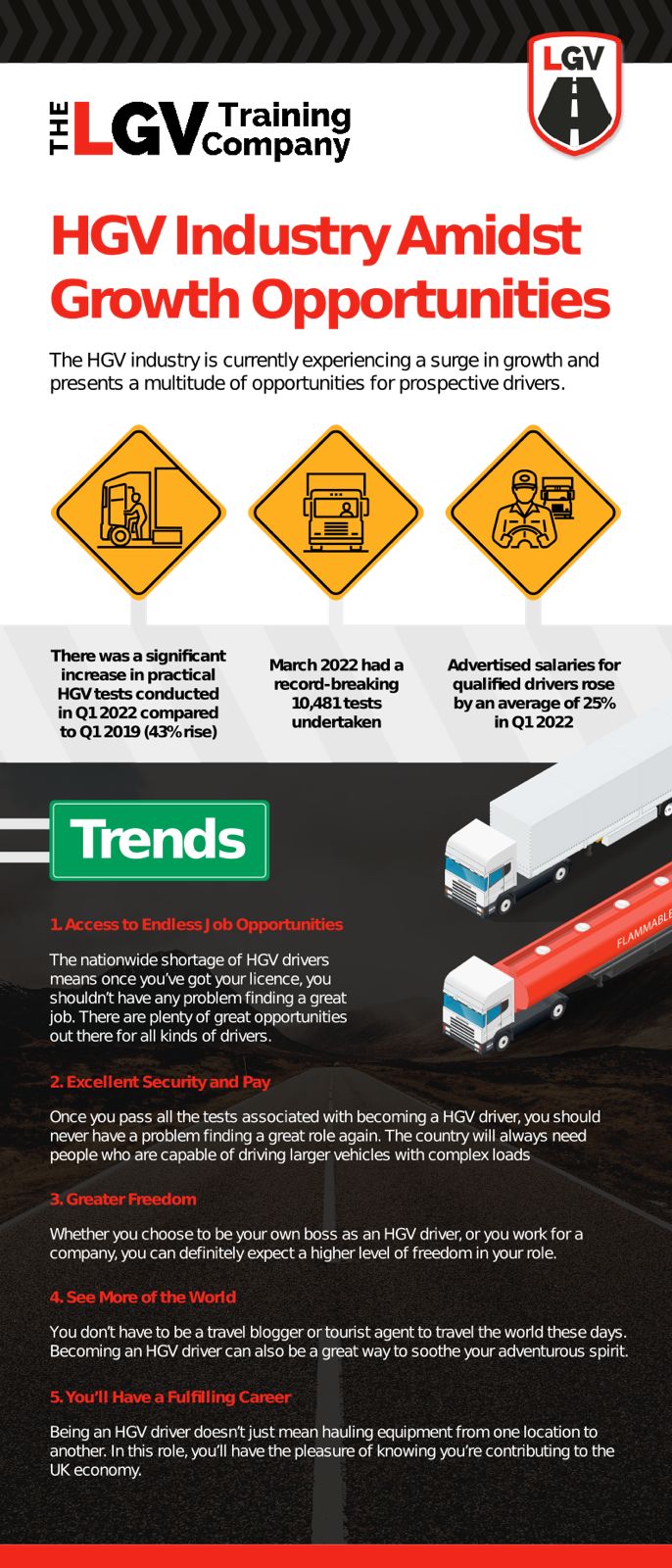 The company's commitment to promoting HGV training as a viable career path aims to bridge the current gap in the driver market. This support towards aspiring drivers is not just about filling vacancies, but also about nurturing the next generation of professionals who will ensure the smooth running of key sectors of our economy. In an era where job security is often uncertain, the HGV industry stands out with its stable demand, driven by the perpetual need for goods transportation.
Moreover, the training provided by organizations like the LGV Training Company is designed to equip trainees with the skills and knowledge they need to excel in the field. This creates a win-win situation, with individuals gaining access to rewarding employment opportunities and the industry benefiting from a skilled and reliable workforce. The HGV industry's role in sectors such as food supply, fuel transportation, and medical logistics is irreplaceable, and by joining the ranks, individuals will find themselves contributing to some of the most critical areas of our society. The career path, therefore, offers not only stability and attractive remuneration but also a sense of satisfaction from playing a vital part in these crucial sectors.
About The LGV Training Company: The LGV Training Company, a leading provider in the UK, offers top-notch HGV training courses and recruitment services. With 90+ nationwide training locations, they provide personalised 1:1 support, handling medical, theory, and practical training, helping candidates obtain their HGV license and secure their ideal driving job.