The majority of today's consumers research goods and services online before deciding what to buy and where. Insurance policies are no exception, which is why it's important for insurance agents to have professional websites.
The Purpose of Insurance Websites
There's a temptation for more old-fashioned agents to think of a website as nothing more than a digital business card. However, a well-designed website will be far more useful. When done right, insurance agent websites make effective centerpieces of digital marketing campaigns, establish a professional image, build a brand, and make it easier to both attract and follow up on new leads.
Reach More Customers
People researching insurance policies online have already taken the initial steps into the sales funnel on their own, so they're primed for making purchases. Potential customers doing their due diligence before deciding who to call will only know about local insurance agents that have websites.
Maintain 24/7 Access
Insurance agents close their offices each day and head home to enjoy their time off. Websites don't have to do that. They provide 24/7 access to information about products and policies, which means they can generate leads even while agents sleep.
Learn About Visitors
As prospective customers interact with an agent's website, they provide valuable information about themselves and their behavior, often without even realizing it. Well-designed websites offer opportunities for data collection and analytics, which enables agents to better understand consumers.
Explain Complex Products
Most people don't go into the search for insurance products with a clear idea of what every term means, which can make it hard for agents to convey the importance of having the right policy in place. A well-designed website can incorporate a FAQ page, blog posts, and other resources that help to clarify things like coverage benefits, limits, and exclusions to make the differences between similar policies clear.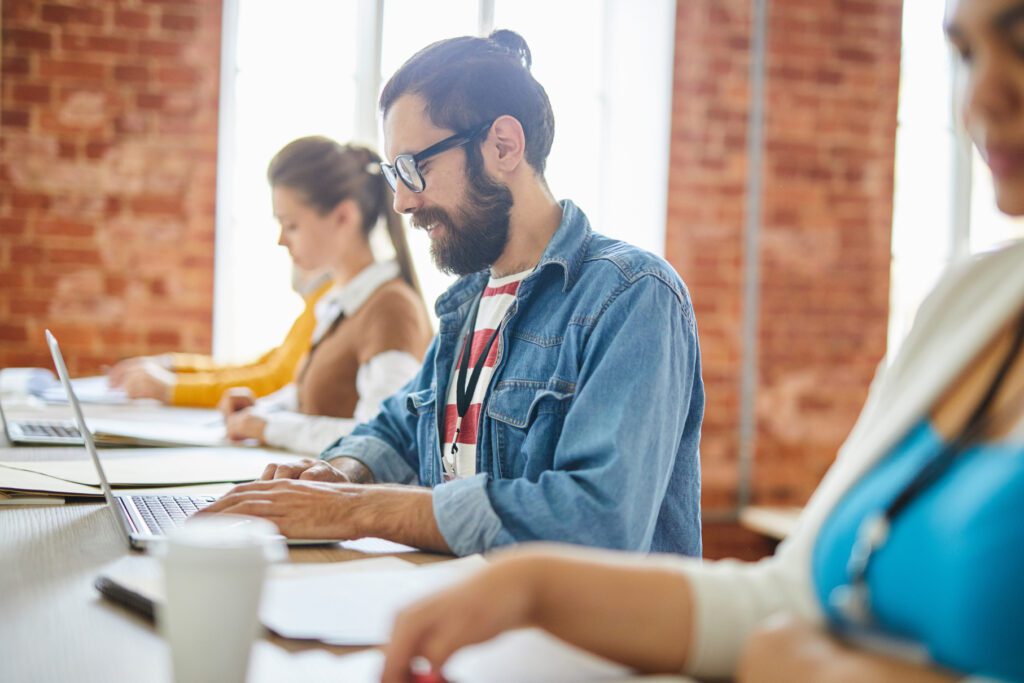 Build Credibility and Trust
Professional websites make insurance agents look more trustworthy and help them build credibility with potential customers. Incorporating relevant, accurate information into policy descriptions, including a blog, and ensuring that the site provides a positive user experience can make the agent look even more professional.
What Every Good Insurance Agent Website Has in Common
While it's true that every insurance agent has a slightly different set of products and potential customer base, there are some features that all good insurance websites share. Without these basics, the rest doesn't matter.
Responsive Design
Modern web design is mobile-first, meaning that sites need to be fully responsive on smartphones, tablets, and other mobile devices as well as laptop and desktop computers. Around 15% of Americans are considered smartphone-dependent, meaning they don't have traditional broadband service, and an astounding 85% of people have and regularly use smartphones, even if they still browse at home using their computers. A responsive website maximizes reach by accommodating browsers across this spectrum.
Straightforward Contact Methods
Even the best insurance agent website won't replace the need for phone calls, emails, and other forms of direct communication. Make sure it's easy to initiate contact from the website by placing contact details in a clearly visible place, using online contact forms and making phone numbers clickable from mobile devices. Having a website chat widget to engage visitors can also help, even if it only enables access to a virtual assistant.
Clear Branding
One of the great things about having a professionally designed website is that it can act as a hub for marketing efforts, raising brand awareness and building positive associations in customers' minds. Each page of the website should feature the agent's chosen color scheme, logo, and other branded information to maintain consistency. There should also be a bio page that clearly links the individual insurance agent to the brand.
Relevant Content
A well-designed website doesn't just look good and function the way it's supposed to. An insurance agent website also needs to offer distinct value to visitors, which typically means incorporating relevant content. Informational pages describing policies, blogs, and FAQ sections can all be helpful tools in reaching customers and gaining their trust.
Search Engine Optimization
Even the best website won't attract new customers or help with conversion rates if no one can find it, which is why search engine optimization (SEO) is so important. SEO involves making improvements to a site's architecture, responsiveness, usability, and content that will help it rank higher on Google and other search engines' results pages. Getting this right from the beginning can cut down on the amount of time it takes to start seeing positive results from a professional website.
What to Look for in a Web Designer
Most insurance agents don't have the time to devote to learning the ins and outs of web design. Instead, they hire professional web designers. Not all web designers are created equal, though, so insurance agents should be sure to look for:
Relevant experience
Comprehensive services
Affordable pricing
Proven results
Website analytics
Ongoing support
The best option is always to work with a web design firm that has specialists on staff who can handle diverse tasks. The skills required to design a website are different from those needed to produce optimized content, ensure mobile responsiveness, and improve user experience. Insurance agents who work with web design agencies instead of individual designers will gain access to a wealth of knowledge and an entire team of dedicated experts.
Professional Websites Take Careers to the Next Level
Building a career as an insurance agent is hard work, and it's easy for careers to stagnate. Competing against established insurance brands can feel like an uphill battle, but building a professional website is the first step toward getting on an equal footing.
There are plenty of people who prefer to work with independent agents who can help them explore all of their options instead of relying on faceless corporations, but they need to be able to find information about who to trust. Establishing credibility, building brand awareness, and optimizing conversion rates are all key to drawing those potential customers in. All of those goals require having a professionally designed website.