We love high buildings with amazing windows and beautiful views, but cleaning these windows is not easy. Skyline Robotics is introducing first of its kind automated cleaning innovation to the over 100 years window cleaning industry. Ross Blum, Chief Operating Officer of Skyline Robotics shares more details with us in this exclusive interview with TechBullion.
Please tell us about yourself?
I'm Ross Blum and I am the COO of Skyline Robotics. I have been an entrepreneur and a startup nut throughout my career, always looking for a new way to innovate archaic industries. After finishing law school and being admitted to the Bar in New York, I didn't want to bill hours in a cubicle, so I began at pingmd, a secure communications and telehealth platform that I led the sale of in December 2016. From there I joined Quidd, a rare, digital goods marketplace attempting to reinvent how people collect. I created the largest digital licensed content (e.g. Marvel, Disney, NBA, Hasbro, etc.) on the planet and led the sale of that company in November 2020. I immediately joined Skyline Robotics to bring my startup acumen to the forefront of the company and lead expansion efforts broadly.
What is Skyline Robotics, tell us about the business and the services you provide?
Skyline Robotics is a deep tech company, first targeting the antiquated window cleaning industry, which is the "biggest, small industry in the world" as I have been told by numerous industry executives. The global market sizing is right around $40Billion. Our flagship product OZMO, leverages the best of AI, ML, and CV to automate a traditionally manual job. Doing so, while ensuring that human life is not at risk, completing the job faster, and not losing any cleaning quality is what makes us special. We are entering the commercialization phase of the business now, and are being selective on our go-to market partners; however, some big announcements are coming soon on that front.
What is the company's vision for integrating robots and automation into the workforce?
We target what is a very highly regulated industry (and for good reason). When people are hanging thousands of feet in the air, with a variable environment swirling around them, the risks are real. Our product, while autonomous, is still operated by humans. However, they use a computer on the rooftop, rather than hanging high above the ground. We envision a massive training effort in partnership with the current window cleaning workforce, to get them trained as Certified OZMO Operators. We do not have aspirations of being a window cleaning company ourselves. Rather, we want to work with current market participants in the field of Real Estate and have them integrate our product into their workflows.
Tell us about your flagship product Ozmo™, the first window cleaning robot, how it works and what makes it special?
OZMO is an incredibly special product to be able to work on and bring to market. We have given OZMO the senses of sight, touch, and vision in order to complete such a dynamic operation. OZMO's core technology is what differentiates us and also creates our competitive moat. Our R&D Team is world-class and full of robotics enthusiasts, who dream big and implement better. OZMO has an entire sensor kit that brings together all the data points necessary for the system to work autonomously…once the operator clicks "Clean" in the GUI.

What is the global market size of window cleaning robots and what is the technology behind Ozmo™?
The global market size of consumer window cleaning products is growing and massive. I've seen estimates that the market may reach Hundreds of billions in the next 10 years. However, the commercial applications today are quite limited, which is where we come in. With OZMO though, while starting with window cleaning, we do understand that more than window cleaning happens on the façade of a building. For future generations of the product, we are looking at potential product extensions related to inspections, masonry, painting and more. With our technology we know we can create a "façade health" profile, which simply does not exist today. While developers are creating more billion-dollar buildings what seems like every week, there's no data for them out there that gives them a profile on the health of their asset as it relates to the façade. We can be a key player in making that possible. We want to own the façade. 
The automation industry has seen a tremendous boom lately, where will automation take work into the future?
It's a fantastic question. Personally, I think we're going to see a few more micro-evolutions before the full revolution occurs. As great as the technology has gotten (and we're so appreciative of so many use cases that have been validated in the market), I see the world as collaborative between humans and robots more than a massive revolution occurring in the short-term. The notion of being a "robotic operator" may become one of the more prevalent positions that we'll start to see appear in the human workforce in the coming years. As companies gain more and more conviction to create products targeting more industries, we will all begin to know robotic operators in our lives. Use cases of robots will continue to attach the dull, dangerous, and dirty jobs that the human workforce continually finds less appealing. 
So, while there are some that take the pessimistic view that robots will simply replace humans, I believe in a collaborative future that will continue to evolve over time. In the end, robots and automation will enhance what we do on a daily basis, but also give us the ability to do more than we ever thought we could, both personally and professionally.
Skyline Robotics is leveraging artificial intelligence and advanced robotics to deliver smarter, faster automated solutions, what are the safety guarantees of these solutions?
Thank you for asking about safety. When developing any feature, we always think through the safety angles. This is especially important for us because we do not use robotic arms in a controlled, indoor environment as 99% of the robotics world does. We put robots in variable environments, and safety is always the number 1 priority. We have developed significant amounts of code related to the safety features that OZMO leverages throughout its operation, and we will never de-prioritize safety above anything else.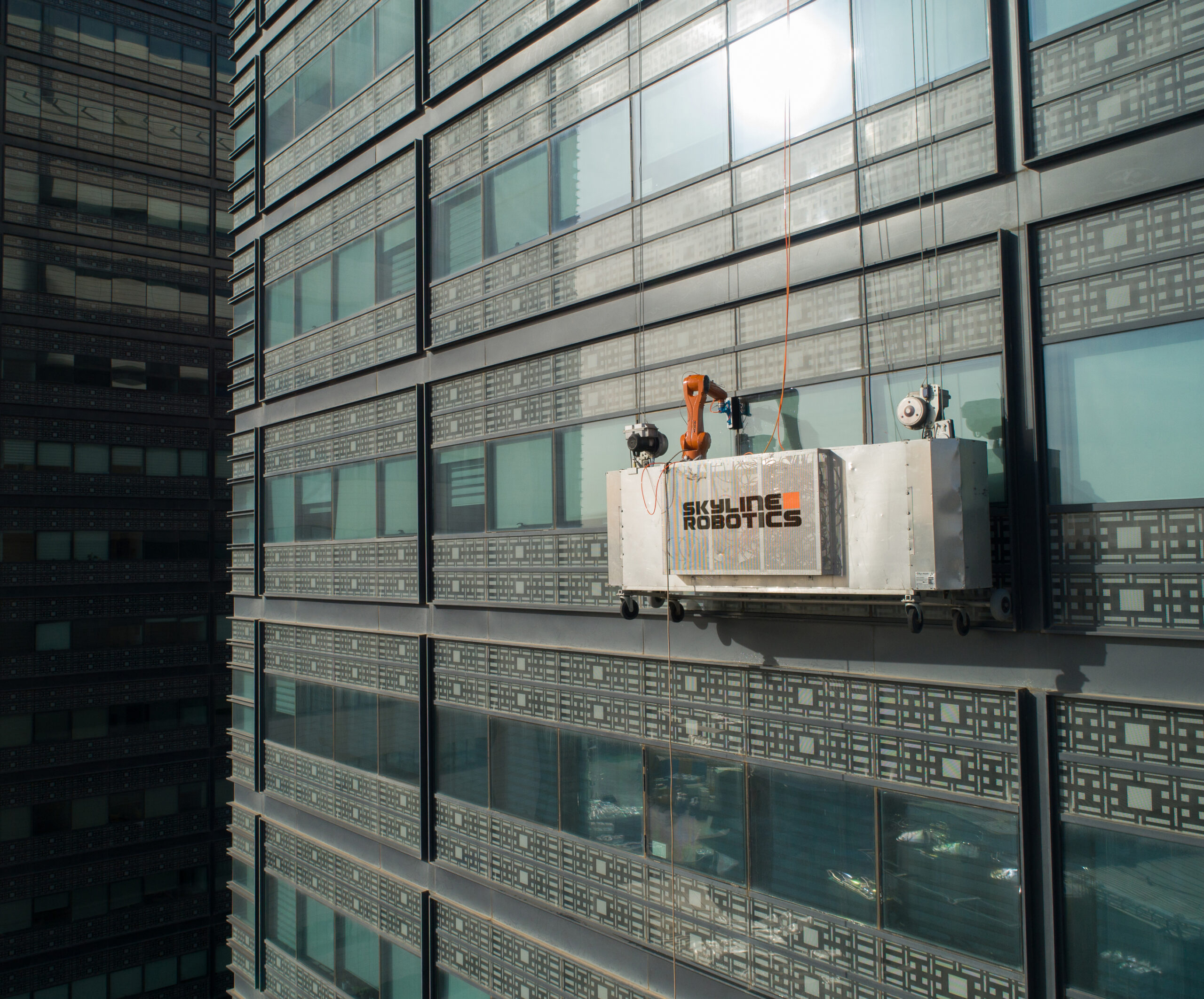 Besides skyscrapers and cleaning robots, do you have plans for more robotic solutions, what is next on your roadmap?
Since our technology has been developed to target variable environments, at heights, we do look at other market opportunities for future products. Some of the markets we analyze are Maritime, Agriculture and Construction. Each one of these, presents massive market opportunities, but more importantly, they present real use cases that can benefit from automation. One example, is that in the Maritime world, dry-docking large vessels such as cruise ships or container ships, is incredibly expensive. dry-docking is when, every 5-6 years, a vessel is taken completely out of the water to be maintenanced. Daily dry-docking fees can be in excess of $1Million, which means every day in dock costs a lot to the customer. We believe that if we can integrate a robotic workforce to perform inspections, painting, hull scraping, etc. we would be able to dramatically reduce the number of days in dock. However, we are starting with window cleaning and façade access work at heights. We will earn our way to other industries. 
Any available opportunities for investors and partners at Skyline Robotics?
We are very close to opening a new fundraising opportunity for investors. We have already begun to have some initial calls but will formalize the process in the very near future. With the partnerships that are not announced to this point, we have a compelling opportunity to own a market segment. Just by looking up (if you live in nearly any metropolitan area) you know the rate of development of new buildings is increasingly drastically. In contrast, in the USA, 74% of window cleaners are above the age of 40, and only 10% are between the ages of 20-30. These two data points naturally provoke the question of "how are we going to clean all these windows?" Skyline Robotics is the answer.
Do you have more information to share with our readers today?
First, I just wanted to say thank you for having me. I hope your readers have enjoyed learning more about Skyline Robotics (and me). I think the best way to end is simply to ask the question "Why?" Why do we still put human life thousands of feet in the air?
For more information, visit the website: SkylineRobotics.com