The forestry machinery market is witnessing an increasing adoption of various compact-size machinery; which would be one of the running trends of forestry machinery market in the forecast period.
Forestry Machinery Market: Category Snapshot
The global forestry machinery market, by type, spans feller bunchers (tracked and drive to tree), harvesters (tracked and wheeled), skidders, loaders, forwarders, grapples, felling heads, yarders, splitters, and stump grinders. Sales-wise, it's used units and new units. By operation, electric hybrid and diesel engine. Out of these, it's the electric hybrid engine ruling the roost due to the inclination of market shifting towards electric vehicles. Persistence Market Research has analysed these sub-segments in its market study report entitled "Forestry Machinery Market".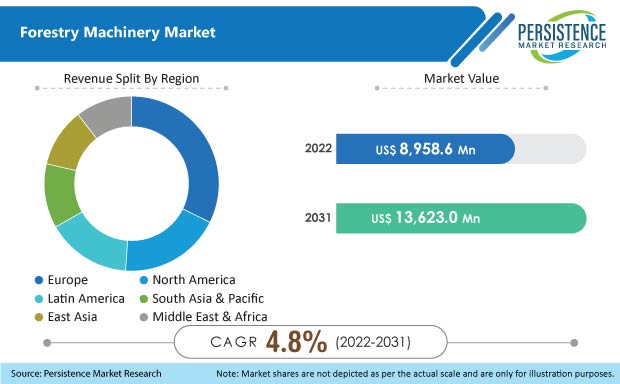 How about analysis Region-wise?
North America holds the largest market share due to the US and Canada witnessing proliferation of online retail facilities along with the availability of forestry machinery on rent. Also, the governments are readily investing in infrastructure development. Curtailment of capital investments is also looked into. Europe stands second on this count. However, the Asia-Pacific would be the region to watch out for in this regard in future. Due to the governments paying heed to rehabilitation and upgradation of forests. Persistence Market Research is there to list these facts with probable courses of action in its market study report entitled "Forestry Machinery Market".
Do it the Competitive Way
Persistence Market Research has profiled the key players of forestry machinery market as John Deere, Caterpillar, Tigercat International Inc., Volvo AB, Komatsu, Kubota Corporation, Hitachi Construction Machinery Liugong Machinery Co., Ltd., Ponsse Oyj, Barko Hydraulics LLC, Kawasaki Heavy Industries, Ltd., Dafo, Rabaud, Eco Log, Rottne Industri AB, and Bell Equipment.
Coming to developments, Persistence Market Research has mentioned that Rabaud Corp., in March 2021, tabled FORESTRY TRAILER: XYLOTRAIL 15 and Wood Processor: XYLOG 520 along with rotary and pendular post driver TURBOFRAP. It has stated further that Ponsse, in April 2021, came up with an entirely modern version of Scorpion harvesters meeting every requirement of forestry.
GAIN COMPLETE ACCESS TO THE REPORT – https://www.persistencemarketresearch.com/checkout/32709
Persistence Market Research has also listed out the inorganic expansions. For instance – it has mentioned about Komatsu acquiring TimbrePro Inc., in February 2019, so as to offer tracked feller harvesters and bunchers, wheeled harvesters, forwarders, and various felling heads. It has also mentioned that Tata International, in April 2019, inked an agreement with John Deere for the former being an authorised distributor for the latter's forestry and construction products in Benin, Nigeria, Togo, and Ghana.
In all, the global forestry machinery market is bound to grow on an innovative note in the forecast period – Persistence Market Research