What Is Vinovest?
Founded in 2019 by Brent Akamine and Anthony Zhang, Vinovest is an investing platform that provides access to a particular high capital growth asset: wine. This type of investment was, up until a couple of years ago, locked behind a very high entry barrier, making it accessible only to very wealthy individuals or corporations.
Vinovest offers investors exposure to this growing asset class. Their first step was to provide a low entry minimum; the more investors joining the platform, the larger the purchasing power. By taking this approach, Vinovest quickly grew to compete with some of the largest fine wine investing platforms out there.
Vinofest has two main offerings: managed accounts and trading accounts. Managed accounts offer a completely hands-off approach; you select one of their portfolios of fine wine, and the experts at Vinovest take care of buying, selling, and rebalancing your portfolio. For self-directed investors, trading accounts offer more versatility because you can pick and choose individual investments to add to your portfolio of fine wine.
In this quick Vinovest summary, I will go over all the best features of this platform and break down all the benefits. For the complete in-depth analysis, check out our full Vinovest review.
Pros & Cons of Vinovest
Pros
Access to expertly-made diversified wine portfolio
Set up automatic recurring deposits
Available for accredited and non-accredited investors
Available on Android and iOS devices
Trading Accounts for self-directed investors
Fully insured
Wine storage facilities worldwide
Cons
Low liquidity
Early liquidation penalty if you withdraw three years of your first deposit
Minimum deposit of $1,000
Features & Benefits Of Vinovest
1) Vinovest Managed Accounts
Vinovest offers two main ways to start investing in wine. The first option are Managed Accounts; these are ideal if you like to take a hands-off approach to investing or can't spend hours on end researching all the possibilities.
Vinovest Managed Accounts come in four tiers, and all tiers offer access to expertly-made diversified wine portfolios adjusted to your risk tolerance. The portfolio managers at Vinovest take care of purchasing and selling your wine at the best possible moment, using AI technology to predict fluctuations in prices. The minimum balance to qualify for each tier is as follows:
Starter tier: $1,000 minimum balance
Plus tier: $10,000 minimum balance
Premium tier: $50,000 minimum balance
Grand Cru tier: $250,000 minimum balance
Here are the perks and benefits of each tier:
The Starter tier is the basic tier, and it offers the most basic features like full insurance and wine authentication
The Plus tier gives access to a collection of rare wines and portfolio customization
The Premium tier offers wine futures trading, auction-only sales of rare wines, and invites to Vinovest events
The Grand Cru tier offers exclusive wine releases, personalized quarterly reports and insights, and entry to Vinovest's Advisory Council
Keep in mind all the benefits of the higher tiers include everything from the lower ones. This account functions as a robo-advisor. If you're looking for a different asset class, it might be worth looking into precious metal dealer Money Metals dealer. Metals have historically been the benchmark of stability, and they're a great addition to any portfolio.
2) Vinovest Trading Account
Vinovest offers experienced investors the option to pick and choose their wines and grow their portfolios from the ground up. Investors using a Trading Account can purchase and sell their wines straight from the Vinovest Marketplace and set their prices. You don't need to be an accredited investor to participate.
Fees are a bit different than those of Managed Accounts; you won't have to pay management fees, but you will have to pay a price that ranges from 1% to 2.5% for using the Marketplace. As a bonus, all your purchases are stored for free for the first three months and fully insured against mishandling or damages. Afterward, the storage fee is 1.5%/year, paid monthly.
At any time, you can request your bottles to be sent to your doorstep, and all bottles have all the necessary certifications.
The fees for using this account are very high, especially if you're going to buy and sell a lot of bottles – if you find that you're not making as much profit as you'd like, a stock advising platform like TradingView may be a great alternative.
Vinovest Security And Insurance
Vinovest offers complete coverage and full insurance on all your holdings in the case any of your wines are damaged during a natural disaster or mishandled in any way. Vinovest's policy is to reimburse the full market price of the bottles.
Vinovest has storage facilities in France, the US, the UK, Denmark, Singapore, and Hong Kong, and they conduct regular audits – by third parties – in all of them. In case of bankruptcy, Vinovest customers keep total ownership of their wine in storage and will have the option to ship it to their homes, liquidate it via an auction, or keep it in storage.
Vinovest Fees
Vinovest offers plenty of options to fund your account. The only caveat is that the minimum deposit is $1,000 – or $500, if you set up recurring deposits (daily, weekly, or monthly).
deposit: $1,000 (or $500 if you set up recurring deposits)
Payment made from outside the US: 1%
Credit card fee: 2.9% + $0.3
Crypto (BitPay): 1%
Checks: No additional fee
Wire transfers: No additional fee
ACH transfers (Plaid): No additional fee
Early liquidation penalty: 3%
Supported currencies for wire transfers include the USD, EUR, GBP, CAD, and HKD. Supported cryptocurrencies include BTC, ETH, DOGE, and ETH-based stablecoins.
The early liquidation penalty is applicable only if you withdraw your funds within three years of your first wine purchase.
Vinovest Managed Accounts Fees
Starter Tier: 2.85%/year
Plus Tier: 2.70%/year
Premium Tier: 2.50%/year
Grand Cru Tier: 2.25%/year
Vinovest Trading Account Fees
Marketplace buyer fee: 2.5% (includes three months of storage)
Marketplace seller fee: 1%
Storage fee: 1.5%/year, paid monthly
Sign-Up Process
Vinovest offers its services to investors worldwide, and the only requirement to sign-up is that you are over the legal drinking age in your country of residence. The sign-up process is very quick, and the website is user-friendly. Here are the steps to sign up:
Visit Vinovest's website
Click the Get Started button
Enter a valid email address and some of your basic information
Fund your account
If you sign-up using this link, you will receive a full rebate on all Vinovest fees for the first three months. This applies to both Managed and Trading accounts. Keep in mind the bonus is only applicable to new users.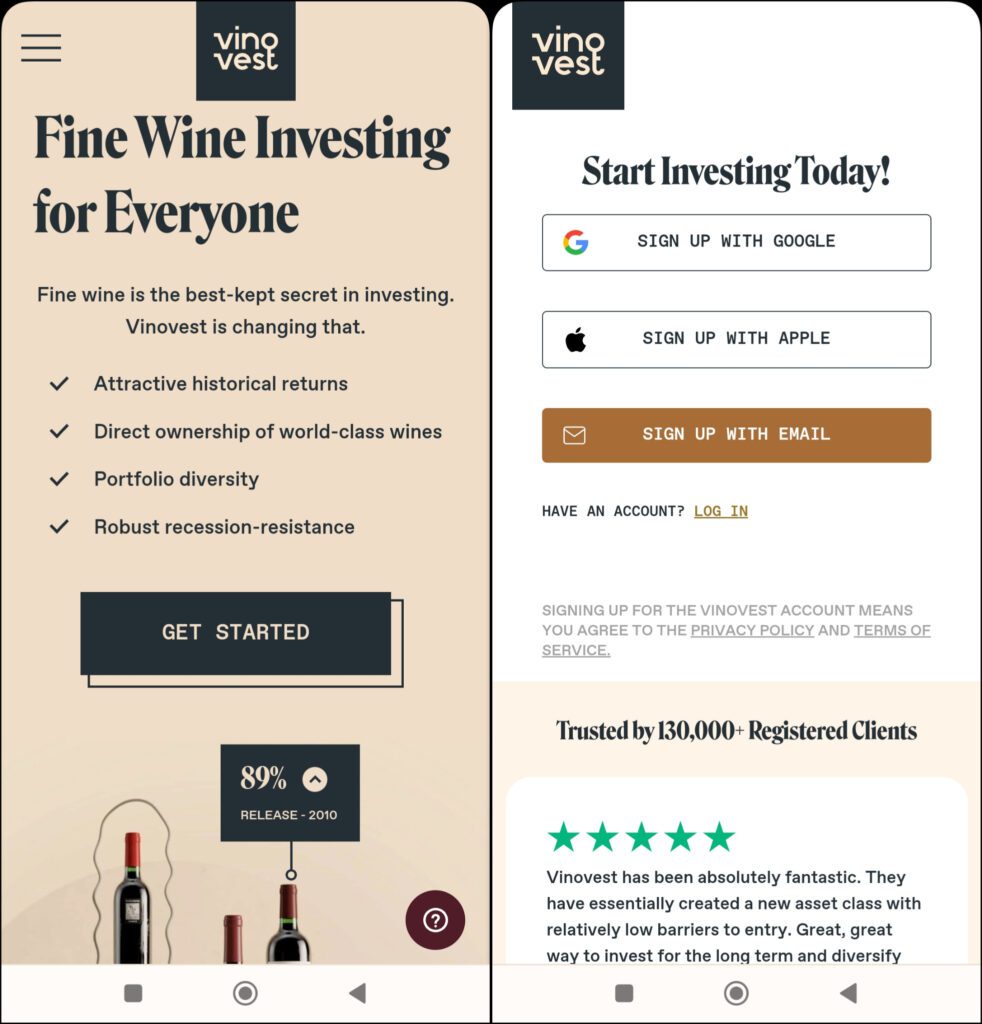 Trustpilot Reviews
Vinovest has excellent reviews from its users on Trustpilot and holds an average rating of 4.1. Here's what some of those users have to say about Vinovest:
"Excellent alternative to stocks! Downloaded the mobile app and have experienced both the trading and managed side of the platform." – Mark A.
"Our experience so far has been excellent. Julie Wilson was very helpful and informative – it was great to be able to chat with someone and get all of our questions answered in real time." – Ashley B.
"Great website, easy to use and gives access to a unique asset class." – Jad E.
"I was looking for some alternative investments to dive into. I am very happy with my choice to give Vinovest a shot." – Jonathan O.
If you're not entirely convinced and would like to try out a different asset class altogether, we recommend the real estate platform Fundrise. It has a lower minimum than Vinovest – just $500 – and historically, real estate is among the best-performing investments.
Final Thoughts
Vinovest is an excellent option to gain exposure to the fine wine market. New investors can take advantage of all the expertly-made portfolios and AI-powered management. Experienced investors can fully customize their investments and build their fine wine portfolios from the ground up, with the option to get their wine delivered to their doorstep. Both types of accounts are fully insured against all damages. For those reasons and its global reach, we recommend Vinovest as one of the best platforms for investing in this asset class.