So, you want to make money with cloud mining, right? Have you already chosen several providers with a good reputation and all you have to do is compare them with each other? There is no bitcoin mining for free but we are here to help you and compare two popular cloud mining software platforms ECOS and Shamining.
General information
Shamining is a cloud mining provider that allows you to mine bitcoins using the power of its data centers. The company has existed since 2018 and has been serving customers for more than three years. Mining takes place on the SHA-256 algorithm. The company is registered in London at 85 Gresham St London EC2R 7HE United Kingdom (you can check it).
The ECOS  team created their product in 2017 as a cloud mining provider with data centers located in the Free Economic Zone. But now it is a multi-platform for any crypto-investments, where not only mining is available, but also a crypto wallet, an exchanger, crypto portfolios, and the purchase of mining equipment. This allows you to manage your digital capital much more conveniently. The company is registered in Armenia, Hrazdan, Gortsaranayin str. one.
Who pays more?
Profitability calculators are available on both sites, but what numbers are the platforms promising us? Let's say you want to invest $1,000. It's good to start! The ECOS calculator shows that with this amount and a $150,000 bitcoin price forecast, you will earn $6.05 per day and receive $2,208 per year. X2 per year is a high yield! The duration of this contract will be 24 months.It is important to note that ECOS provides a one-month free mining contract so that new users can test the platform.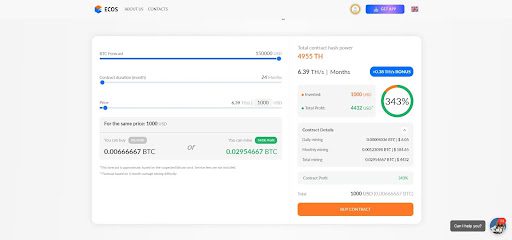 The Shamining calculator does not allow us to set up a bitcoin price forecast, but judging by the similarity of the numbers, it is about the same. The projected daily income is $5.94, and for the year Shamining promises you $2,137. The yield of Shamining is less than what you could get at the same time with the same capital in ECOS.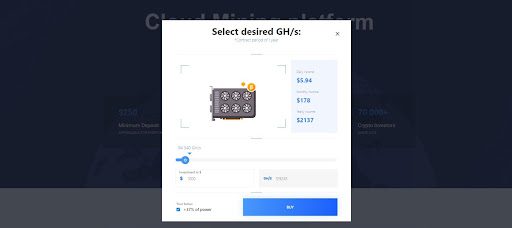 Platforms functionality
Functionally, the ECOS and Shamining mining platforms are quite similar. The stats show your current bitcoin balance, the total capacity you rent from the provider, and how many coins you earned per day.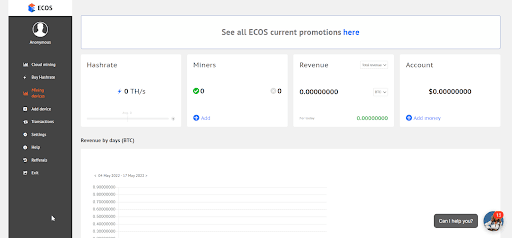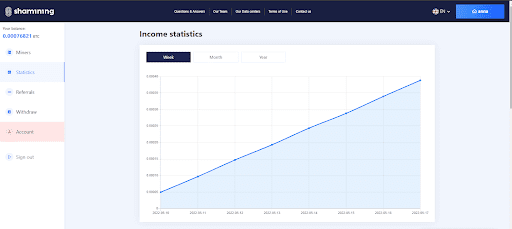 Also, both platforms allow you to purchase additional power right in your cabinet. But here ECOS has an advantage because you can not only buy additional capacities but also purchase modern equipment. This is an option for experienced investors who are already convinced of the profitability of cloud mining and are ready to take on more responsibility.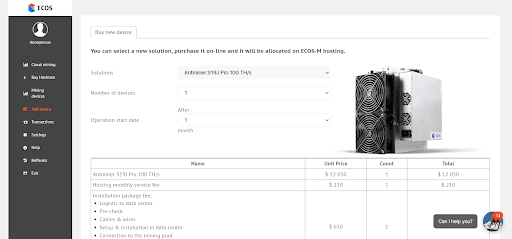 But the main advantage of ECOS is a cryptocurrency mining app with which you can mine bitcoins on your smartphone. The app is available on both AppStore and Google Play. Yes, it is technically impossible to mine on a smartphone, but ECOS made mining just as convenient. It's the best app for mining cryptocurrency.
Legality
We already wrote that you can check the provider's company address. But how else to make sure it's legal? First, you can look up company registration documents and articles online. For example, the ECOS company was founded in cooperation with the Armenian government and there are documents confirming this on the Internet.
But the easiest way is reviews. We recommend looking at reviews of cloud mining providers on the Trustpilot platform (they are good at fighting fake reviews). So, ECOS has a score of 4.1 based on 300+ reviews. Shamining has a rating of 4.8 based on 3500+ reviews. It sounds like Shamining is much better, but Trustpilot on the platform page warns that the company has been spotted doing reviews, so this assessment should not be trusted.

Conclusion
Top products are quite difficult to compare because it is not in vain that they are popular with a large number of people. But still, ECOS is slightly better than Shamining in almost all respects. Of course, you need to compare them yourself and make your own decision. After all, it is your responsibility and your money. But in our opinion, ECOS is the best mining platform.