Are you working with a Go-To-Market strategy or not? What if I tell you that there are even more creative and more efficient options to go for. Read the article to know about it.
Packaging plays a very important role in selling any product and above that Go-To-Market Strategy is used by most manufacturers. This is created on the consideration of a few important points like product type, quality, packaging of the product, legal things, and much more. The most important tip for any business is don't waste the time on pieces of stuff that can make you lose the race. Any kind of issue can lead to a delay in launching the product to market, which will increase competition. 
Introduction To Artwork Flow Software
Artwork flow is a platform that helps brands and companies by creating a well-maintained workspace where all can participate fully in the project. It is efficient, provides more accuracy to the work, saves time and effort for the collaborators. It reduces the time taken for deadlines and sends the product to market faster, it is like a portal for better collaborations and workflows and provides advanced tools to make your work easier. 
Feature Why It Is The Best Packaging Design Software
Proofreading Tool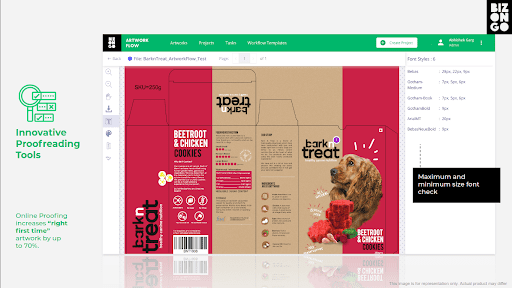 Different teams check the project progress from time to time, trying to solve all the possible errors. But with this, the issue is that it's time taking progress which is like wasting extra time on something software can do. For the packaging part, it is important to have the right font, color, text size, etc and with so many options it can be confusing. The artwork management software is equipped with the proofreading tool which will scan the pdf and will inform you about all the colors used, texts, etc. This makes the work of designers a little bit easier. 
Comparison Tool
When a project is going on multiple files are used, new updates and revisions are made to the file. Sometimes the revisions made aren't big enough to differentiate between the old and new one and going back and forth between two files doesn't honestly work. In Artwork flow management software you can compare two files by placing them side to side to get a clear difference between the work done. 
Asset Library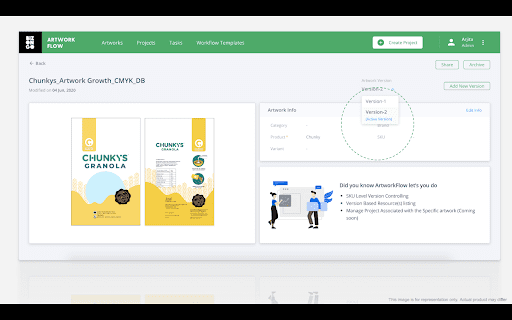 The important data and information is limited to people as it is not being well distributed among team members, you will have to contact them about the information. It gets tougher in situations like the pandemic going on where people are all working from home and having no proper sources about the data. Artwork flow works on cloud-based technology which will keep all the important information on the portal so that anyone can use it when needed. Especially when there's no guarantee about the safety of data in normal storage, simple malware can ruin things for you. Here as it is stored on third-party storage it won't be lost easily. 
Reviews And Feedback Portal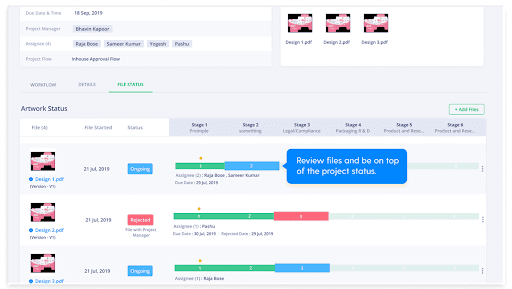 Most of the companies still follow the old method of sharing files either printed or sent through email. But mathematically speaking every office employee receives 100-200 mails daily and it's not always that quick to open files, check it and let the team know about your feedback. On the Artwork flow, all the files and updates to projects can be uploaded and all the teams can directly comment on their feedback and suggestions related to the project. If anyone missed the feedback part, a mail will be sent to them as a reminder to post the feedback. Along with that, every person will be updated with everything going on as whenever someone posts a comment or update it will also send the notification to every person from the team. 
Create Deadline, Lists, and  Track Progress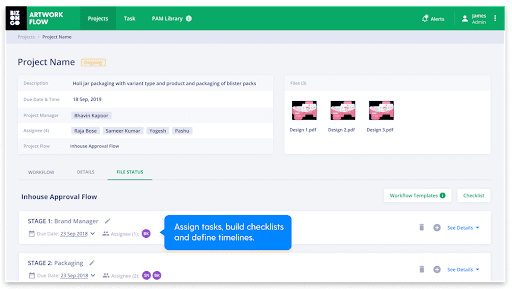 One of the biggest reasons for missing deadlines is due to loopholes like not knowing about the progress of the project. On artwork flow you can create checklists and distribute work among all, the whole record of those lists will be visible on the platform. Where the managers can see how the project is going on and can make decisions accordingly. This helps in staying on track and has no missed deadlines. 
More Productivity, Less Number Of Revisions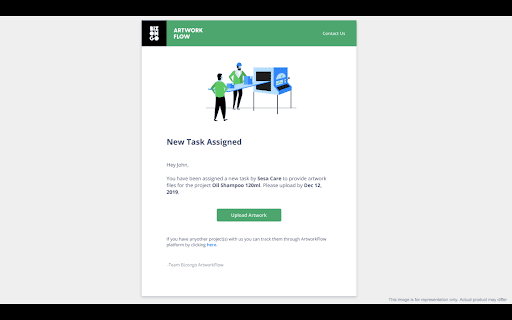 As the whole process is so well maintained with continuous communication through feedback and reviews the chances of making errors are comparatively less. Also as everyone will be clearing their points like a meeting decisions will be made faster and easier. In this way, there will be a decrease in the number of revisions made per project. 
Wrapping It Up!
With time better things that can help your business by huge margins are being created more and more. This collaboration between advanced technology and the human brain can be very effective for the business.