Part1: Introduce Media.io
The Online UniConverter, which was formerly called Media.io, is a reliable online audio cutter that can help you easily cut or merge audio files without any quality loss. With its user-friendly interface, you can finish the task with just a few clicks. In addition, Media.io also offers online video converters and online video compressor services.
There are many different online audio trimmers available, but not all of them are created equal. Some are more user-friendly than others, and some have more features than others.
In this article, we'll introduce you to the best online audio trimmer – Media.io.
Recently, Media.io launched new features like:
Vocal Remover:
With AI-based technology, vocals can be instantly removed from any song or music piece that may be readily extracted.
Audio Joiner:
You may utilize Media.io's audio merger tool to modify your music fast.
Watermark Remover:
The easiest way to get rid of any watermark from your video for free is with this program. You can remove video logos, text, seals, or other distracting elements at your leisure.
Meme Generator:
It allows you to construct a funny meme online from photos and GIFs in seconds.
Add Audio to Video:
You can use this online free video editor to add background music, voiceovers, or sound effects to any film.
Free Video Editor:
To trim, crop, rotate, flip, mirror, and adjust video simply without the watermark, you may use this online video editor without any restrictions.
Part 2: Why do you need to trim audio online?
You might need to cut audio for a variety of reasons. Doing it online can be a lot easier than doing it on your computer or phone.
Some reasons you might need to cut audio online are:
Make a Ringtone for Android/iPhone:
We all know that we can make custom ringtones for our Android or iPhone devices using iTunes, but what if we don't have any music on our computer that we want to use? Or what if the song is too long, and we only want a snippet of it as our ringtone?
In this case, we can use an online audio cutter like Media.io to clip the song down to the desired length and then save it as a ringtone.
Remove Noise from Audio/Video:
If you have a video or audio file that is full of unwanted noise, you can use an online audio trimmer to remove the noise and clean up the sound.
Cut Unwanted Parts from Audio/Video:
If you have a video or audio file that contains parts that you don't want, you can use an online audio cutter to cut them out.
Shorten MP3/Audio to Save Storage:
If you have a long MP3 or audio file that you want to shorten, you can use an online audio cutter to trim it down to the desired length.
Combine Multiple Audio Files into One:
If you have multiple audio files that you want to combine into one, you can use an online audio cutter to do it for you.
Add music to a Video:
If you have a video file that doesn't have any music and you want to add some, you can use an online audio cutter to add the music for you.
Create a Customized Audio File:
If you want to create a customized audio file, such as a voiceover or a sound effect, you can use an online audio cutter to do it for you.
Part 3: How to trim audio online?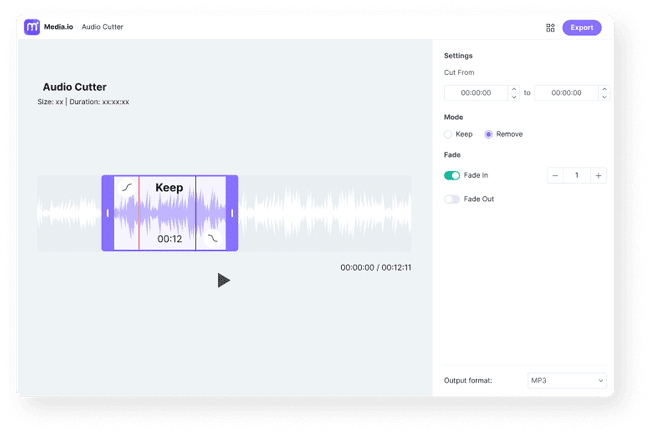 You may cut any audio files online using Media.io's online audio cutter tool. It also allows you to quickly remove undesirable sections from your song while retaining the original quality. It's simple, quick to set up, and use.
To trim audio online, follow these steps:
Go to Media.io's homepage and select the "Tools" section and then "Audio Cutter."
Click on the "Upload your files" button and select the file you want to cut by selecting the "Choose Files" button.
Once the file is uploaded, select the part of the song that you want to keep by dragging the sliders or entering the start and end time in the boxes provided.
When you're satisfied with your selection, click on the "Cut" button.
The audio fade in and fade out can be optionally customized from the "Fade In" and "Fade Out" dropdowns.
Click on the "Download" button and save the file to your computer.
Your trimmed song will now be downloaded to your computer automatically.
The Media.io Audio Cutter is one of the most popular audio cutters accessible, capable of converting music to video or extracting sound from video. This online audio trimmer supports hundreds of video and audio formats, including MP4, MOV, MTS, VOB, MP3, M4A, AAC, OGG, and many more.
This software enables you to trim the audio file by entering the precise playback duration or merely dragging the sliders after loading it up. It can generate smooth transitions, especially when making a ringtone, by adding audio fade-in and-out effects. This video cutter may also be used as an MP3 cutter for YouTube videos. Simply enter a YouTube video URL into this program and get started converting video to MP3 right away.
Part4: Why Choose Media.io Audio Cutter?
Media.io offers the best online audio cutter with some unbeatable features:
Online Ringtone Cutter:
You may cut and make MP3/M4R ringtones from your favorite songs or recordings using Audio Cutter from Media.io. You may quickly personalize a ringtone for an iPhone or Android phone by using this tool.
Free MP3 Cutter:
The free MP3 cutter swiftly trims MP3 files and converts them into a musical song. You don't need to use any professional software.
Fade-in and Fade-out:
You may use this effect to fade in and out your audio track smoothly at the start and endpoints of the cut.
Cut Any Audio File:
All popular audio codecs are supported, including MP3, WAV, AAC, M4R, FLAC, M4A, MKA, and more.
Extract Sound from a Video:
This online video trimmer may also be used to trim and extract audio from YouTube videos. Other video types such as MKV, VOB, MOV, MP4, WebM, MTS are all supported.
Safe & Secure:
After 24 hours, all uploaded material is deleted from Media.io servers. This website also uses SSL encryption to safeguard against data theft.
Audio editing is a process that can be done with ease and convenience by using Media.io audio cutter. The website is simple to use, does not require any software installation, and can be accessed from anywhere in the world as long as there is an internet connection. In addition, users are able to save their files in various formats, including MP3, WAV, M4A, and FLAC. Media.io provides one of the best online audio cutting experiences for users of all levels of expertise.