Every day, nearly 4000 apps are added to the Google Play Market. The creation of each of them costs money, creativity, and efforts, so on the wave of such a strong demand for their solutions of all kinds, the businesses are logically looking for opportunities to cut the development costs without sacrificing the results. While software development outsourcing can also be an option in this case, low to no-code development platforms can promise even better opportunities to the companies on the way to digital transformation. Let's find them out. 
What Does Low Code Mean?
A low code approach means using a pre-developed environment to build, test, and run your applications. 
According to the Low-Code as Enabler of Digital Transformation research, "The main objective of the low-code development platforms is to allow enterprises to develop apps without complex engineering facilitating their configuration, and then achieving rapidity and agility. Moreover, these platforms also offer enterprises a more economical way to fulfill the market and/or enterprises internal requirements."

These are also the reasons why the low-code development market size is expected to grow, and the dedicated solutions for app self-build are chosen by both small and leading companies more and more often.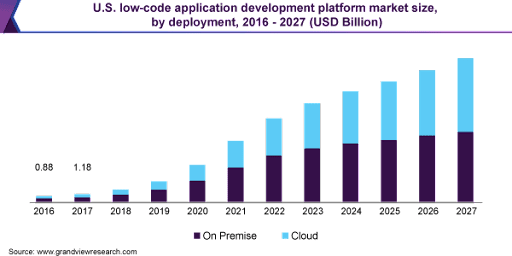 Which Low Code Platform Should I Use  – 5 Best Options to Choose From
Kissflow

. Kissflow is a digital workplace platform that covers workflow optimization, project management, and process automation tasks. What's more, it also comes with low-code services allowing you to modernize your already existing application, streamline routines with automation, deploy DevOps and testing processes, and get along the path of endless digital transformation. The developers of the solution point to its simplicity and effectiveness in one bottle. 
Appollo Systems

is

one of the best

low code tools that perfectly covers all the milestones of the traditional Agile development process. With the help of Appollo systems, you can get started by prototyping and validating your idea, proceed with more competent business analysis to better tailor your future app to the business needs and clarify the Software Requirements Specifications, move on to the process of web or mobile development, depending on your need, and close the development cycle with testing, DevOps and market launch. 
Appian

. Applian takes the process of software development seriously. That's why in addition to powerful in-build features, the company also guarantees the results and promises you will be able to build an app in 2 months with its help. The platform also comes with data integration and processing features, plus the options for intuitive mobile development. 
Mendix

. The distinctive feature of this low code tool is the range of the industries it covers. With the help of the platform, you can create both relatively simple apps for retail, for instance, and pretty-secured, large, and powerful solutions for the automotive and manufacturing industries. While the platform can hardly be called easy to use, those skilled will still be capable of creating and deploying enterprise-scale apps with its help. 
Gramener

. This is a pretty sophisticated low-code development tool. As well as the previous solution, it allows for creating apps for different industries. The main use case of Gramener is creating AI software based on the microservices architecture. 
What Can You Do With Low-Code?
While some experts say that low to no-code tools are pretty limited, they still cover most of the use cases the modern companies face to streamline their performance, improve a  specific process or advance the solutions they already have/. Below are the most frequent use cases of the best simple low code tools.

Modernize a legacy system. Legacy system modernization can be complex, tricky, and costly, plus there is always a risk of data loss on the stage of data migration. Low-code solves the problem by allowing you to create a system from scratch, and then integrate it with the dataset you have. 
Build an app for workflow automation. Automation software is on the rise, so there is no surprise that more and more companies are eager to streamline their routines with its help. Low-code platforms already come with a lot of automation features inside, plus you can create an app for workflow automation as well. 
Database apps. The low code deep learning tools allow for creating data-centric apps with the opportunity to analyze the data, extract valuable insights and visualize them with convenient reports. 
Web and mobile apps tailored to the use-case. There are a lot of no-code and low code mobile development tools that come with dozens of validated templates for future mobile apps, so you are welcome to offer your employees and customers a more advanced mobile experience with their help. 
Is Low-Code Useful?
Regardless of the use case, the low to no code software building platforms can offer the companies the whole range of benefits, covering the operational costs cutting, faster time to market, fewer troubles with hiring the necessary talents, plus ultimate customization and seamless integration of already developed solutions with no-code ones.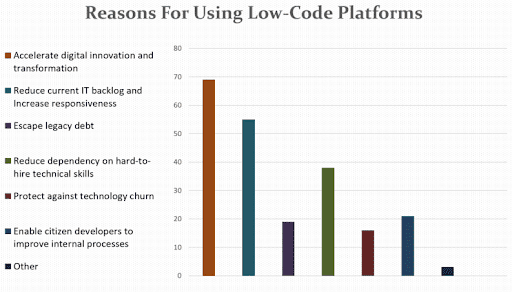 Conclusion
Low code and no-code tools are the solutions worth trying in 2021, especially if you are on the way to digital transformation. The large choice of the platforms promises an opportunity to pick the one that will be pretty effective for your use case. What's more, you can get started having low to no development skills – in this case, you are better to choose a no-code software to test the way it works, give it a try and create a viable prototype of your idea. 
FAQ
What is no-code application development?
No-code application development means the process of using dedicated software to create your own software. Such a strategy requires fewer coding skills, fewer costs, and is less risky compared to the traditional software development approach. Still, there is a need for ideas validation and careful testing, and most of the low code tools come with these features as well. 
What are low code development tools?
Low code development tools are the platforms or environments that come with the predeveloped set of features the developers can customize according to the project needs. They also provide all the necessary functions for future solution prototyping, validating, testing, launching, running, and maintaining. 
What are no code development benefits?
Using a low-code approach to software development is trendy since it offers a lot of benefits. The most significant ones refer to the opportunity to significantly cut costs, avoid hiring a large tech team, decrease the risks, and get started with affordable and effective digital transformation, perfectly tailoring each of your low-code apps to the business process or use case.