Maria Johnsen, a renowned author and filmmaker, takes readers on an enchanting journey in her latest novel, "The Battle of Hulders" With a realm steeped in enchantment and populated by mystical beings, Johnsen weaves a story of forbidden passion and the resilience of love. Set against the backdrop of kingdoms in conflict and ancient secrets, this epic fantasy captivates readers and sets the stage for her upcoming feature film, "Elf and Huldra."
Forbidden Love and Quests:
In the realm created by Maria Johnsen's vivid imagination, a human named Bjorn finds himself embarking on a perilous quest. The healing blood of the first Huldra queen becomes the coveted prize, and Bjorn's bravery propels him into a world brimming with danger and discovery. Amidst this quest, an extraordinary bond forms between Prince Brandor, the ruler of the Elven realm, and Eowena, a captivating figure whose existence is forbidden to him. Their love becomes a delicate flame, yearning to burn freely, but constrained by the barriers of their divergent worlds.
Ancient Animosities and Surprising Alliances:
As the kingdoms clash and the tides of war surge, alliances are forged that defy ancient animosities. In the midst of jubilant celebrations and simmering conflicts, a wounded princess uncovers a shocking revelation that alters the course of destiny. Johnsen's intricate storytelling invites readers to witness the transformative power of love and the resilience of characters tested by the trials of battle.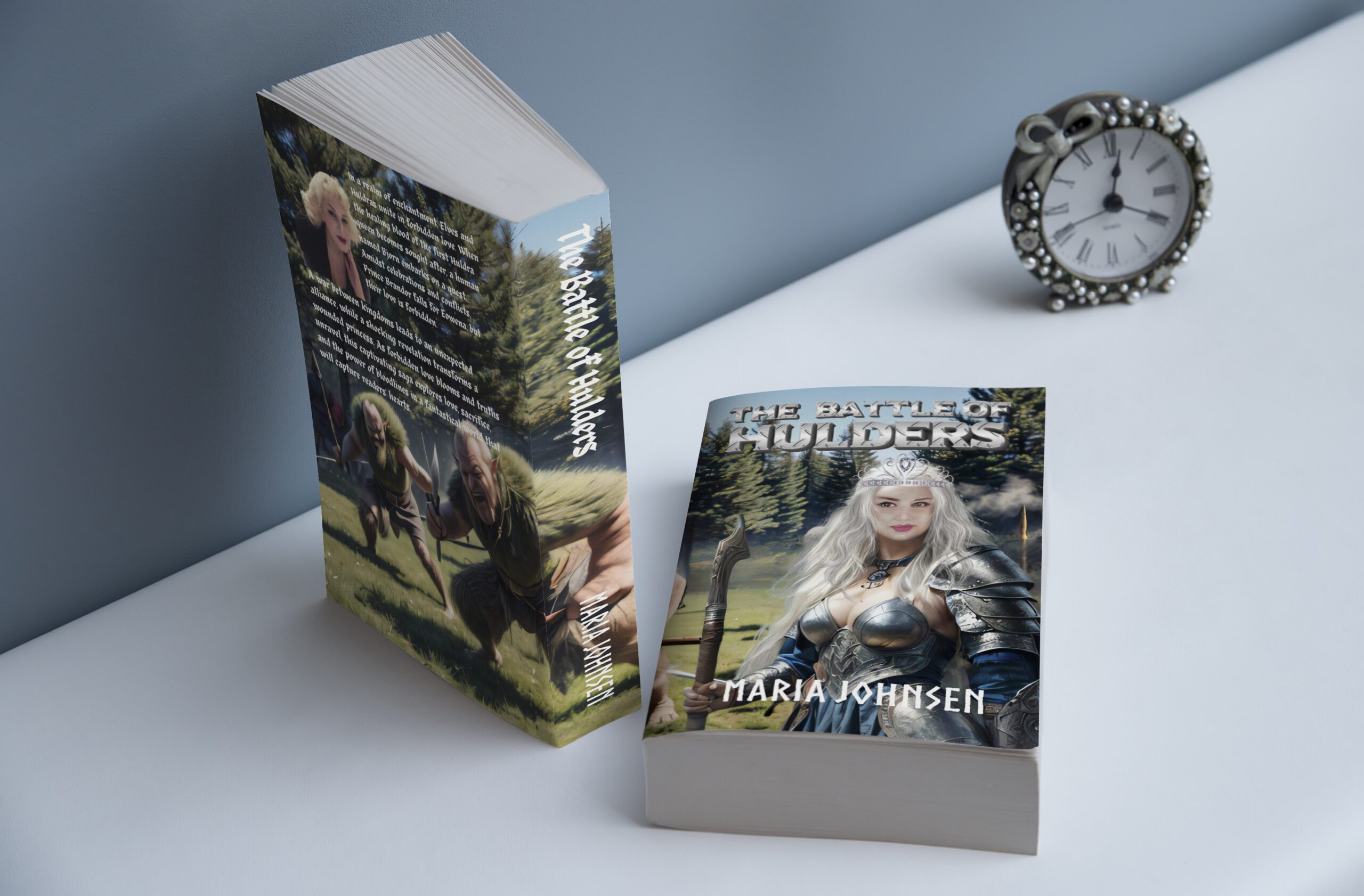 Raw Power of Emotions:
"The Battle of Hulders" unveils the raw power of emotions that transcend reason. Love is tested, sacrifices are made, and the indomitable power of bloodlines resonates throughout the narrative. Maria Johnsen's vivid prose allows readers to immerse themselves in a fantastical world that echoes their deepest desires and evokes a profound sense of magic.
Inspiration and Filmmaking:
Maria Johnsen's inspiration for "The Battle of Hulders" stems from her 2019 film, "Huldra and Photographer." The film's success led her to delve deeper into the captivating legends surrounding the Huldra, ultimately crafting a screenplay called "Elf and Huldra." This novel serves as a continuation of her film and sets the stage for her upcoming epic fantasy feature film, currently in pre-production under Golden Way Media Films.
With "The Battle of Hulders," Maria Johnsen invites readers to a mesmerizing realm where forbidden love and mystical creatures converge. The captivating story captures the hearts of readers, leaving an indelible mark and reminding us of the enchantment that lies within our own souls. As the sales from this novel contribute to the funding of her forthcoming film, readers have the opportunity to support the realization of Maria Johnsen's grand vision, "Elf and Huldra." Immerse yourself in this epic fantasy today and embark on a journey that will transport you to a world of wonder, romance, and magic."The Battle of Hulders" weaves a captivating tale of forbidden love and ancient secrets, enchanting readers worldwide.
About Maria Johnsen.
Maria Johnsen is born and raised in Norway. She has published 45 fiction and nonfiction books and made some films. Currently she is working on her feature film project for cinematic release.