At Aurus we are providing the software, network and crypto infrastructure for global precious metals businesses to merge with the future of finance, in the form of DeFi and Web3 applications — giving them high tech products, a huge addressable market and passive revenue streams to scale their businesses.
In addition to helping businesses accelerate their growth, Aurus and its partners are also here to empower people across the world to access the stability and reliability of gold, silver and platinum in the form of asset-pegged tokens. In order to facilitate access to these tokenized precious metals, we have developed a friendly and secure mobile app so that everyone can easily buy, store and trade these assets from the comfort of their smartphone.
The Aurus Mobile App was just launched in December 2021 and the objective in the next months is to make this product more than just a tool for people to buy, store and transfer precious metals, but to enhance the usability of your assets by enabling you to interact with DeFi applications in a simple and smooth way. This means that you can use your gold, silver and platinum holdings to access different yield opportunities in DeFi, growing your portfolio passively and steadily while stacking grams.
What is the Aurus Mobile App?
The Aurus Mobile App is a user-friendly cryptocurrency wallet for buying, storing, receiving, and transferring all Aurus tokens on both the Ethereum and Polygon networks. The Aurus app also interacts with the Aurus Vault Card, a highly secure cold wallet to store your tokens, keeping your private keys offline.
The app is available on both the App Store and Google Play.
Creating a wallet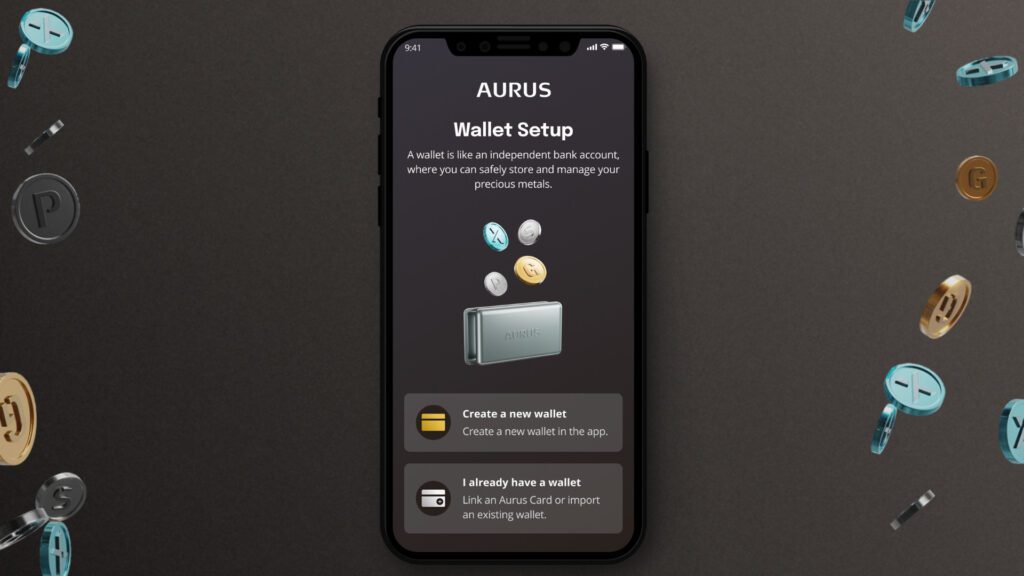 The Aurus app enables you to create a software wallet (or import an existing wallet) in seconds, and it also interacts with the Aurus Vault Card (and Aurus Gold Card V1), which is a highly secure hardware wallet created by Tangem for storing Aurus tokens with any NFC-enabled phone.
The multi-wallet support in the Aurus app is an amazing feature as it gives you the chance to diversify the storage of your assets in two different wallets, while managing everything on one single device!
Creating a Backup of your wallet
Creating a backup might be considered one of the main steps in securing your assets. A wallet backup protects your digital tokens against computer or software failure, and it will also help you to retrieve your tokens after your device was stolen or lost.
If you create a software wallet in the Aurus app, always make sure to create a backup, which means writing down or saving a 24-word Secret Phrase. This secret phrase will enable you to retrieve or recover your wallet and assets. You can choose to create a backup just after you create the wallet or afterwards by going to "Settings" and tapping on "Create a Backup".
A backup of your wallet is absolutely needed to be able to import your wallet in case anything happens to your device or mobile application, and it can be also used to recover your wallet after it was deleted or logged out from the app.
"Always remember to keep your Secret Phrase safe, don't lose it and never ever share your it with anyone".
Tracking your portfolio in real-time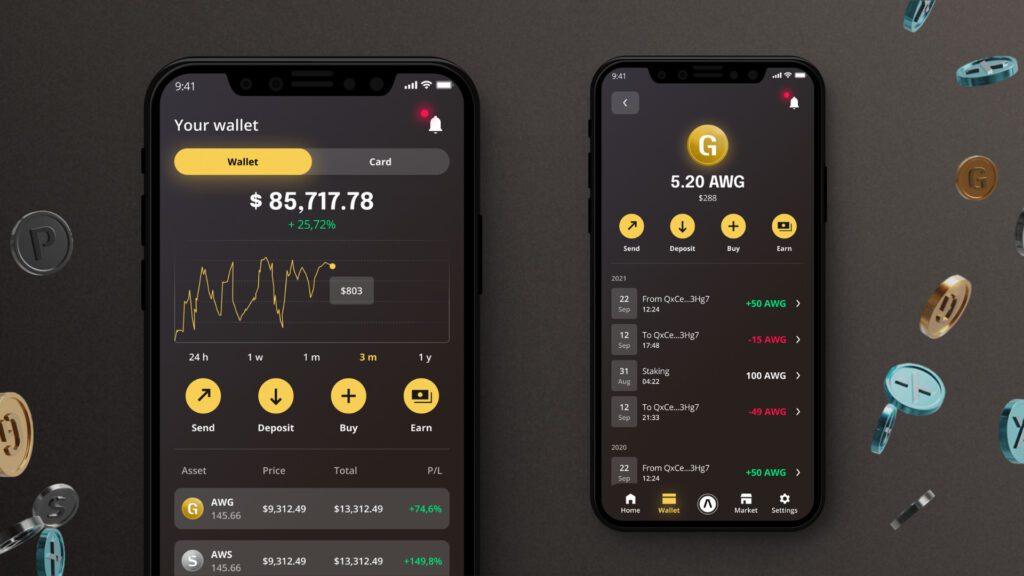 You can track the performance of your portfolio and assets through an interactive chart and key token statistics located in the Wallet section of the Aurus app. This way you can see the evolution of your portfolio over time and have visibility of historic transactions, such as purchases, transfers and deposits. We are now working to add more features to this section, in order to provide you with useful and accurate information for making fully informed investment decisions.
Transfer tokens at the speed of light!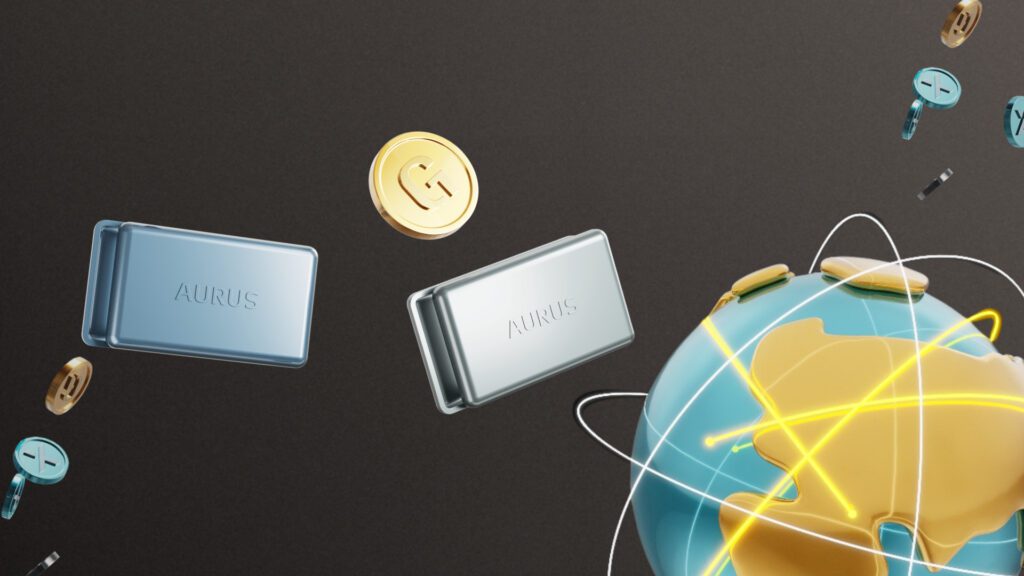 In the Wallet section of the app or using the quick-action button (Λ) you can transfer and receive any of your Aurus tokens using the Ethereum or Polygon network. With Ethereum you will need some ETH on your wallet to pay for the gas fees, which have been quite expensive in the last months, while with Polygon you will just require a bit of MATIC tokens, with transactions costs ranging between $0.01 to 0.08 per transaction.
Before transferring tokens, always check on Settings which network your are using and which is the network that your tokens are running on. If you want to use Ethereum to transfer assets, your tokens must be running on Ethereum, and if you would like to use Polygon, your tokens will need to be running on the Polygon network. You can check on which network your tokens are operating by going to Settings and tapping on Network.
Multichain compatibility
As you might know by now, the Aurus tokens are supported by both the Ethereum and Polygon networks. This means that you have the option to 1) keep and use your tokens on the base layer (Ethereum) which might entail more expensive transaction costs (approx. $20–100 p/tx) due to the high congestion of the network, or 2) move your tokens to a sidechain (Polygon), which enables you to use your tokens with lower transaction fees (approx. $0.01 p/tx) and enhanced transaction speed. You can select what network to use on "Settings".
Multi-asset compatibility
Both the software wallet within the Aurus app and the Aurus Vault Card are multi-asset compatible, which means you can store, receive and transfer AurusGOLD (AWG), AurusSILVER (AWS), AurusPlatinum (AWP) and AurusDeFi (AWX), plus ETH (Ethereum) and MATIC (Polygon) in these two wallets.
You would like to store more assets on the Aurus app? Don't worry, we are working to support certain stablecoins and cryptocurrencies from other ecosystems to enhance your experience, these will be coming the app very soon.
Buying tokens seamlessly
In the section "Market" of the Aurus app you can buy AurusGOLD (AWG) and AurusDeFi (AWX) quickly and easily with your credit card using the CEXDirect tool. You can also buy AurusGOLD, AurusSILVER, AurusPLATINUM and AurusDeFi directly from the different partnered distributors, such as Direct Bullion, Aurica Group, AgaBullion, GoldDirect and CEX.IO.
Purchasing ETH (Ethereum), MATIC (Polygon) and other cryptocurrencies will be possible in the next months using CEXDirect and other fiat-on ramps.
Link your Aurus Vault Card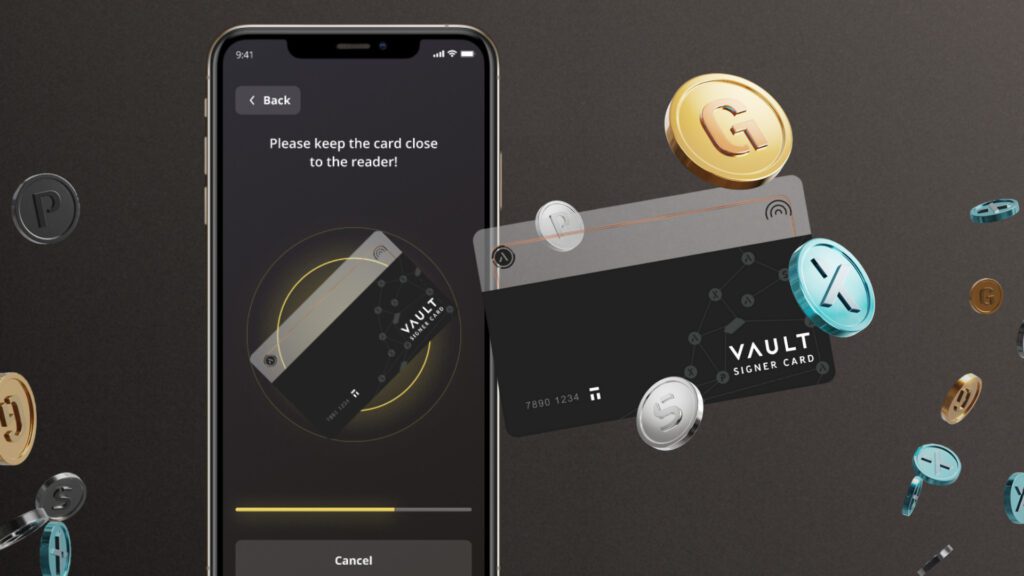 The Aurus Vault Card is a multi-asset compatible hardware wallet that enables you to store AurusGOLD, AurusSILVER, AurusPLATINUM, AurusDeFi, ETH and MATIC. With the Aurus app, you can scan your Vault card with almost any NFC-enabled phone, this way you can verify your balance and extract your assets in case you would like to move them to another wallet or exchange.
To enhance the security of your Card, you can set up a 4-digit PIN code or overwrite the existing PIN that you established for unlocking the Aurus app (Pro-tip: the PIN code is automatically the same for unlocking the Aurus app and for using the Vault Card).
Please make sure to validate the compatibility of the Aurus Vault Card with your smartphone:
iOS: Use iPhone models (from iPhone 7 & up) with iOS 13 or iOS 14.
Android: Use Android 5.1+ smartphones with NFC and tag reading support.
What else is coming to the Aurus app?
Access to DeFi protocols: Following our partnership with Quickswap and Moonfarm, we will be adding these platforms to the Market section in the Aurus app, where you will be able to provide liquidity with your tokens across different pools to earn transaction revenue, paid in precious metals and other cryptocurrencies. There will also be yield farming opportunities, where you can lend and/or stake your Aurus tokens to earn interest.
Polygon/Ethereum bridge: An in-app bridging tool to easily bridge your tokens from Ethereum to the Polygon network and vice versa.
Stablecoin support: In order to interact with certain DeFi protocols and for you to store more assets, we are going to support certain stablecoins and cryptocurrencies, such as USDC and DAI. These type of cryptocurrencies will be useful when adding liquidity to certain pool in DeFi, such as AWX-USDC or AWG-USDC (coming soon).
Stake & Claim of AWX: AurusDeFi (AWX) is the rewards token that powers the Aurus ecosystem. AWX entitles its holders to claim ecosystem rewards, paid in Gold, Silver and Platinum tokens. In Q1–2022, the Aurus app will integrate the Stake & Claim mechanism for AWX holders to start accumulating and claiming these ecosystem rewards.
And much more is coming!
Download the Aurus mobile App for free here: App Store and Google Play.
About Aurus
Aurus provides the software, network and crypto infrastructure for global precious metals businesses to merge with the future of finance, in the form of DeFi and Web3 applications — giving them high tech products, a huge addressable market and passive revenue streams. For more info: aurus.io 
Remember to join Aurus on Telegram and follow Aurus' Twitter!