When it comes to elite smartwatches, you can never go wrong with KOSPET smartwatches. Their latest Android Collection includes Note Smartwatch and Optimus 2 Smartwatch. Both these premium quality watches are the finest in the market and they offer only the best. 
Deciding between the two can be a difficult task, as both offers outstanding features, and reliability and are extremely chic. So, before you finalize any one of the above watches, here is a detailed review of both these to fully comprehend their capabilities, features, and functionality. 
The Best Android Series 
It is a beautiful watch that offers style, with technology. The sleek design and the sophisticated black color make an accessory that attracts attention to your wrist. Wear it with formal attire, or put it on with beachy shorts, and the watch would make its mark in every possible way. 
Design 
There is no denying that this amazing watch comes with a modern, and rugged design. The black color adds grace to its appearance, and the plastic shell along with the ceramic bezel allows the watch to give a rich, and expensive look. 
The silicone strap is the cherry on top. It offers comfort, provides quality, and much more. Wear it on your writs, and it will make every moment count. 
The Software Part 
The design of a watch is important and equally important is its insider. Of course, we will focus on the hardware in a short while, but before that, we need to pay attention to the software the watch has to offer. 
It is compatible with Android 5.1 and above. Optimus 2 smartwatch also works seamlessly with iOS 9.0 and above. Although it is compatible with Android 5.1 and above, it comes with Android 10.7. After all, the watch has to offer the best and it does not disappoint you in terms of its software! 
The Hardware Part 
Optimus Smartwatch comes packed with the latest hardware. Its MT6762+PAR2822 CPU offers great speed and reliability. The 45GB ROM is perfect for storing and storing things and the 4 GB RAM ensures smooth and seamless functionality. 
The battery of the watch is among its most prominent features. It comes with a 1260mAh Polymer battery that offers 1 to 2 days of battery life in Android mode, and 2 to 4 days of battery life for lite mode. 
What's more, it that is the first watch to offer a 13 MP rotatable camera with a flashlight. The Sony IMX214 AF is the best camera that ensures picture quality, stability, and freedom. 
Functionalities 
Functionalities are another thing that as a wearer you need to focus on. Optimus 2 Smartwatch would not disappoint you in this department. With its health monitoring functions, numerous sports modes, and different language compatibility, the watch would offer you a complete package. 
NOTE Smartwatch KOSPET gives you a refined visual experience because of its flat CNC metal middle frame. This quality product delivers quality and ensures complete satisfaction. Different from the Optimus 2 Smartwatch in terms of design, the Note Smartwatch is unique in its own way.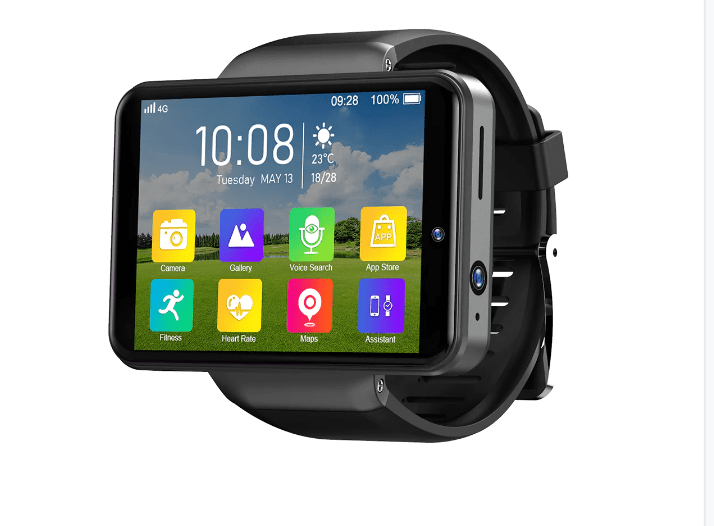 Design 
Available in Black and silver, the watch stands out because of its unique design. The body compromises PC along with metal and the strap is of silicone to the watch a complete look. The 28mm adjust watch strap would fit any wrist to perfection. 
The Software Part
The watch comes with a CPU of MT6739 and 7.11 Android by default. It provides support to any device that runs Android 5.1 and above. Likewise, it works well with iOS 9.0 and above. 
The Hardware Part 
The watch offers the latest hardware, it includes 3GB RAM for great speed and 32GB ROM for storage purposes. Its 2000 mAh battery offers 3 to 5 days of standby time and 1 to 2 days of daily usage. The camera is great, not as great as  Optimus 2 Smartwatch, but it does a decent job. 
Functionalities 
Health monitoring features numerous sports modes and compatibility across platforms in something that allows the watch to stand out. It is among the best watches that you will ever encounter. 
Despite offering endless features and functions the watch is affordable. So, buy the watch today and enjoy all that it has to offer. 
Take Away 
Choosing between these watches can be difficult as both are of top-notch quality, come with unique designs, and are one of a kind. So, buying the watch greatly depends upon your personal preference, choose the one that you think would suit you the best!