Giving flowers is a beautiful way to show love and appreciation to someone on their birthday. It's a timeless tradition and is becoming more popular by the day. Flowers represent elegance and simplicity, making them perfect for special occasions. If you want to express love, affection, or care to your friend, spouse, colleague or family member, flowers are just what you need.
But there are different types of flowers, each with its own meaning. This makes it difficult to choose the right flowers. To help you out, we've compiled a list of the 6 most popular flowers for birthdays. Read on to find out.
Roses
Roses are the first on our list for many reasons. They are popular and synonymous with expressing love and affection. So, if you need birthday flowers for someone in a romantic relationship, roses won't disappoint.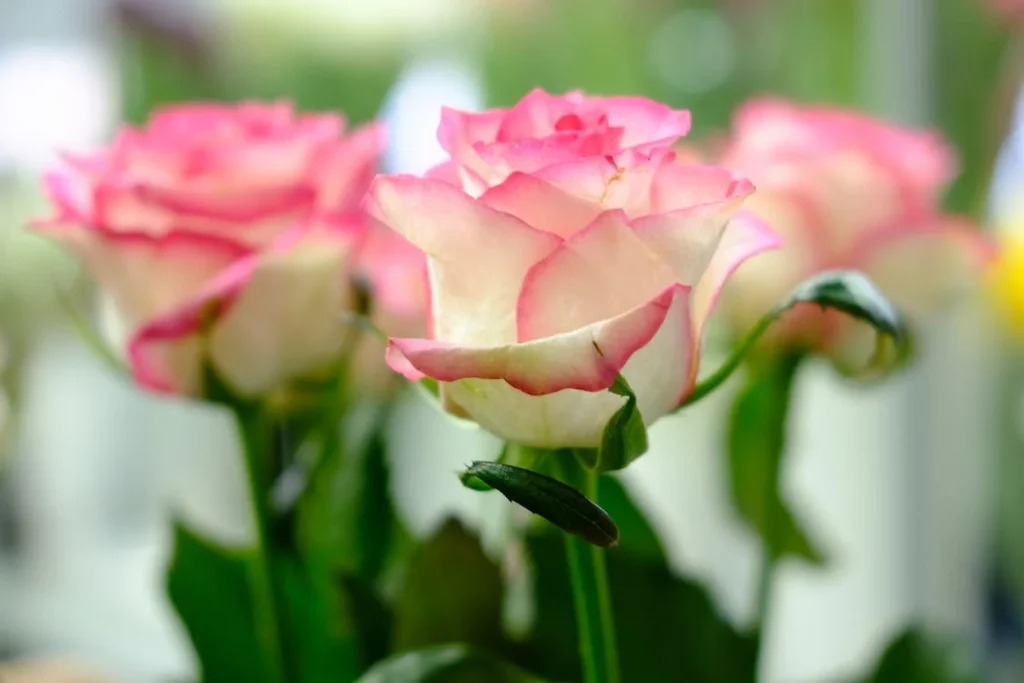 But there are many types of roses; each has a meaning and may suit unique purposes. Let's look at them:
Red roses: Red roses are a sign of love and the ultimate choice for expressing love.

Yellow roses: These roses have a bright yellow color that sends happy signals. They are the perfect birthday present for signifying friendship or conveying warmth feeling.

White roses: White roses are popular in weddings; their color speaks purity. As birthday gifts, they can signify everlasting love or new beginnings.

Orange roses: With their cherry color, orange roses can say feelings of enthusiasm, admiration, and excitement in a big way.

Pink roses: They are ideal for gifting someone you appreciate, as they mean adoration and gratitude.

Green roses: They represent hope, growth, and good luck which can make great birthday gifts for a child's birth.

Lavender roses: Lavender roses represent fascination, adoration, and love at first sight. It's a perfect symbol of expressing true love feelings.

Black roses: Black roses often symbolize grief or tragic love. If the receiver loves black roses, go for it.
As you can see, rose flowers are versatile, and you can gift them as one stem or in a bouquet. They also perfectly blend with other flowers with the same purpose.
Lilies
Lilies are one of the oldest flowers, having been around since the 16th century, and are still popular because they elude elegance and charm. They are also a popular birthday gift for your friend, sister, mum, or colleague, symbolizing positivity and happiness.
Lilies have beautiful bright petals that curl outwards, symbolizing generosity and warmth. Sending it for a birthday shows your openness in welcoming them into your life.
There are more than 2,000 types of lilies around the world. But Tiger, Asiatic, stargazer, calla, oriental, and Peruvian lilies are the best for birthdays. These lilies come in attractive orange, white, pink, red, yellow, and salmon. Consider the receiver's personality or favorite color to pick the right one.
Carnations
Carnations are another excellent pick for a birthday gift. Although carnations generally symbolize captivation, fascination, and love, the flowers have different meanings depending on color. The red one specifically is associated with admiration and love. Pink means appreciation or gratitude, and the yellow carnations symbolize friendship. White carnations can be a sign of luck or purity.
Something to like about carnations as a birthday gift is their longevity. With proper care, their blooms could last up to 2 weeks after the birthday celebration, enabling the respite to get the most out of it. And they require little maintenance, like occasional watering, to keep them fresh.
Sunflowers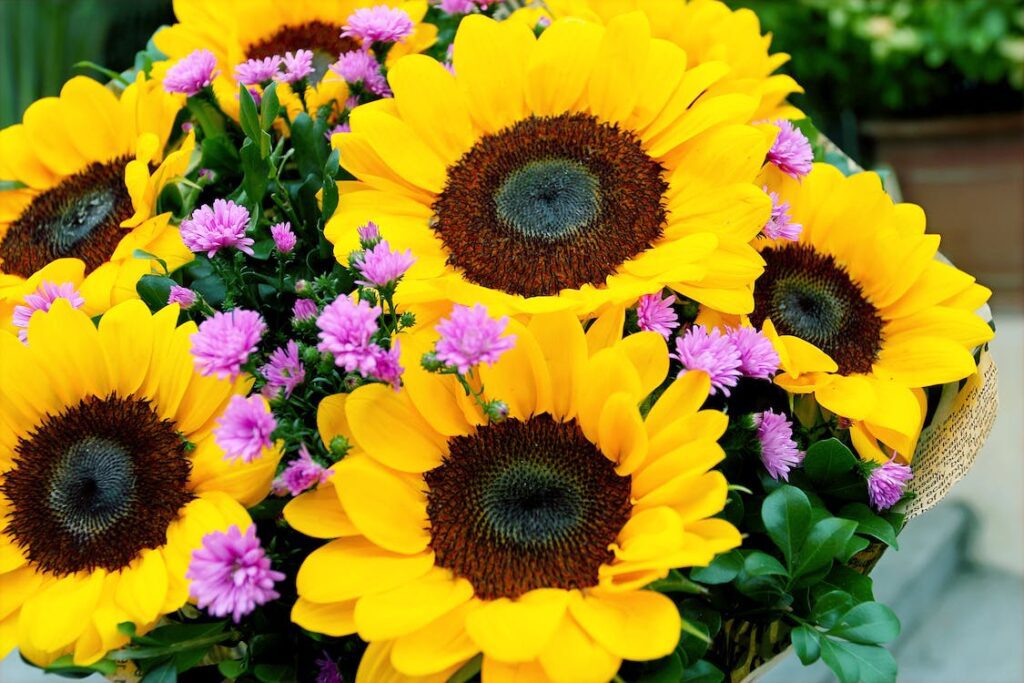 The bright, vibrant sunflowers are well known for their positivity, happiness, and energy vibe. In terms of delivering joy, sunflowers make the best choice. The most popular ones are the yellow sunflower. Their bright yellow petals and round face resemble rays of sunshine.
Sunflower isn't just a nice birthday gift; the flower is an important cultural and spiritual flower to many communities worldwide. Spiritually, sunflowers connect people with enlightenment as they turn to face the sun throughout the day.
Consider brown, purple, red, orange, and gold for a different shade. The orange sunflower symbolizes enthusiasm, while the red sunflower is attributed to love.
Because of the sunflower's unique connection with the sun, they are associated with the zodiac sign Leo. Some people believe its bright yellow petals reflect the sun's radiant energy. This makes it a nice gift for Leos.
Gerbera Daisies
Gerbera daisies are perfect gifts where positive emotions of friendship, warmth, or joy are involved. As a gift, they show cheerfulness and happiness. With their brightness, it's a nice way to express your warm birthday wishes to someone.
The flowers come in different vibrant colors, are affordable, and have a longe-life. You can choose from white, orange, yellow, red, or pink options. You can also combine various colors to convey your message best.
Garbera daisies are the perfect gift for anyone because they are not limited to a specific gender or age.
Orchids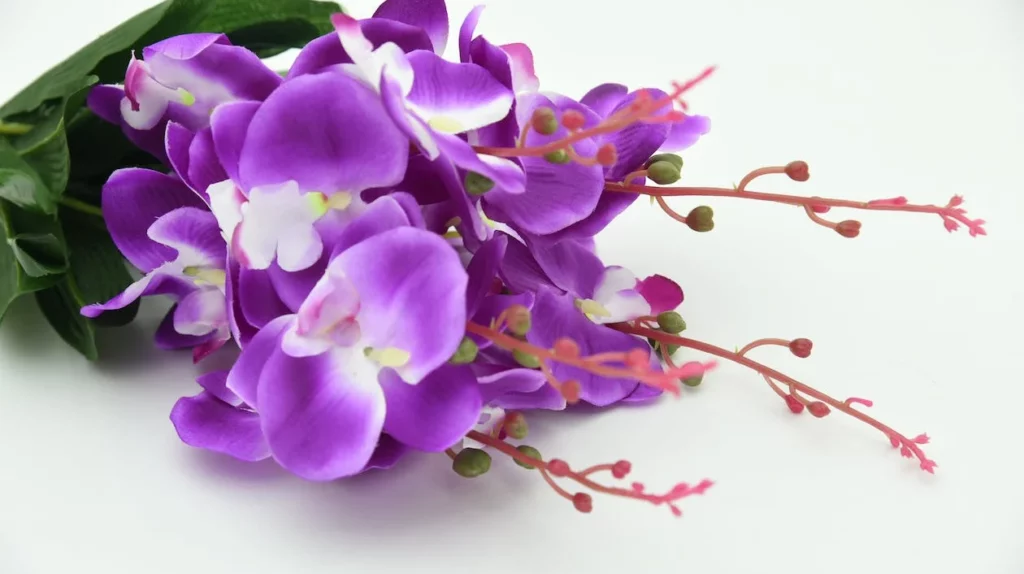 Last but not least on our list is orchids. Orchids are perfect gifts for various romantic occasions like valentines and anniversaries. They show love and beauty, making them great birthday gifts for friends, colleagues, to family members.
Some communities believe red orchids bring good luck. For others, like the Japanese, purple orchids are associated with luxury and abundance. While there's no evidence to back this up, it's an excellent way to enhance positive energy in a birthday celebration if it aligns with your beliefs.
Conclusion
There's no doubt that flowers are perfect gifts to brighten birthday celebrations. While roses are the most popular flowers, there are plenty of other options, including lilies, daisies, carnations, orchids, and sunflowers. And they all have different colors. With endless possibilities choosing the best is all about the recipient's preferences.
Finally, you want to ensure the flower is of high quality. This is why you want to work with a reputable flower delivery company that picks the best flowers and ensure they get to your receipt in the best form. They can also help you with flower arrangement and mixing to convey your message. So, try any of these top flowers in your next birthday gift.