Bitcoin has skyrocketed over the years and amidst a pandemic. It has stayed true to its vision and soured even higher than its expectations, making its investors very wealthy. 
In 2020, Bitcoin performed ten times better than its rival, investment gold, outperforming it and the stock market. Bitcoin rose by 300 per cent of its original price, which has helped propel the cryptocurrency to a new record high in its own history and the history of digital currency. 
With this in mind and the considerable part crypto is now playing in today's world, it's only natural that brands become open to the idea of accepting digital currencies as a way of purchasing products. Organisations like Master Card are making it easier for consumers to spend their crypto on goods in stores by creating transnational cards that work with crypto and fiat. 
However, buying big luxury goods is still a rising notion, and now Tesla is joining Lamborghini, making it a reality. Lamborghini was one of the first luxury car brands that started accepting cryptocurrency as payment, and now Tesla has announced they too will be accepting Bitcoin.
Elon Musk has shown his enthusiasm in Bitcoin and made the unexpected announcement via Twitter in a tweet. However, the value of Bitcoin is ever-changing, increasing and decreasing daily, which means the price of the car could go up and down too daily, reflecting the price of Bitcoin. He also tweeted that Tesla would be running its own internal software, which will handle the Bitcoin payments, and if refunds are needed, they will be done so by paying back the same amount of Bitcoin in US dollars based on the price of the Bitcoin in dollars.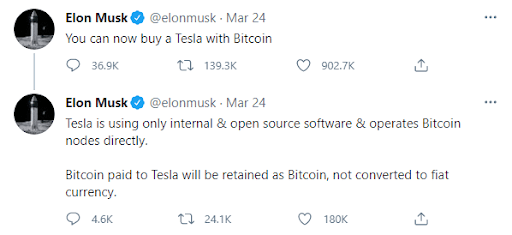 (Image Source: Twitter)
Tesla itself has invested heavily in Bitcoin and brought $1.5bn worth, given Bitcoin the much-needed confidence allowing it to shoot up to a record high. Of course, the announcement in itself helped to increase the price of Bitcoin. However, due to its volatile price, it does make using it to buy goods complicated.  
Cryptocurrency and the future of luxury  
Cryptocurrencies can behave like social tokens that help build brands and communities, forming loyalty. There are, of course, risks and a big lead to be made to take the concept of using crypto for luxury items form tech circles to the mainstream like smartphones, involving consumer audiences and becoming widely accepted.
However, thanks to the above move by Tesla, more consumers are gaining interest in cryptocurrencies which are gaining more traction. As high profile influencers like Elon Musk adopt digital currencies, it has increased the currency's relationship with others. Still, it has improved its overall image, making it attractive for other investors. This is something the luxury market is looking to capitalise on in the near future. 
Other material products that can currently be bought with Bitcoin include a super-exclusive speed yacht named the River Super Ego 68′, diamond and gold, luxury jewellery and watches. Although this may seem like a very small list of products, the interest in allowing consumers to buy with digital currency will undoubtedly take off in the near future. However, this all does depend on the stability of Bitcoin itself.
The Future of Bitcoin 
In all trueness, the future of Bitcoin and other digital currencies is still relatively uncertain. Bitcoin is the first of its kind, as it is historically setting the pace for newer digital currencies. So, it can not be measured similarly against any other types of investment.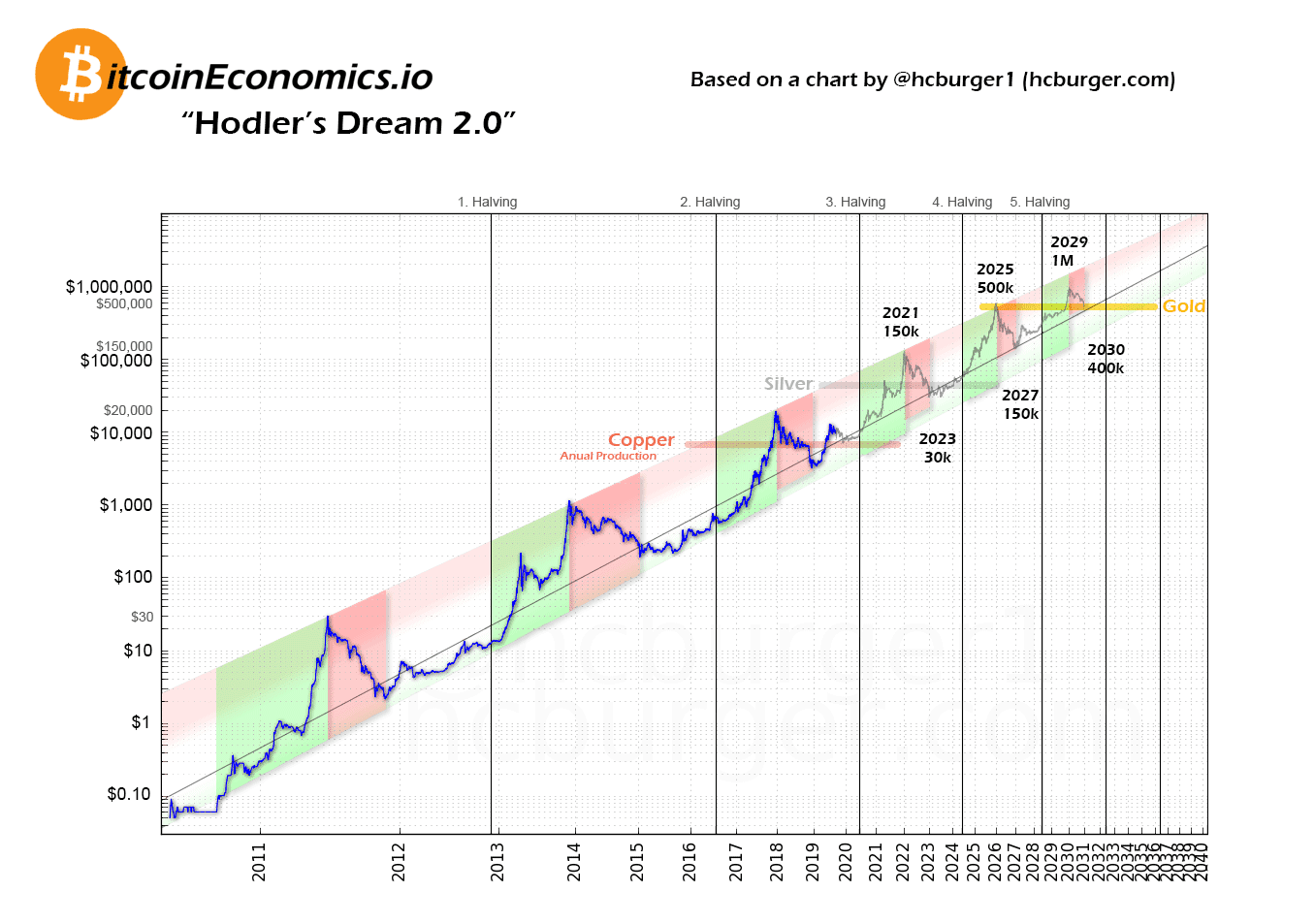 (Image Source: Bitcoin Economics)
There has been much initial interest surrounding Bitcoin outside of consumer interests, levelling it higher, but what goes up must come down, as all investors know. In the case of digital currency, the fluctuation can be huge, resulting in significant gains and losses. However, more recent talk surrounding regulations for Bitcoin and cryptocurrency can help make the currency more stable. This is monumental for Bitcoin as the scope and potential for it could allow it to grow into the level of fiat currency where investors and consumers may even be able to use it to acquire real estate and property.