If you are thinking of how to unlock android pattern lock if forgotten and how to unlock android phone without password, then you are at the right place.
Have you lately been locked out of your Android device? Or did you recently buy a used Android device and discovered that it was still password, PIN, or fingerprint protected?
Creating a tricky password to increase the phone's security and forgetting it is a significant issue that far too many users have encountered.
The majority of the time, an Android phone is locked due to reaching a maximum number of unlocking attempts allowed. This could be due to several factors, including forgetting the correct combination, improper handover from the previous owner, careless password entry, or even a hardware issue, such as a broken or faulty touch screen. All of these malfunctions have the potential to ruin anyone's day. Such circumstances may even result in the payment of an inflated service fee.
Fortunately, Tenorshare developed 4uKey for Android is a professional Android lock screen removal. It can help you solve Android lock screen removal issues.
Part 1. What is Tenorshare 4uKey Android?
Tenorshare 4uKey for Android is the most reliable and effective solution to bypass Android screen lock problems without a Google account. It can bypass any sort of screen lock, including Google Lock, patterns, pins, passwords, and fingerprints. Additionally, it is safe to bypass the screen lock because it includes Auto System Detection. In other words, it determines whether your device is prepared to go to the next stage of the unlocking process. 4uKey for Android not only bypass Android lock screen but also bypass Google account Samsung. This happens when some Android users are redirected to a screen that requests confirmation of their Google Account. Tenorshare 4uKey for Android is proud of its excellent success rate in resolving Google FRP Lock issues.
 Part 2. Features of Tenorshare 4uKey for Android
There are a lot of reasons to choose Tenorshare 4uKey for Android over any other bypassing software. Let's take a look at some of them: 
How to Bypass Android lock screen in Minutes
Tenorshare 4uKey for Android can remove all types of screen locks from your Android device, including PIN, pattern, password, and fingerprint. Without any specialized technical knowledge, anyone can quickly unlock the features. Although quick and straightforward to use, this software cannot remove lock screens without causing a loss of data, so please bear in mind this limitation.
Bypass Google account from Samsung without password
Is your Samsung phone or device stuck in the Google account verification process? Does the question arise that how do I delete my Samsung account without a passcode? Once the connection is made to your computer and the software, Tenorshare 4uKey for Android works as a Samsung FRP tool that will solve these issues in just a few clicks.
Unlock early Samsung devices without data loss
Tenorshare 4uKey for Android is capable of eliminating any Android pattern lock if forgotten or screen lock password. It is compatible with the majority of Android phones on the market, except for Sony, Oppo, and OnePlus. Additionally, this software supports unlocking previous Samsung models such as the Note 3, 4, and Galaxy S5 without erasing data. Without expert knowledge, you can efficiently handle it. Simple and quick.
Auto System Recognition before Unlocking Android Device
It will create corresponding test profiles for each password-protected Android device to determine whether your smartphone is prepared to perform the next procedure, reducing the likelihood of bricking the device once Android lock screen remover is ready, an essential and versatile feature of the software in comparison to market alternatives.
Universal Compatibility
Another eye-catching feature of 4uKey for Android is that it works with most Android phones on the market excluding Sony, Oppo and OnePlus. 
Part 3. Pros and Cons of Tenorshare 4uKey for Android
Pros of 4uKey for Android
Effective and Time-Saving
The first point that any user wants to see and knowledge is the effectiveness of any software. Tenorshare 4uKey for Android is fantastic, very efficient, and a time-saving product for unlocking or eliminating Android phone passwords.
The ease of use
Another important consideration is ease of use. The software's dependability is what makes it popular among its users. 4uKey for Android enables users to easily remove pin or pattern or crack Android passcode very easily, demonstrating that the software is highly customized and understandable.
Price
The third factor that is essential to customers is the cost of the software. Tenorshare 4uKey for Android is a bit pricey. However, this does not make it the wrong choice, as it is natural for high-quality products to be expensive. Thus, even if the software is expensive, it provides an excellent service to its customers.
Other than that, it also has a very simple and straightforward process user interface. It is also compatible with the variety of Samsung's earlier mobile versions, and it is 100% safe to use without any extra protection.
Cons of 4uKey for Android
The Google FRP Lock removal function is currently only available for Windows PCs.

You must compensate it for its services.
Part 4. How to Unlock Android phone With Tenorshare 4uKey for Android
How to unlock android phone without password?
With the help of Tenorshare 4uKey, anyone can easily remove forgotten password from Android phone by following few steps. 
Step 1
On your PC, launch the licensed version of 4uKey for Android and select "Remove Screen Lock" from the main interface.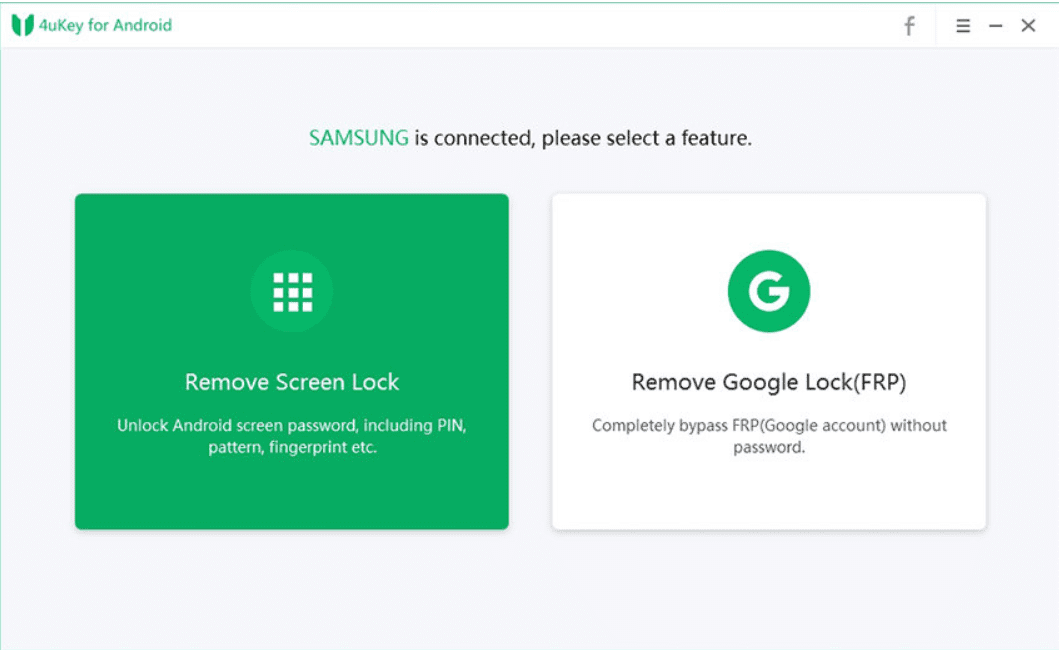 Step 2
Connect your Android phone or tablet to the computer or laptop while the application runs on your locked device, and enter recover mode and rebooting the system.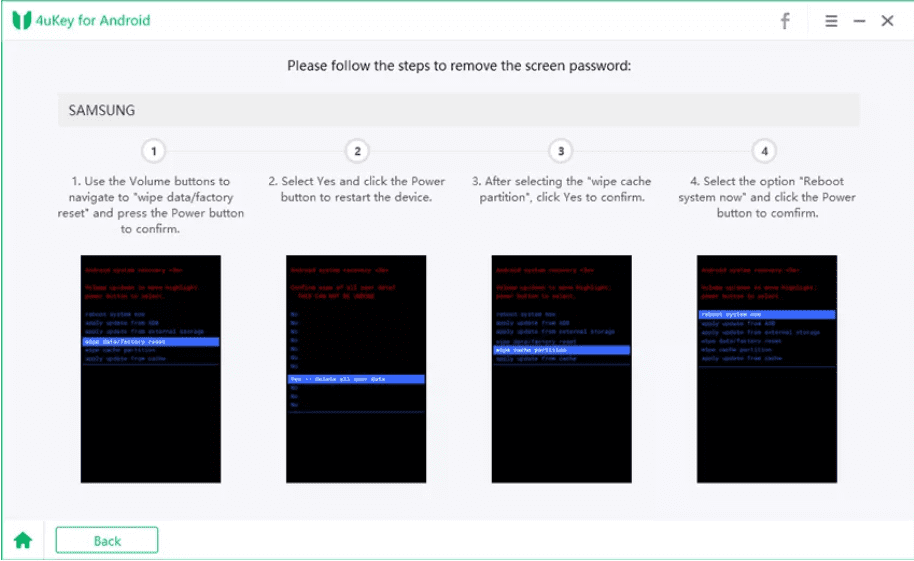 Step 3
A few minutes later, the lock screen will be removed successfully.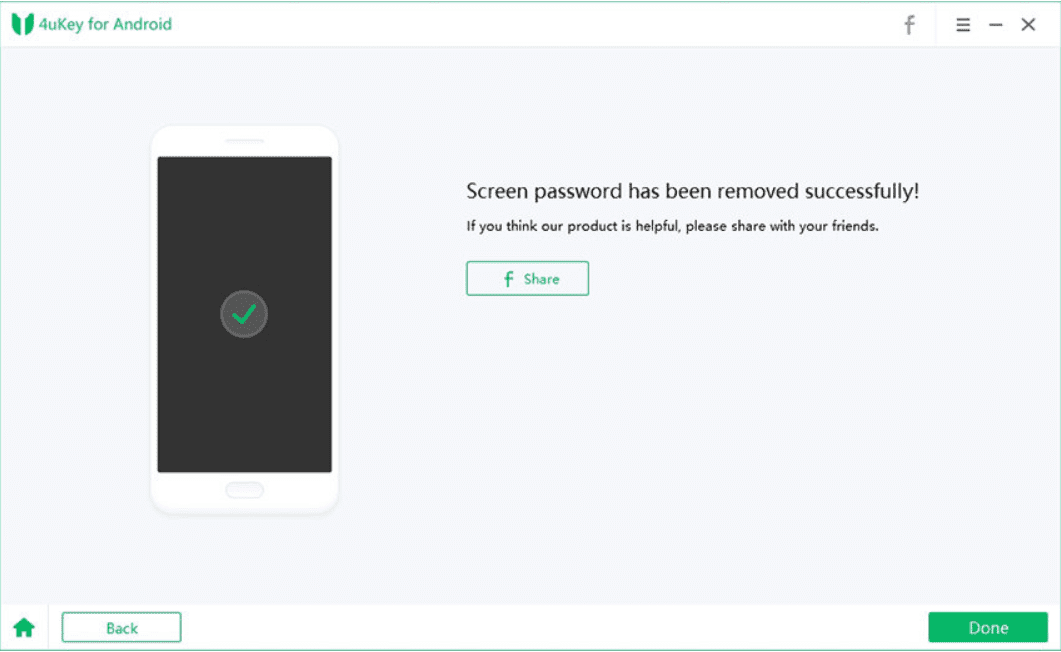 Part 5. Final Words
It's safe to say that 4uKey for Android is the most dependable and secure software available for unlocking Android passcodes. Therefore, whenever you are unable to access your device due to an Android screen lock or a Google FRP lock, install this Android software and reestablish access to your device in a matter of seconds.
You need not be concerned the very next time you lose access to your device. Just download the registered version of Tenorshare 4uKey for Android and bypass screen locks such as Android password, pattern, and fingerprint lock. This is a highly effective tool that is highly recommended.