It's safe to say the in-store retail marketing has taken a hit since the pandemic, where more and more are buying online. That said, the global in-store analytics market size is expected to surpass USD 4,500 million by 2025. Not bad huh?
The retail industry has always been an essential factor in the world's economy and with the increasing globalization, it's still one of the strong pillars for any economy.
Technologies have the prospective to be implemented to a range of retailer business goals. The advancements in technologies such as machine learning and big data analytics have significantly influenced the in-store analytics industry's growth past few years.
Fast forward to today, however, and technological advancements in the retail industry have opened up a whole new world of possibilities.
The holy grail for retailers in recent years has been omnichannel. And with good reason. According to Aberdeen Group, companies that provide a consistent service quality across multiple channels retain 89 percent of their customers – companies that don't are only able to retain 33 percent.
Leverage Experiences Powered by Robots, Artificial Intelligence, and Machine Learning
AI marketing and machine learning will be leveraged to create personalized recommendations based on the real-time needs of customers. This allows them to make simpler, instant decisions, leading to a better customer experience.
An example of this would be Peapod, a grocery delivery service, which leverages a service called "Order Genius," which creates personalized recommendations for online grocery shoppers. It creates a smart grocery list that can be fulfilled in moments by considering a customer's past purchases and their purchase cycles. So, Order Genius will suggest that a shopper that previously ordered bread reorders it on a weekly basis while recommending that the same customer only repurchases deodorant on a monthly basis. This personalized approach to grocery shopping makes the process simpler for customers, improving their experience.
Another great example is Tokinomo, an in-store, interactive, brand activation POS/POP display startup. They partnered with Nestle's MAGGI last month to create a series of sensor-controlled singing soup pots that have gone viral with nearly one million views on Facebook. Nestle Bolivia approached Tokinomo with the ambition to create an out-of-the-box brand activation for Maggi soups. Tokinomo, uses a sensor-controlled mechanism that lifts the lid of the pot in sync with the music to mimic the pots singing with a fire effect from lamps under the pot. Tokinomo's interactive brand activation displays are award-winning POSM solutions that bring products to life on supermarket shelves, just as if it's a scene from Harry Potter.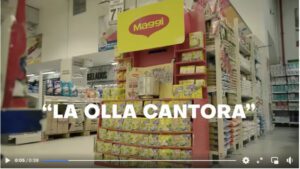 Creative campaigns such as MAGGI's singing soups not only engage with customers on the ground, but unlike traditional in-store marketing solutions such as cardboard displays, promotions, dump bins, and end caps which usually have a 15% – 30% sales lift on average, Tokinomo can generate sales uplift by around 200% without any price cuts.
With over 800,000 views since August 2021, creative brand activations such as MAGGI singing soup help sales and can also push brand awareness through social channels.
Maria Fernanda Ugalde, Senior Category Marketing Manager at Nestlé, said this:
Since the pandemic hit, we knew many consumers were nervous and worried when shopping. Times have been challenging, so we wanted to give shoppers something to laugh and smile about while helping retailers sell more of MAGGI's products. We're thrilled with the engagement this campaign has created both on and offline and our partnership with Tokinomo. The campaign also added a little touch of magic to the brand and a 200% sales lift in selected stores.
Socially Integrated Visualized Search
Have you ever seen a passerby with an outfit that you liked, and wondered where they bought it? Retailers are providing an answer to this situation by optimizing their product offerings for visual search. Visual search allows users to simply take a picture of the outfit – or download a photo of a similar outfit – and search for articles of clothing within the picture. Then, a search engine like Google will provide a list of matching items, giving users an easy path to purchase.
To prepare for the emergence of visual search, retailers should ensure they have a presence on image-based platforms like Instagram or Pinterest. For example, fashion brands should constantly provide new photographs that model their newest clothing. Then, customers can use an application like Google Lens to identify exactly what piece of the outfit they'd like to shop for from that photo.
As image search becomes more sophisticated, retailers can also use it alongside marketing AI to create product innovations. With this technology, customers could link their Instagram or Pinterest to their customer profile, allowing the retailer to analyze the photos within. From there, they could curate a list of recommended items that suit a shopper's existing outfits or a general sense of style.
Transparency and Values-based Branding
Roughly 71% of consumers prefer to purchase from brands that they feel align with their personal values. Growing concerns around data privacy and recent political unrest mean that people expect transparency from today's brands – and now more than ever, they expect to see companies "walking the walk." Otherwise, they run the risk of incurring reputational damage that can have long-lasting effects on brand equity and perception, even among loyal customers.