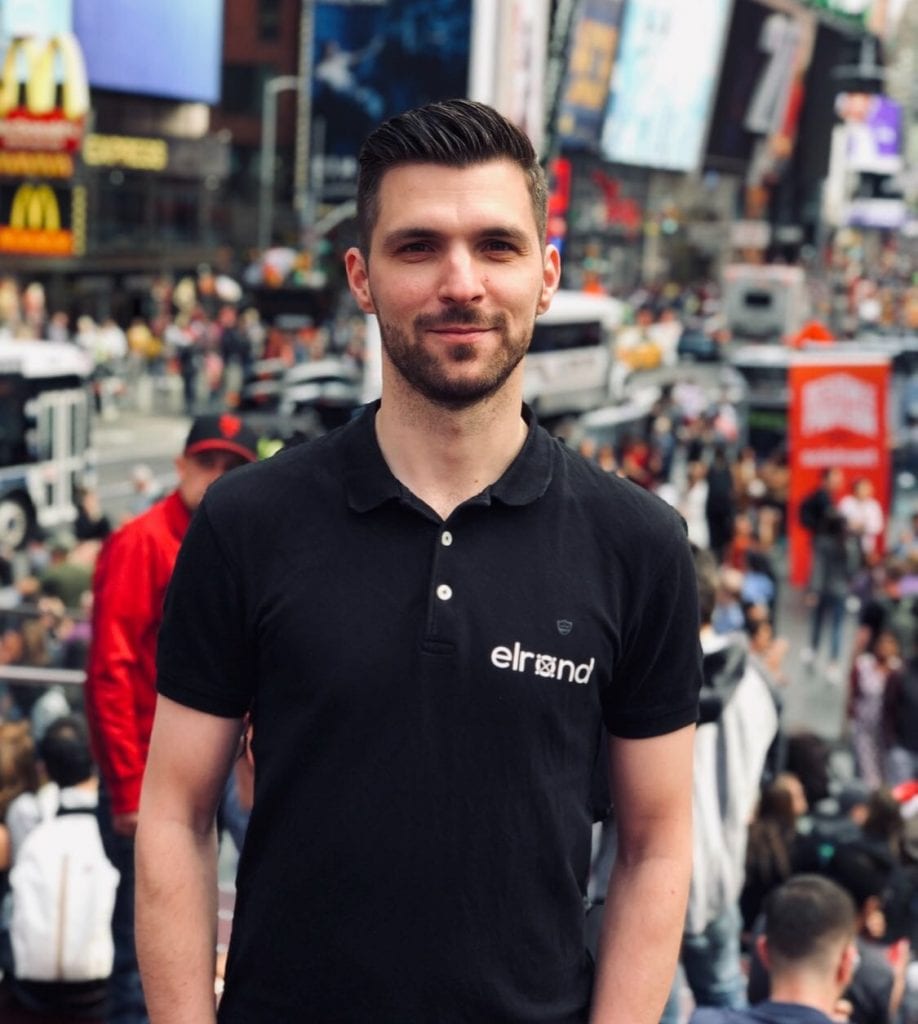 Elrond is a "user-friendly blockchain for deploying programmable money and unstoppable applications". The CEO Beniamin Mincu will be discussing Elrond with us in this interview.
Please tell us about yourself.
I'm the CEO of Elrond (www.elrond.com) and our team pushes the boundaries of cutting-edge blockchain technology.
Prior to Elrond, I led business and marketing for NEM (Crypto: XEM) and took it from a Bitcointalk post to a global billion-dollar product. After NEM, I co-founded Metachain Capital where I invested in more than 25 blockchain startups that yielded over 1,000-fold returns.
After that, I founded and led ICO Market Data, a venture that streamlines investment expertise.
In 2017, together with my brother we co-founded Elrond, bringing together an exceptional team to create an open, permissionless, interplanetary financial system. This is how Elrond began.
Here's a summary and social profiles.
Elrond Network: Co-Founder and CEO (2017 to Present)

ICO Market Data: Co-Founder and CEO (2017)

Metachain Capital: Co-Founder and CEO (2016 to 2017)

NEM: Business and Marketing Lead (2014 to 2015)
Website: www.beniaminmincu.com
LinkedIn: https://www.linkedin.com/in/beniaminmincu
Facebook: https://www.facebook.com/beniaminmincu  
Twitter: https://twitter.com/beniaminmincu.
What is Elrond?
Elrond is new blockchain architecture that's designed from scratch to accomplish several things:
(1) Bring 1000x cumulative improvement in throughput, execution speed, and transaction cost-efficiency.
(2) Improve user experience, eliminate required specialized hardware, and enable anyone to run a node and receive rewards.
Many solutions seem promising, but a couple of ideas that work long-term are:
Scalable parallelization of transactions (adaptive state sharding)

Efficient consensus and fast execution speed (secure proof-of-stake)
What challenges do you solve?
Everything changed when the internet transitioned from dialup to broadband. Elrond brings better performance to blockchain.
Specifically, we bring a 1000x improvement in throughput, execution speed, and transaction cost-efficiency. We improve user experience and lower barriers to entry of network participation through low staking cost and low computational requirements.
We've published a technical paper; validated the core hypothesis through a prototype; and we're close to a testnet launch. All while being self-funded.
How does Elrond's tech work?
There are three key components to the architecture: (1) adaptive state sharding, (2) secure proof-of-stake, and (3) meta VM build for Elrond.
Adaptive state sharding is a scaling technique that partitions transaction processing, storage, and network. So that each shard can process (and store) only a fraction of all transactions. It does this in parallel with other shards.
Elrond can start with one shard and form new shards as more validators join the network. Throughput can significantly increase as the network grows.
Secure proof-of-stake is a consensus mechanism. It's an improved variation of proof-of-stake (PoS) that ensures long-term security and distributed fairness through random sampling of the consensus group. While eliminating the need for energy-intensive PoW algorithms, and ensuring fast finality through pBFT (practical Byzantine fault tolerance).
Finally, Elrond Meta VM is a VM generated through K framework. It supports three other VMs at the same time: EVM, IELE and WASM.
Share a few success stories and technical progress.
Elrond began at the end of 2017. The venture is fueled by our team's passion to solve pressing problems in blockchain such as scalability, efficiency, and interoperability. The vision is to make Elrond a value-transfer protocol: one that's scaleable, fast, and efficient.
The digital economy consists of two key parts: programmable money and unstoppable applications. Elrond can do both because unlike previous blockchain iterations, it does not have to trade off performance for security and decentralization.
Our vision evolved and crystalized into a platform that enables anyone, anywhere to access the digital economy. To achieve this goal, we have to lower current friction: friction created via weak relative performance in speed and throughput, uncompetitive costs, and bad user experience.
In 2018, we achieved the following:
(1) Assembled a strong technical team and transformed our vision into a working product.
(2) Discovered technical frontiers and solved sharding and consensus problems.
We have one of the most experienced and resourceful teams in the space. The results are starting to show. We were the first to formalize and present a fully-sharded architecture that achieves linear throughput, combined with near-instant and efficient secure proof-of-stake consensus via pBFT (practical Byzantine fault tolerance).
Elrond published a theoretical paper in May 2018. Since then, our focus has shifted to validating the paper and demonstrating a working prototype that conducts cross-shard transactions. Our team released the prototype in July 2018. It became open source in November 2018. 
During this period, we learned about the limitations of Java libraries. Thus, Elrond Core has been rewritten from scratch in GO for our testnet to incorporate new findings, and to leverage more optimized GO libraries.
The results are promising. Initial internal testing shows a 30x improvement in throughput compared to our prototype, a feat practically impossible without the lessons from the prototype.
Right now we are weeks away from a testnet launch where we'll unveil some of the work done until now. We invite community members and developers to take part in a game of stakes exercise.
What's next on your roadmap?
We've validated a prototype, achieved 30x improvement from prototype to testnet, and we're close to ending the first funding round. The team is preparing for the public testnet release which should happen in the next couple of weeks.
After the testnet release, we'll have a community feedback phase through the game of stakes part. That'll be followed by several hackathons, as well as, onboarding discussions with companies that are looking to leverage our technology.
Do you have opportunities for partnerships and investors?
The biggest opportunity is that Elrond is an infrastructure that can truly accommodate market demand. Everything changes when you can process upwards of 10,000+ transactions per second (TPS), with five-second execution speed, and negligible transaction cost.
Think about the transition from dialup to broadband. We're eager to attract startups and companies in need of meaningful performance for their applications.
Tell us about your team and customer support.
The Elrond team is the cornerstone of our foundation. It comprises the right people who are driven by a common purpose. We've put together experience gained from reputable international companies. Our team members have strong academic backgrounds and practical experience in various technical fields.
The Elrond community is extremely important to us. Thus, we're in contact with supporters 24/7. We want people worldwide to make Elrond part of their identity. This is the power of a crypto network. We like the Zappos approach of delivering happiness, and want to apply the same philosophy in our outreach
Discuss your legal and security measures.
We built Elrond from the ground up with security in mind. We have built in several layers of security, first at the validator level (through stake and rating), then at the consensus level (through random sampling of the consensus group), and then at the sharding level (through random reshuffling of validators into different shards).
Elrond at this point is one of the most robust blockchain architectures, bringing an outstanding level of performance and security.
Legally, we are a regulated ICO that's incorporated in Malta. Maltese law ensures a higher transparency level by requiring ICOs to make a series of documents public.
These communicate info such as shareholder participation, whitepaper certification, board of directors, appointment of auditor, VFA agent, MLRO agent, custodianship, cybersecurity framework, and others. Local laws ensure there are systems in place to satisfy AML/CFT requirements, and more.
Any recent updates or announcements?
We're looking forward to Consensus this week in New York. We invite enthusiasts to our community platform and to get involved in social mining. For developers, the game of stakes is coming soon.
For more information, visit the Elrond website: https://elrond.com/