T1Markets Exchange was founded in 2017 and became one of the leading CFD exchanges to provide cryptocurrency-backed CFD's. However, embracing into the crypto world has now become a trend, but it wasn't the same in 2017.
Cryptocurrency and blockchain were totally misunderstood with little knowledge but T1Markets became innovative in offering crypto-backed securities. Moreover, Contract for Difference(CFD),  allows traders to trade with basic assets that include Cryptocurrencies, Commodities, Indices, and Stocks
T1Markets Exchange Details
| | |
| --- | --- |
| Website | https://www.t1markets.com/ |
| Available on mobile | Yes |
| Number of supported coins/tokens | 350 |
| Number of currency pairs | N/A |
| Company Owner | General Capital Brokers Ltd. |
| HQ Location | Limassol, Cyprus. |
History Preview
T1Markets was established in the year 2017 and it is the trading name for General Capital Brokers(GCB) Ltd, which is a Cyprus-based company. Moreover, GCD offers detailed training, research and analytics to authorize clients.
T1Markets currently operates over 20 countries while some are UK, Austria, Malta, Portugal,Czech Republic, and Bulgaria. In addition, GCD follows a unique ethos that, "it doesn't start with an asset but with you (the client)."
The exchange has more than 30 cryptocurrencies including BTC, ETH, ADA and DSH. Additionally, exchange supports the US Dollar and Euro. T1Markets support CFDs for FOREX, Indices, Commodities and also shares.
More so, T1Markets shares include blue chip shares for top companies like Apple, Amazon, Tesla and Facebook. Besides, offer commodities of more than 20 types like gold, copper, crude oil and sugar. Indices include Dow30, ASX100, and FTSE100.
Platform Overview 
The T1Markets Platform is user-friendly and also focuses on a unique ethos. Furthermore, the platform is highly intuitive making it easier for beginners in trading. T1Markets incorporates MetaTrader4(MT4) platforms, which allows customers to use trusted trading platforms.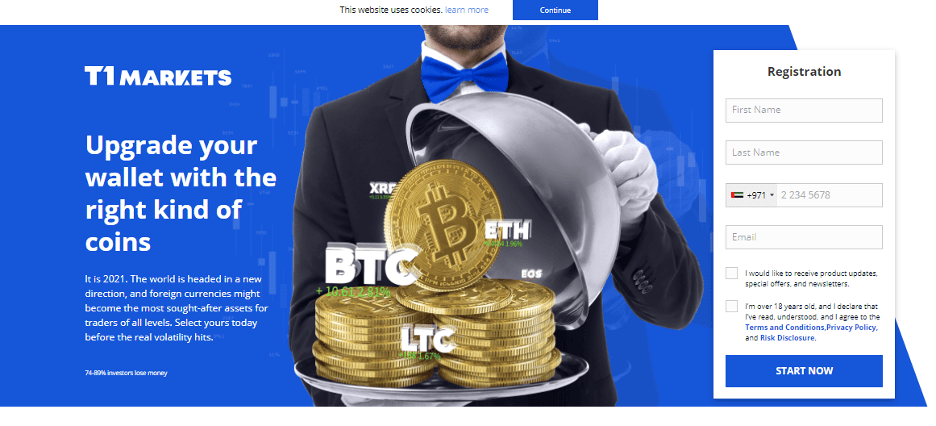 T1Markets Home Page
In addition, the MT4 platform is popular among users due to functions like Signal and Market. On one hand, Signal function supports Copy trading, which allows beginners to copy experienced traders strategies. Thus, it helps traders to learn using 'trading wheels'. On the other hand, the Market functions offer users with the market analysis,indicators and expert advice
Moreover, T1Markets offers a highly innovative and optimized platform for both mobile and web trading. Additionally, T1Markets offers margin trading, where traders have a chance of borrowing to increase their investment. Also other professional traders are allowed to increase the margin limit.
Key features and functions
T1Markets offers various key features and functions that enable the exchange to differ from other exchanges.
Features
Ease-to-use: Offers highly innovative platform  which allows users with one click execution
Reasonable Fee: The platform offers commission-free deposits and generous swap discounts upto 50%.
Leverage up to 500x: With speculative nature of CFD trading and high risk from leveraging, the platform allows users to 1:30 margin cap, whereas professional traders have upto 1:500.
Multiple deposit options: The exchange allows users to make deposits using bank transfers, mobile banking, credit and debit cards. Additionally, it supports British pounds and Euros.
Multiple platform options: Users have the option of using MT4 platform or customize web and mobile platforms. Moreover, users can use Visa, Mastercard, Orangepay, DECTA, Trustly, Skrill, Wirecard,VPay, or Neteller
Automated trading: Platform has Stop Loss/Take Profit which helps limit losses while increasing profits as well as offers automated trade execution on MT4.
Security: The exchange is extremely secure with encrypted communications and data servers.
Functions 
Web: The platform enables users to wasp between devices as it offers a user friendly interface for both web and mobile. Moreover, it is completely synchronized and supports charts and dynamic analytics.
Mobile: This is the optimized mobile app which allows users for easy transfers with one-click. Both web and mobile options are mobile-friendly without compromising on functionality.
Deposit & Withdrawal Options
 Initial deposit
Initially opening an account in T1Markets is simple and easier, just by filling the basic details. Further, the platform accepts deposits from payment methods which includes bank transfers, credit or debit cards, online mobile payments and British pounds or Euros. Besides, the users have to make an initial deposit of either £125 or €215 for account activation.
Withdrawal
Withdrawal process in T1Markets is bit slow which may prolong for 5 days. Moreover, the platform charges withdrawal fees and maintenance fee for dormant accounts. Additionally, T1Markets may charge a penalty for withdrawing funds from an inactive account.
Pros and Cons
Pros
Enable one-click trade execution
Faster transfer in web and mobile.
Transparent transfers
Provides educational service
Multiple account options
Improved Security
Segregated account
Automated trading
Cons
Unavailable in many countries
High initial deposit, swap charges and penalty fee.
Does not support MetaTrader5.
Final Score
➢     Services offered                   3/5
➢     Cryptocurrency support        3/5
➢     Fees                                    3/5
➢     Security                               4/5
➢     Review Score                       3/5
Summary
As a pioneer in CFD trading T1Markets has a lot to offer clients. The user-friendly innovation is the result of years of research and development. Wallet hacking is the tragedy to worry about with trades. As such, the team has found ways to help users' assets.
Considering several years of experience and a wide range of products and services to offer, T1Markets exchange has procured its place as an pioneered exchange.
Nonetheless, despite the fact we have found no issues with the platform we suggest clients to take a glance before stepping into anything. Online trading is extremely dangerous and has high risk tolerance while trading cryptocurrency assets.
FAQ
T1Markets is a Cyprus-based pioneering CFD trading platform and licensed by CySEC.
How do I open a T1Markets account?
To open a T1Markets account is simpler and easier, just by filling the basic details. If you face any trouble in opening an account you can contact the support team.
Email: support@t1markets.com
Is T1Markets a safe platform to trade?
We have discovered no issues related to the platform. Besides, we always suggest taking a glance when it is online trading.
What are the payments accepted on T1Markets?
Users can make payments on T1Markets with bank transfers, credit or debit cards and also allow e-cards. T1Markets also accepts British pounds and Euros.