Switchgears, as the name suggests, are used for controlling and disconnecting electrical equipment for averting hazards. In other words, switchgear is used for exhausting energy from the equipment for eliminating faults in downstream load distribution through equipment. These activities are monitored in the equipment like transformers and substations. The development of transmission lines and power plants is on an exponential rise. This has, in turn, led to growth in the demand for switchgear monitoring systems all across.
At the same time, the fact that installation of switchgear monitoring system is a costly affair can't be ruled out. Persistence Market Research has sketched these findings with future perspectives in its latest market study entitled "Switchgear Monitoring System Market".
Switchgear Monitoring System Market Dynamics
The switchgear monitoring system market, by type of switchgear, spans Gas Insulated Switchgear (GIS) and Air Insulated Switchgear (AIS). By voltage level it's low, medium, and high. By type of monitoring, it's partial discharge monitoring, thermal monitoring, SF6 monitoring, and likewise. By component, it's hardware (RF antenna, sensors, and receiving & processing), software, and services. By end user, it's energy & utilities, transportation, and industrial.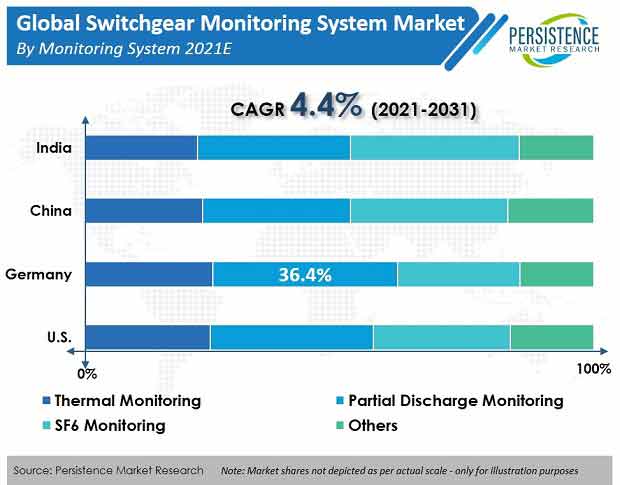 Out of these, high voltage level holds the largest market share. This could be attributed to growing reliability on the part of high-voltage electrical assets. Also, thermal monitoring dominates the market due to early diagnosis of the incipient problems. This, in turn, results in minuscule/no downtime to address switchgear failure. Persistence Market Research has given an eagle eye view herein with probable calls to action in its latest market study entitled "Switchgear Monitoring System Market".
Region-wise Slingshot
The Asia-Pacific holds the largest market share with ever-increasing investments in the development of smart grid infrastructure, excessive spending on transmission and distribution, and increasing dependence on the renewable power generation. China leads from the front, i.e. it is home to the highest capacity of generation and distribution, thanks to the ever-growing demand for electric supply. Indonesia, India, and Australia are the other countries following suit. Europe and North America stand second and third respectively. Persistence Market Research has enlisted these findings with insights in its latest market study entitled "Switchgear Monitoring System Market".
Competitive Monitoring
Persistence Market Research has profiled the key players in switchgear monitoring system market as Schneider Electric, IRIS Power LP, Qualitrol Company LLC, GE Grid Solutions, ABB Ltd., KONCHAR – Electrical Engineering Institute, Inc., Farsens, IPEC Ltd., Altanova Group, Haozhi Electric, Industrial Electric MFG, Prism Power Group, Siemens, Eaton Group, DONWIL, Fuji Electric Co., Ltd., LUMEL S.A.
Persistence Market Research has also gone ahead with highlighting the latest developments in this regard. For instance – Schneider Electric, in February 2020, entered into partnership with Tricolite Electrical Industries to let the former assemble, test, engineer, and sell new gen MV switchgear Premset. Siemens, in January 2020, did acquire C&S Electric for meeting the increasing requirement for electrification. The scope is inclusive of low-voltage switchgear panels and components. ABB, in April 2019, did introduce low-voltage digital switchgear coupled with smart condition-based monitoring to facilitate safe, smart, and flexible electrical distribution.
The Road Further
The global switchgear monitoring system market is bound to grow on a stellar note in the forecast period – Persistence Market Research
GAIN COMPLETE ACCESS TO THE REPORT – https://www.persistencemarketresearch.com/checkout/28276