As personal hygiene practices continue to evolve, electric toothbrushes have become a staple for those aiming to preserve their dental health. Leading the charge in this transformation is Bitvae, a company renowned for its trailblazing oral care products. 
The company's latest offering, the Bitvae D2 Ultrasonic Electric Toothbrush, is a testament to their ingenuity, seamlessly merging cutting-edge technology and practical design to guarantee a comprehensive clean, and a radiant smile. So, today's article aims to explain the benefits of using an electric toothbrush and how Bitvae is raising the bar for oral care with the release of its newest electric toothbrush.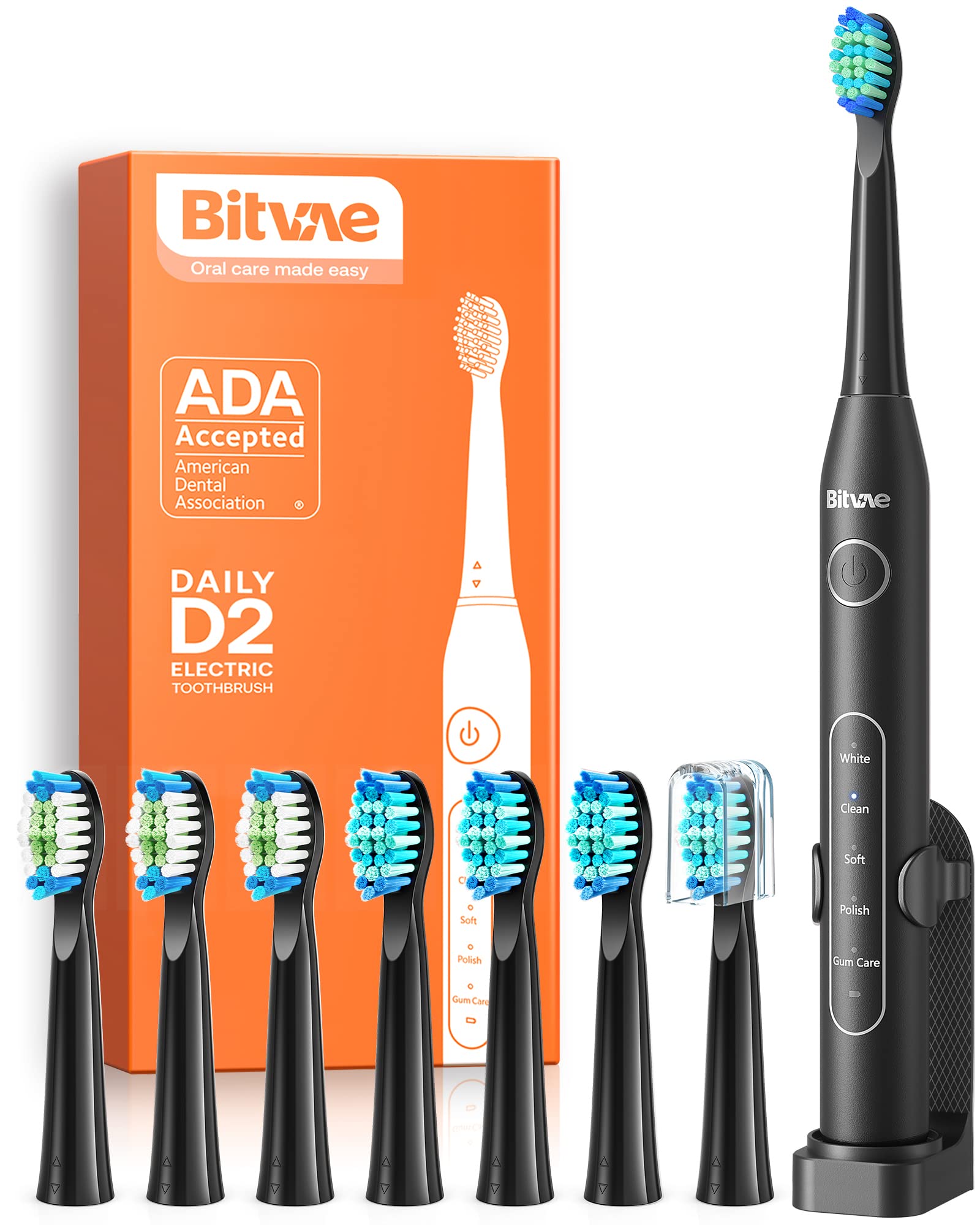 Why Use an Electric Toothbrush?
Choosing to use an electric toothbrush can be a transformative decision for your oral health. The benefits of these high-tech devices span across various aspects, from ease of use to more effective plaque removal. Let's take a look in closer detail: 
Superior Plaque Removal
The primary reason dentists recommend electric toothbrushes is their superior plaque removal ability. With high-speed oscillating and pulsating movements, these brushes break up and remove plaque more effectively than manual brushes. They can reach areas often missed by a manual toothbrush, leading to a cleaner mouth and fewer cavities.
Gum Health and Gingivitis Reduction
Electric toothbrushes have been clinically proven to reduce gingivitis, a common gum disease. They stimulate gum tissue, promoting better blood circulation and overall gum health. Over time, this can result in firmer, healthier gums and a significantly lower risk of periodontal diseases.
Consistency in Cleaning
Unlike manual brushes, electric toothbrushes provide a consistent brushing motion. This constant action is especially beneficial for those with mobility issues, such as arthritis, who might struggle with the manual dexterity required for effective brushing. Furthermore, young children learning to brush can benefit from the automatic movements of an electric toothbrush, ensuring a thorough cleaning every time.
Built-in Timers for Better Brushing Habits
Most electric toothbrushes, including the Bitvae Ultrasonic Electric Toothbrush, come with built-in timers. These timers help you ensure you're brushing for the dentist-recommended two minutes, promoting better brushing habits. Some also have quadrant timers that notify you when to move to a different section of your mouth, ensuring a balanced clean.
Tailored Brushing Experience
With multiple brushing modes available, electric toothbrushes offer a tailored brushing experience to cater to different oral health needs. Whether you have sensitive teeth, require a deeper clean, or want to focus on gum care – there's a mode for that!
Long-Term Cost Effectiveness
While the initial cost of an electric toothbrush may be higher than a manual one, the long-term benefits can result in cost savings. With more effective cleaning and the potential to prevent oral health issues, you could save on dental treatments in the future.
The Bitvae Ultrasonic Electric Toothbrush: Innovation Meets Oral Care
The Bitvae Ultrasonic Electric Toothbrush is a game-changer in electric toothbrush technology. With ultrasonic technology that delivers an astounding 40,000 strokes per minute, it removes up to 7X more stains than a manual toothbrush, resulting in a more thorough clean. However, the features don't stop there, so let's take a look at how Bitvae brings so much value with their electric toothbrushes. 
Tailored Brushing Experience
This advanced toothbrush offers five modes to cater to different conditions of teeth and gums: Clean, White, Polish, Soft, and Gum Care. Each mode is designed to address specific oral health needs, from daily cleaning and stain removal to gum care and polishing, providing a personalized brushing experience.
Prolonged Usage and Ease of Storage
Bitvae provides eight replacement heads, ensuring over two years of usage, adding to the product's longevity and cost-effectiveness. Accompanying the toothbrush is a handy ultrasonic holder. This clever addition not only keeps your toothbrush secure and clean but also adds a sleek, modern touch to your bathroom decor.
Battery Life and Portability
Perhaps one of the best features of the Bitvae Ultrasonic Electric Toothbrush is its impressive battery life. A full charge takes just 4 hours and provides up to 30 days of usage, making it a reliable companion for both everyday use and travel. Its USB cable compatibility means it can be charged with a power bank, phone, or any device with a USB port, adding to its convenience and portability.
Enhanced Waterproof Features and Timed Brushing
The Bitvae Ultrasonic Electric Toothbrush is built with an IPX7-rated waterproof design. This allows the toothbrush to be safely rinsed with water, used in the bath or shower and ensures its durability. As we previously mentioned, it features a built-in 2-minute timer, which pulses every 30 seconds, thus promoting dentist-recommended brushing habits and reinforcing the importance of comprehensive oral hygiene.
ADA-Approved and Designed for Comprehensive Clean
The Bitvae Ultrasonic Electric Toothbrush comes with the seal of approval from the American Dental Association (ADA), confirming its effectiveness and safety for oral health. Employing sonic technology, the toothbrush emits gentle pulses that maneuver fluid between teeth and along the gum line, ensuring a thorough yet gentle clean during every use.The soft, w-shaped bristles are specifically designed to contour to teeth topography, removing up to 100% more stains from hard-to-reach spots.
A Healthier Smile with Bitvae
Maintaining good oral health is a vital part of overall well-being, and the Bitvae Ultrasonic Electric Toothbrush makes achieving a bright, healthy smile both effortless and efficient. Its range of features, from the ultrasonic technology to the various cleaning modes, is complemented by an impressive battery life and easy portability. Moreover, the thoughtful inclusion of a holder and several replacement heads emphasizes Bitvae's dedication to delivering a complete, user-friendly oral care solution. Everything considered, these considerations combined put Bitvae at the forefront of the market!
Revolutionize Your Oral Hygiene with Ultrasonic Technology
As the world of oral care continues to evolve, electric toothbrushes are at the forefront, championing this revolution. The Bitvae Ultrasonic Electric Toothbrush exemplifies this evolution with its advanced features and commitment to oral hygiene. Its high-speed, multi-mode operation, combined with its longevity and the convenience it offers, makes it an investment worth considering for those seeking to elevate their oral health regimen.
In a world where first impressions often start with a smile, Bitvae assures that your smile is always at its best, providing an unrivaled brushing experience that leaves your mouth feeling clean, fresh, and healthy. Bitvae is not just reinventing the toothbrush; it's reinventing the way we approach oral care – one smile at a time!
So, take the leap! Invite Bitvae into your daily routine and embark on a journey toward peak oral health. With the Bitvae Ultrasonic Electric Toothbrush, a radiant, healthier smile is just a brush away!