Yesterday, we had Inflation data which came out as expected. No major shocks on the data front, however, it still confirmed that inflation was slowing down as CPI for December came out at 6.5% which is much lower than the 7.1% November reading.
The markets are pricing in a 75% probability that the Fed will raise interest rates by 25 basis points in February as opposed to a 50 basis point rate hike.
Gold pushed up after the data release and broke $1900 briefly. Gold has seen solid gains due to the cool-off in Inflation. As the market begins to price in lower rate hikes, the precious metal starts to gain more attraction from investors.
Oil has seen some bulls of late due to the reopening of China which effectively encourages all commodities to see some upside moves. With China opening up, we can assume this will have massive effects on global production as they are the world's biggest exporter.
The Swiss National Bank posted a $143 billion annual loss which is the largest in its 115-year history. This came with negative effects for CHF as we saw selloffs across the FX market.
Bitcoin is picking up the pace and broke through the resistance at $19,000 after the CPI data release as the Dollar fell. We can expect this bull run to continue until the key area around $20,000 is hit.
In today's DIFX Analytics, we're going to look into the following assets:
Oil is range-bound between $70 – $80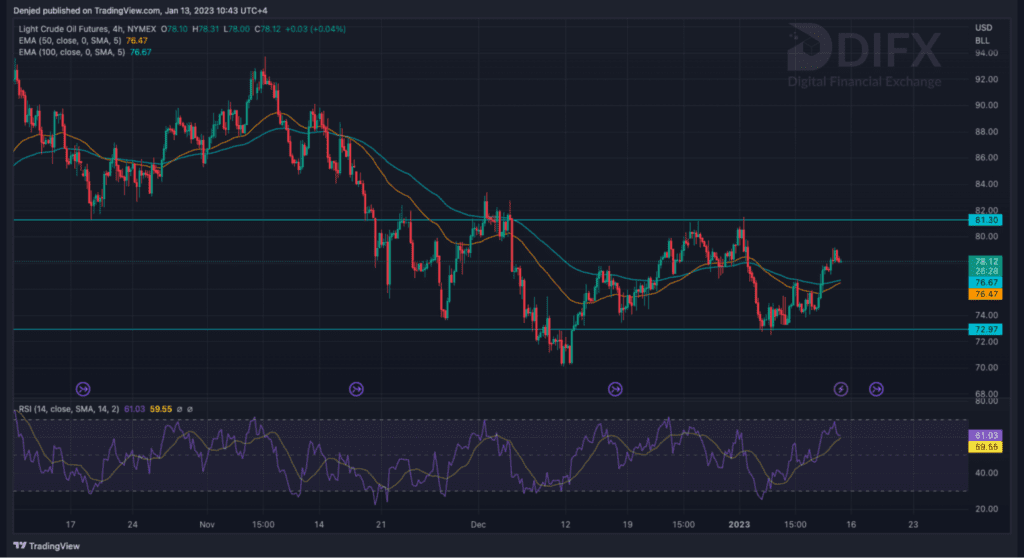 Crude Oil is still trading in a range between $70 – $80. The recent opening of Chinese borders has spurred some bullish price action into Oil.
The asset recently crossed above the 100-day EMA which is a confirmation of more upwards movement.
In the long term, Oil is still on a downtrend as it sets lower highs.
Bitcoin breaks $19k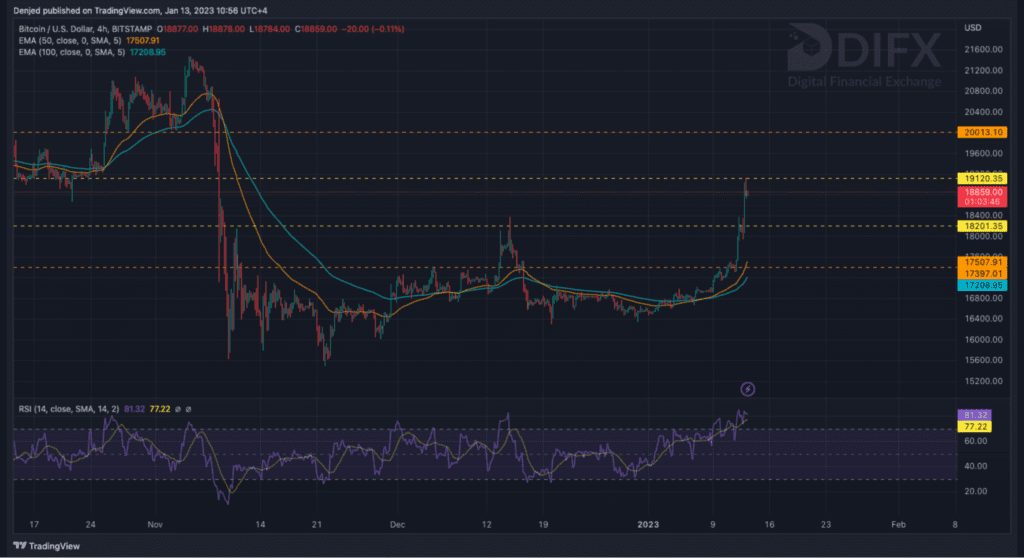 Bitcoin broke $19,000 briefly as we make the move for $20K. It has since retraced slightly down and is sitting at $18,850.
RSI is strengthening and has increased up to 80. The asset is slowly creeping up and we can expect this rally to continue as the Dollar falls and inflation slows down.
Swiss National Bank posts biggest loss since inception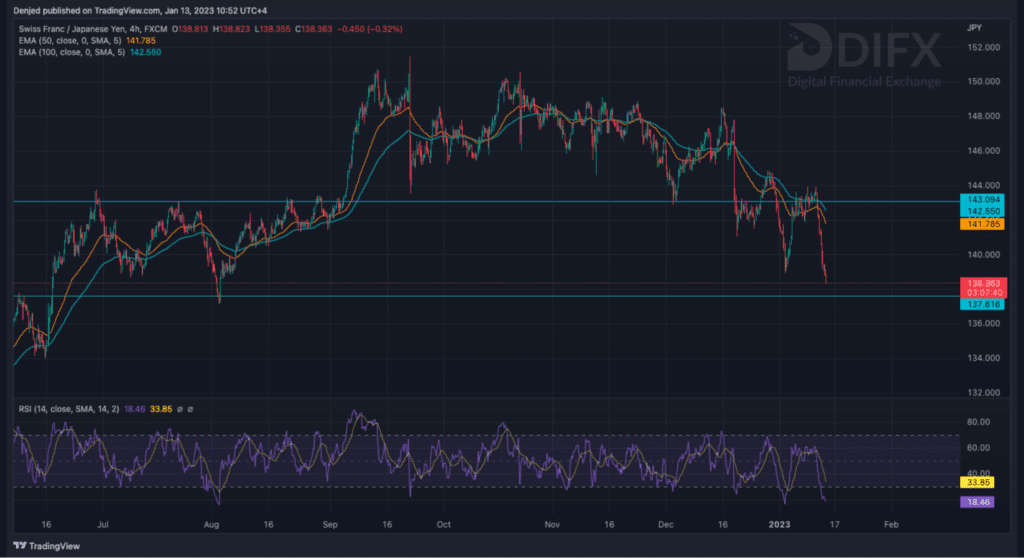 CHF/JPY has broken the support level and is rapidly sliding lower. The Swiss National Bank recently announced that they posted a $143 billion annual loss for 2022, which is the biggest in its 115-year history.
This has resulted in big losses in the Swiss Franc and with strength from Yen, we are seeing massive losses in CHF/JPY.
We can expect further downside moves until the support is hit at $137.6.
Gold hits $1900 after CPI data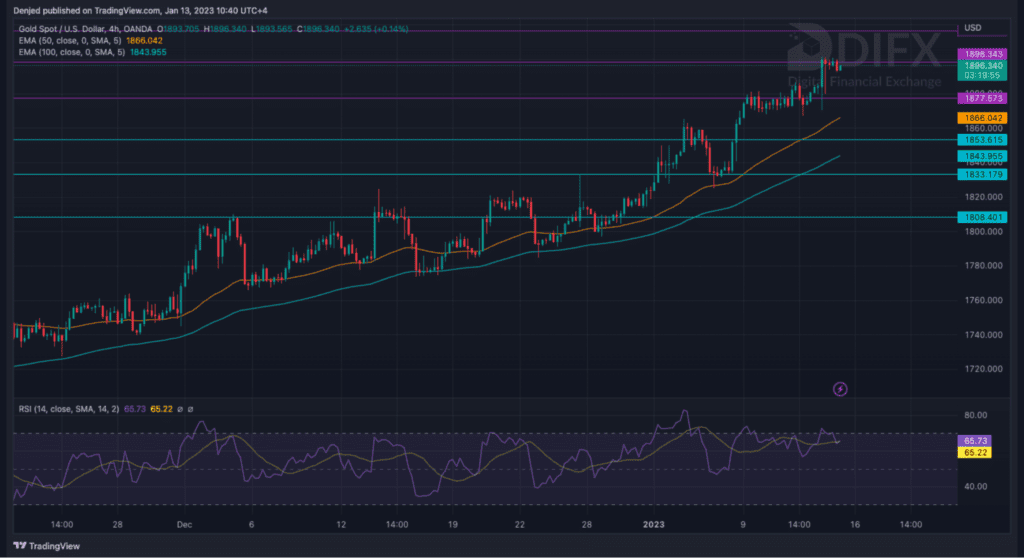 Gold pushed up to $1900 after the CPI data release confirmed that inflation was cooling off. The precious metal found some resistance at this level and we have seen it rejected down as it hovers around the $1896 level.
RSI has broken upward out of the downward trend but is still slightly weak.
*****
To learn more about the markets and start your trading journey, sign up now on Digital Financial Exchange (DIFX) to create your diverse portfolio of assets. 
About Digital Financial Exchange
Digital Financial Exchange (DIFX) is a centralized cross-asset crypto exchange that allows users to trade between multiple asset classes that include indices, forex, crypto, metals, and commodities, just to name a few. The DIFX fully-insured crypto wallet comes from a partnership with Fireblocks, one of the leading crypto custodians in the world.
To begin your journey with Endless Possibilities, download the app now from the iOS or Google Play Store, or visit us at difx.com
Trading Disclaimer
DIFX shall not be responsible for any loss arising from any investment based on any recommendation, forecast or other information herein contained. The contents of this publication should not be construed as an express or implied promise, guarantee, or implication by DIFX that the forecast information will eventuate, that clients will profit from the strategies herein or that losses in connection therewith can or will be limited. Trades in accordance with the recommendations in an analysis, especially leveraged investments such as foreign exchange trading and investment in derivatives, can be very speculative and may result in losses in particular if the conditions or assumptions used for the forecast or mentioned in the analysis do not eventuate as anticipated and the forecast is not realized.