Unsure of where to begin but wanting to improve your backyard? An excellent place to start is with a pergola vs gazebo!
A pergola or a gazebo? We will clarify the differences for you today so that you can more effectively select the ideal outdoor leisure item.
The shapes of gazebos vary.
The ideal outdoor atmosphere can be made at any time of year with this Sunjoy Outdoor Patio 13×13 Black 2-Tier Wooden Frame Backyard Hardtop Gazebo with Ceiling Hook. @1920FARMHOUSERENO
Enjoy a covered outdoor space beneath the cedar wood frame with a strong, long-lasting powder-coated steel roof in all four seasons.
The pergolas are often round, usually in the shape of an octagon or hexagon, and they are either round or rectangular, which leaves you with few possibilities for creating a unique design.
A greater shadow area is created by gazebos.
The purpose of the roof is where a pergola and gazebo differ most from one another.
The crisscrossed metal roof of the Sunjoy Outdoor Furniture 10×10 Modern Metal Frame Pergola Kit with White Adjustable Canopy @ThreetimesaHome and SummerCove Outdoor Patio 12×14 Modern Metal Pergola Kit with Light Gray Adjustable Canopy @atasteofkoko pergolas is the ideal place for plants and vines to climb.
A pergola typically offers some shade and cover over a patio, garden, or walkway.
In contrast to a pergola, which has a slatted roof that lets sunlight stream through, a gazebo offers complete protection from the sun. A pergola typically provides some shade and protection over a patio, garden, or walkway.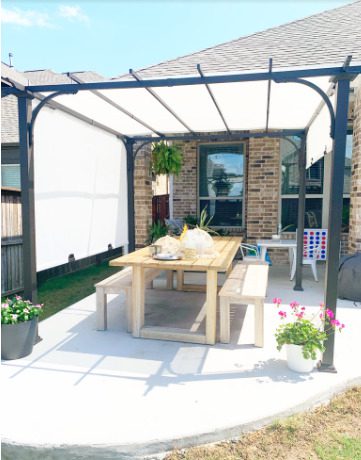 The Gazebo is more stable and durable than the Pergola.
There are additional 8 little pillars fixed at the connection between the 4 pillars and the roof of the Sunjoy Outdoor Patio 11×13 Black 2-Tier Wooden Frame Backyard Hardtop Gazebo with Ceiling Hook, making the structure incredibly stable. Take a look! can support an adult's weight! @byotools
The pergola's structure is more straightforward than the gazebo's, and to boost stability, there are triangular panels where the four pillars and roof meet. ❤️
The gazebo's stability and bearing capacity are superior to the other two.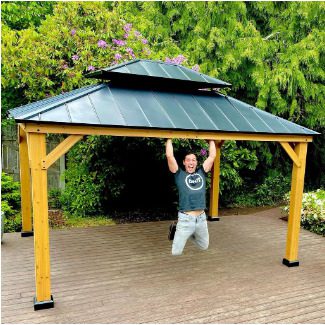 More adaptable and suited for tiny spaces is a pergola.
For customers with smaller backyards, there is the SummerCove Outdoor Patio 10×6 Modern Black Metal Pergola Kit with Cedar Wood Screens and Hooks. Easy installation and compact size. @survivalofasuburbanmom
This pergola is a terrific spot for sisters or couples to entertain outside and is simple to move to your patio, lawn, or park.
Let's go! Take advantage of the outdoors.
A pergola has a smaller footprint and is easier to move around than a gazebo.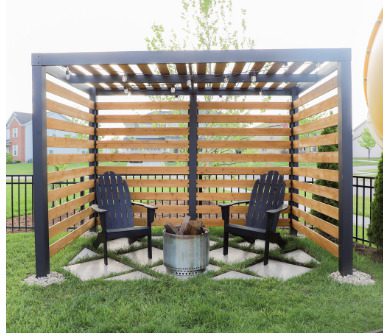 The pergola costs less than the gazebo.
Pergolas are a great option for homeowners on a budget who yet want to wow their visitors because they can be built for relatively little money, depending on the materials you choose.
There are numerous materials that may be used to construct gazebos, and each one has advantages and disadvantages. Your budget and the final design of the project will determine the materials you select for your gazebo, which can range from hardwood to vinyl, aluminum, and even wrought iron.
The open shape of the pergolas makes them more accessible and affordable than gazebos, which are significantly more expensive.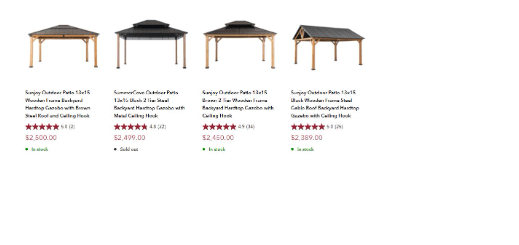 Which do you prefer, a pergola or a gazebo? To communicate with us on Facebook, Twitter, Instagram, Pinterest, and Tiktok, use the hashtag #Sunjoylife.