We all currently enjoy the luxury of paying digitally at every single place we go. Almost all the big merchants accept digital payments such as payment using credit, debit cards, digital wallets, etc. However, when it comes to smaller merchants, this luxury is not available. This is mainly because the current Point of sale (POS) devices charge the merchants a certain fee which the smaller merchants cannot pay.
Hence, SumUp has come up with their own mobile POS device that is not only very portable but also costs less and charges very little transaction processing fee.
What is SumUp all about?
SumUp has come up with their own proprietary hardware device that not only costs under a hundred dollars but is also very portable and easy to set-up. On top of all this, the transaction processing fee charged is only 2.65% which is lower than any other POS device provider.  
The device accepts any MasterCard, Visa, AMEX, Discover Cards payment. Moreover, the device features NFC and Bluetooth support as well. This means that all cards such as the ones with magnetic strip as well as contactless cards can be accepted. Payment can also be done by using either Apple pay or the NFC service on many flagship Android devices.
How does SumUp work?
SumUp is a company with 6 years of experience in developing highly portable, mobile POS devices. They have already revolutionized the payment mode at many small merchant shops. They started their venture initially in Europe and are currently operating in 31 different countries including Brazil and Germany.
A merchant who uses SumUp as his payment partner, allows his customers to pay using the EMV card reader provided by SumUp. The merchant is then notified about the successful payment. The money is not instantly deposited into his bank account. However, next day deposits will soon be an option. The transaction is processed and within 48 hrs, the money is transferred to his/her bank.
The EMV card Reader:
Merchant shops can easily register for an EMV card reader from SumUp. The initial set-up of the device is extremely easy and the process does not eat up a lot of time. The only other thing that you require other than the device is your smartphone. The device supports EMV (Mastercard, Visa, AMEX, Discover) chips, magnetic strips as well as contactless cards. This feature is not available in many of the existing POS devices.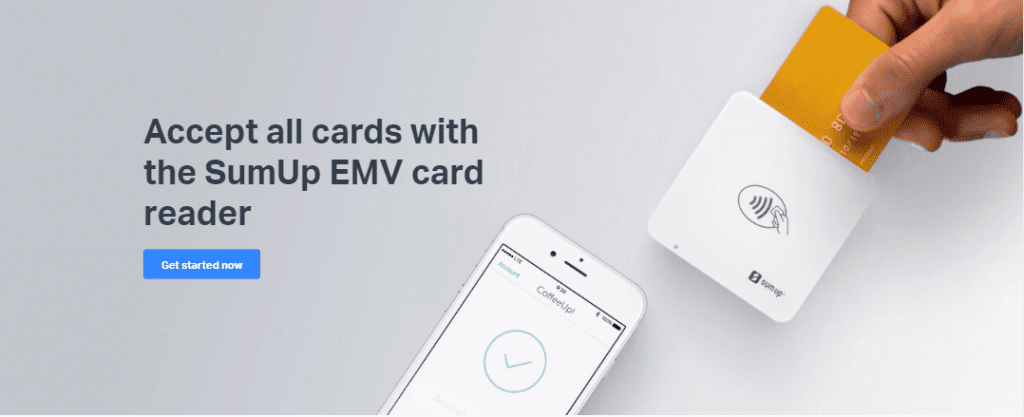 The EMV card reader itself is very sleek and stylish, it sports a 1300 mAh battery. The device pairs with your smartphone in order to notify you whenever a transaction has been made.
After the payment is done, the merchant is charged a mere 2.65% one-time processing fee. Once the payment is done, there is nothing else a merchant should worry about. He will receive his payment in his bank account after a couple of days. Thus, there is not much delay in receiving the payment. This is not the case with the existing POS devices which in some cases take longer time as well as a higher fee to process a transaction.
The advantage of using the SumUp EMV card reader:
Digital payments are the happening thing in today's digital world. People now prefer to pay using their cards rather than carry cash with them always. Not only is this more secure but also more convenient. SumUp helps even the smaller merchants to start accepting digital payments. Thus, no one misses out on the amazing opportunity.
The fee charged by SumUp is also lower than any of the other existing POS providers.
Conclusion:
SumUp opens up a wide range of payment methods even at small coffee shops. Users will no longer have to carry cash in order to pay at small stores. The company also charges a lower fee and the larger and more reputed merchants can capitalize on this amazing opportunity to save more money as well. Thus, SumUp offers a solution to all merchants big or small.