Sukanta Kundu Parthib is the founder and Chief Executive Officer (CEO) of Editorialge.com. He discusses his struggles and life experiences in order to become a successful entrepreneur. His monthly salary is now in the seven figures. He has created employment and opportunities for the youth. He describes his journey toward realizing his dream of becoming a successful Entrepreneur here.
It should be noted that Sukanta Kundu's pen name is Sukanta Parthib. According to government documents, his real name is Sukanta Kundu. Sukanta Kundu is a poet, entrepreneur, writer, journalist, and digital marketer. He has over ten years of experience as a digital marketer and digital marketing consultant. He also enjoys reading books, writing, traveling, and conducting research. He has two books of Bangla poetry published.
He began his career as a freelance writer and journalist in various Bangladeshi Media. He has been writing poems, short stories, and novels for the past 23 years. As a successful entrepreneur, he has led the parent company, Editorialge.com, and other online portals, including Articleify.com, Techidea.net, Techyfilm.com, and Editor99.com, to the top of the world. He is looking for young, fresh writers and digital marketers who can lead the world in this sector in the future.
He launched Editorialge.com on October 30, 2019. Ever since he hasn't looked back and has been growing his business to new heights of success.
Sukanta Kundu Parthib stated in an exclusive interview, "I began my career as a freelance writer and SEO Specialist on Upwork and Fiverr." Since then, I've wished to establish a platform in our country that would provide opportunities for freelance work. Then I founded the parent company, Editorialge.com."
"In fact, I am eager to collaborate with the young and emerging professionals who will lead the world in the future." Many aspiring independent professionals want to pursue a career in freelancing. This concept paved the way for me to become a successful entrepreneur."
"There is no substitute for hard work." "If you want to be successful in your field or achieve whatever goal you set for yourself, you must work hard," he said.
"Patience and courage are always rewarded," he added.
PLAN WITH THE EDITORIALGE VENTURE
He intends to establish a multinational corporation comprised of content writers, skilled digital marketers, graphic designers, and skilled web developers. His life goal is to work for the well-being of people, nature, and the environment.
He has given 30 unemployed youths in the Indian subcontinent jobs and opportunities. Currently, Editorialge.com is one of the world's most authentic and credible websites.
In his next one-year plan, he hopes to employ 100 young people worldwide through his platform. In the future, the platform will be able to provide work for a larger number of freelance professionals. As a human rights activist, he wishes to work for the rights and humanity of the oppressed.
FINAL WORDS TO THE NEW STARTUPS
"As a successful entrepreneur, I want to offer advice to new entrepreneurs who are just starting their businesses." You begin by defining your goal, mission, and vision. Then, determine your target based on your goals and objectives. "I am confident that if you work hard in accordance with your plan and objectives, you will succeed," Sukanta stated.
"Sometimes I face difficult situations, and it appears that I must abandon my entrepreneurship." But, after a few moments, I reset my goal and target. That is why I am here, in this position. So."
"Never give up what you want or wish for," the successful businessman advised.
"On October 30, we celebrated the 3rd founding anniversary of Editorialge." It feels like we just started our journey. Three years have passed in the blink of an eye. We kept doing things no one else had done before, and we played a significant role in the industry. May this journey continue in the days ahead!"
"I am grateful to everyone who is connected to us. So stick with us. "Don't abandon us," he added.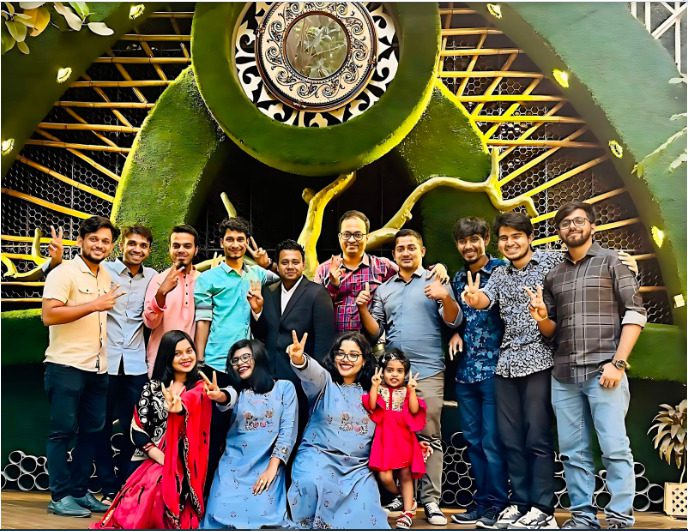 HOW DID EDITORIALGE GET STARTED?
Sukanta Kundu Parthib founded Editorialge on October 30, 2019. Sukanta had to overcome some obstacles in order to run the blog site. Despite his difficulties, he did not abandon his dream of the bay and tried again and again. Three years have passed! It currently has members working in four countries: Bangladesh, India, the United States, and Singapore.
Since its inception, Editorialge has attempted to provide useful and organic content on entertainment, technology, health, sports, travel, and current issues from credible sources. Its teams across the subcontinent are working hard to uncover the truth objectively and accurately.
Editorialge's wings are now spreading not only across the country but also around the world. The website is becoming increasingly popular among readers all over the world.