Thank you for your interest in Luvme Hair! As you read this article, you'll learn more about our incredible wigs. And, to make your shopping experience even sweeter, we've included some Luvme Hair promo for you to use on your next purchase.

Getting To Know Wet And Wavy Wigs
Have you ever heard of styling hair in two ways with only a single wig? No need to think further because it is possible with a wet and wavy wig. A wet and wavy wig is a unique way of styling your hair in two different ways: bouncy curls and silky straight. Isn't it something chic girls want the most? Two styles are much better than one style; that is what you get from a wet and wavy wig. There is no need for excessive chemical treatment or products for curling them, which is the outstanding feature of the Luvme Hair wet and wavy wig.
Like other women, many African American women also prefer wet and wavy wigs because it gives a natural appearance. It is also liked because of its versatility. Luvme Hair Wet and wavy wigs are preferred because of their durability, softness, comfort, and no tangling qualities.
Distinctive Styling Of Wet And Wavy Wig
Wet and wavy has become the latest fashion craze in recent years. Follow the below-given steps to style your wet and wavy wig perfectly.
1.     Saturate Wet And Wavy Wigs
The very first step to converting your wet hair wig into wavy is to saturate it with conditioner or simple water.
To wet the wig, use water spray water to drench the wet and wavy wig, dip it in a water-filled container or simply wash it. Following any of these ways will ensure that the desired curl pattern will be achieved.
2.     Moisturize
Now after saturation, use hair lotion or cream over the wet hair wig so that the moisture seals in the wig.
3.     Do Scrunching
It is time to start scrunching the hair. For this, take a handful of hair in your palms and squeeze them in your fist while at the same time moving hair up and down slowly in your palm. This will convert your wet straight hair into completely bouncy curly hair.
Important to note: Do this step while the hair is wet and moisturized.
4.     Grease
After scrunching, to lock the moisture in the wet and wavy wig, it is vital to grease the hair with oil or an oil-like product.
This will ensure that the hair will stay curly for a longer duration.
5.     Air Drying
The final step is to air dry the hair. You can go from straight to curly hair in these five simple steps.
By using a straightening tool of your choice, you can convert back the wavy hair of the wet and wavy wig into straight.
Choosing The Right Wet And Wavy Wig
There are a wide variety of wet and wavy wigs that differ in various aspects such as color, length, hair texture, headband wig, and others. All these aspects need to be considered while choosing the right wet and wavy wig for yourself.
Pick a size of wet and wavy wig that fits on your head perfectly, such as short length, mid-length, or long length.
Choose whether you want an artificial wig or a 100% human hair wig.
Consider a wet and wavy wig that is easy to maintain.
Also, consider the wig color you want
How To Maintain Wet And Wavy Wig?
There are some amazing tips and methods for properly maintaining Wet and Wavy Wigs to increase their life.
First of all, it is important to wash your wet and wavy wig with shampoo that is specifically designed for wigs. Also, apply the wig-specific conditioner. The shampoos that contain parabens and sulfates are not right because such shampoos damage the wigs.
Use heat protectant sprays if you heat the wet and wavy wig for styling.
If the wig hair is dry, use moisturizer to keep it moist.
In case the hair tangles, it is good to comb a wig with fingers first and then with a wide-toot comb.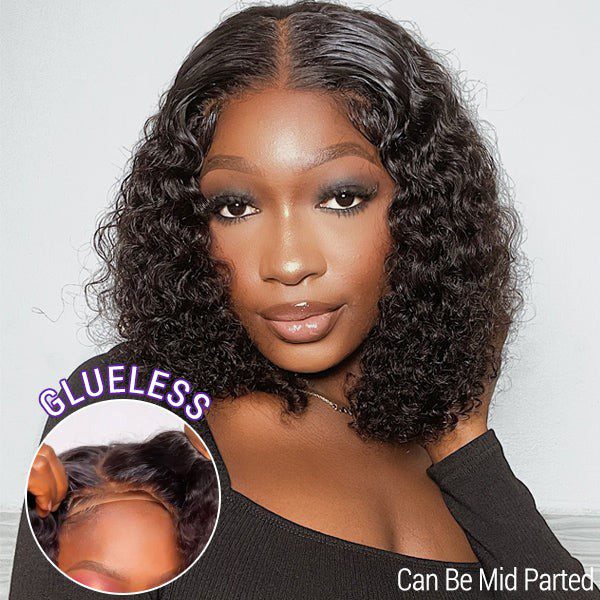 Why Choose Wet And Wavy Wig?
Wet and wavy wig offers a popular fashion style and, therefore, the first choice of many women. There are some reasons that show why choosing a wet and wavy wig is a superb choice.
Enjoy two styles, curly and straight, with one wig at any time.
Require the least effort for maintenance.
A wet and wavy wig is the most versatile among all wig types.
No chemical is required to make it curly.
Wet and wavy wig is more cost-effective than many other wig types.
Why Choose Luvme Hair?
Features
Luvme hair is known for the many benefits it offers to clients that, include;
Provides almost all types of wigs of various lengths, textures, colors, and lace area
Free express delivery worldwide
It also offers 30-day returns
Offer sales frequently
Benefits Of Luvme Hair's Wet And Wavy Wigs
Luvme Hair wet waves wig is the top choice because;
It is easy to use and install, as you require only a few minutes to style it
No extra work is necessary to maintain the wig
The wet and wavy wig is made of 100% human hair
The Luvme Hair wet and wavy wig is designed in such a way that you can dye them as well.
Luvme Hair offers a wide range of wigs of different textures, colors, and lengths
The Final Verdict
Among many wigs, the wet and wavy wig is trending the most because it can be curled as well as straightened at any time. This makes it super easy to easily style the wig according to the occasion. Luvme hair offers some wet and wavy wigs of various types that are cost-effective, easy to maintain and install as well as made from 100% human hair.
When you have wet and wavy wigs, you will not need to maintain and care for straight and curly wigs separately. Maintaining a wet and wavy wig, you are taking care of two hairstyles at one time. Have you ever used a wet and wavy wig? If not, it is the best time to get the trending wet and wavy wig and enjoy the best styles of all time!