In recent years, name change services have become increasingly popular, offering a streamlined approach to the often tedious and time-consuming process of updating one's name after marriage or other life events. One name change service that has caught our attention is HitchSwitch. Founded in 2013, this platform has already assisted over 500,000 people in updating their names with various government offices, businesses, and services.
HitchSwitch offers a range of packages to accommodate individual needs, with prices starting at $39 and going up to $99. All packages provide necessary forms and clear instructions, but opting for the more expensive options grants users increased access to customer service support. With an "A+" rating from the Better Business Bureau, HitchSwitch promises an efficient and stress-free name change experience.
In our article, we will look closer at HitchSwitch's services, weighing the pros and cons to help you decide whether this name change service aligns with your needs and expectations. We will explore customer reviews, package offerings, and key features to provide a comprehensive platform overview.
What Is HitchSwitch
HitchSwitch is an online name-change service that began in 2013. Since its inception, over 500,000 people have used this platform to save time and hassle, simplifying updating their names with government offices, businesses, and other services. This service aims to eliminate the confusion and frustration surrounding name changes for individuals.
We have found that HitchSwitch provides three distinct name-change packages for its customers. Each package is tailored to accommodate different levels of personal involvement and convenience. The essential elements of their service include accurate and completed name change forms, coupled with comprehensive instructions to guide users through the process.
Our research also revealed that HitchSwitch had received an "A+" rating from the Better Business Bureau (BBB). However, some users reported difficulty obtaining a timely response from the company's customer service team when encountering issues.
Utilizing HitchSwitch for a name change has proven to be a valuable resource for many individuals. By offering a streamlined, efficient process, HitchSwitch alleviates the paperwork burden and allows users to complete their name change promptly. Moreover, the platform is beneficial when brick-and-mortar locations may be inaccessible, such as during a global pandemic, providing access to necessary information and allowing users to submit their documents by mail.
CHANGING YOUR NAME after divorce? Get it done in 3 easy steps.
The Perfect Gift for Newlyweds & Divorcees: Get HitchSwitch Today!
Are you looking for the perfect gift for someone getting married or divorced? Look no further than HitchSwitch, the perfect solution to simplify and streamline their name change process. With packages available at various prices, there's something to suit every budget.
HitchSwitch provides everything needed to expedite the entire name change process—from completing and submitting paperwork accurately to providing instructions on filling out each form. Plus, with higher-priced packages, customers can access expert customer service support and pre-filled government forms in hard copy format. It truly doesn't get any easier.
By gifting someone HitchSwitch, you're giving them the gift of convenience and peace of mind. With this service, they can spend less time worrying about name change paperwork and more time enjoying their new life.
So don't wait any longer! Get your loved one the perfect gift by signing up for a HitchSwitch package today! Take advantage of our discounted prices and special offers before it's too late. Give the gift that keeps on giving—HitchSwitch!
The HitchSwitch Process
Registration and Forms
When using HitchSwitch, the first step in the process is to register for their service. Upon registration, you will choose one of their three available packages, which range from $39 to $99. The packages include the required forms to complete your name change, whether due to marriage, a gender change, or another reason. HitchSwitch gathers information such as your current and desired names, marriage details, and other necessary information to generate the required paperwork accurately.
Instructions and Support
After completing the registration process, HitchSwitch provides clear instructions on how to complete each form. These instructions aid in streamlining the name change process for various documents like your passport, Social Security card, and more. While all packages come with access to basic customer support, the higher-priced packages offer increased access to customer service representatives, making it easier to get help when needed.
Name Change Completion
Upon receiving your completed forms, follow the instructions provided by HitchSwitch to submit the paperwork to the appropriate agencies. Some items may require additional steps, such as gathering certified copies of your marriage certificate or signing the documents before a notary public. Your name change process will be completed once you receive your updated documents from the agencies.
In summary, the HitchSwitch process involves:
Registering for their service and selecting an appropriate package
Receiving the necessary forms for your name change
Following provided instructions for completing and submitting paperwork
Completing additional steps as needed for specific documents
Receiving updated documents and completing the name change process
Packages and Pricing
HitchSwitch offers three name-change packages to cater to various budgets and needs. Each package aims to provide convenience and ease during the name change process. Here's a breakdown of the packages:
Print at Home – $39
This affordable option is excellent for those who prefer to handle the paperwork themselves. With the Print at the Home package, they provide the following:
Access to our online name-change platform
A custom set of instructions, step by step
Instant access to all necessary government forms, pre-filled with your information
Unlimited prints of your forms, so you always have a backup
Full Service – $69
For those who want some extra help, the Full Service package offers additional assistance. In this package, they include:
Everything from the Print at Home package
Hard copies of your pre-filled government forms, with envelopes pre-addressed to the respective agencies
Pre-paid mailing options for your completed forms, so you don't have to worry about postage.
Platinum – $99
For the ultimate hassle-free experience, the Platinum package offers comprehensive support throughout the name change process. By choosing this package, they provide:
Everything from the Full Service package
A name change concierge who will guide you through each step and answer any questions you may have
Access to one-on-one personalized customer support, ensuring easy resolution of any concerns
Remember that all three packages include the same essential forms for completing the name change process. Still, the level of assistance and customer service access increases as you opt for higher-priced options. Choose the package that best suits your needs, and let us help make your name change experience as smooth as possible.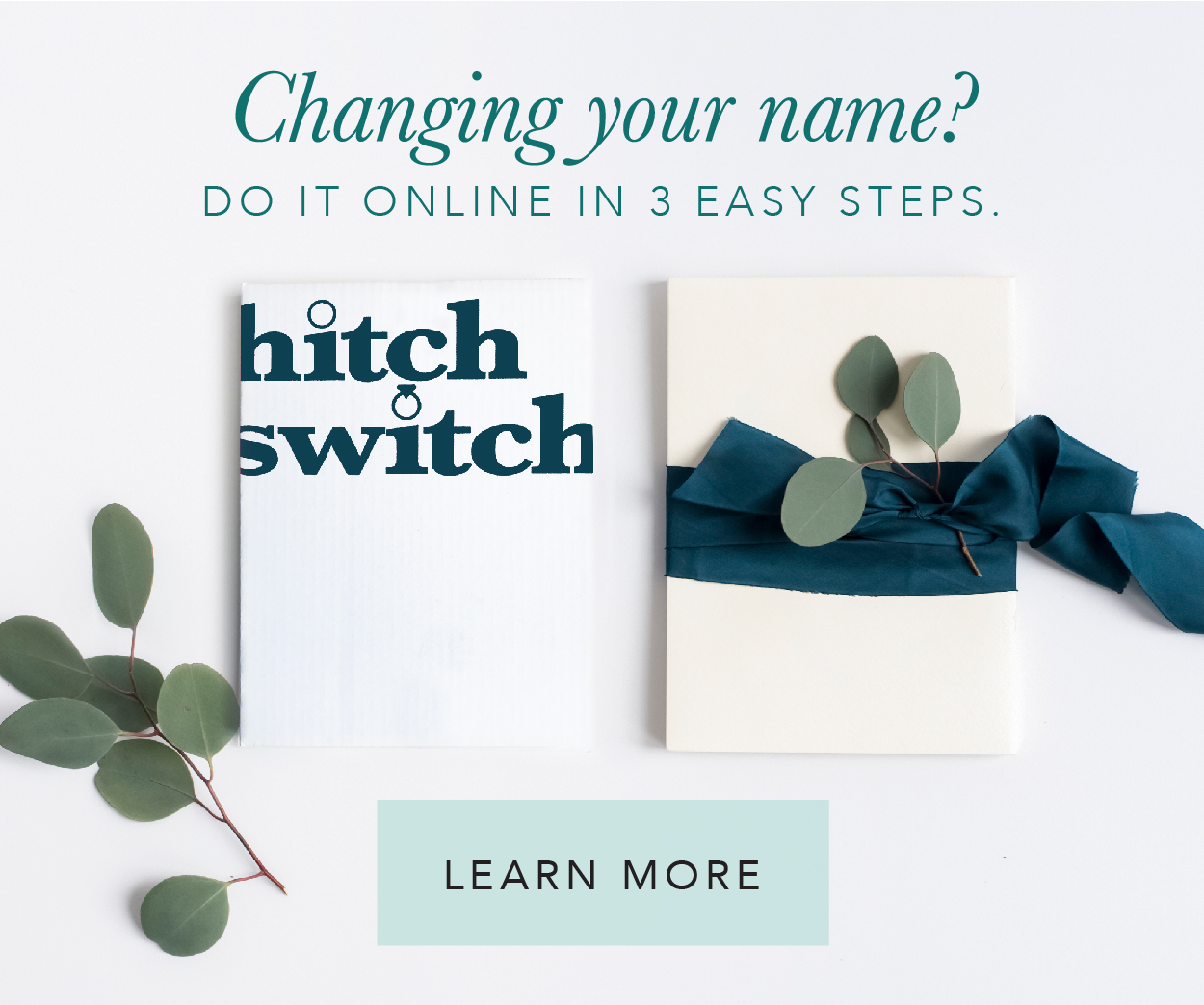 Benefits of Using HitchSwitch
HitchSwitch offers several advantages to make the name change process after marriage more convenient and stress-free. Let's explore some noteworthy benefits of using their services.
Streamlining the Process: They assist in updating your name on various platforms, including government offices, businesses, and streaming services. This comprehensive approach helps save the time and effort you would otherwise spend navigating the name change process across numerous organizations.
Social Security Card Assistance: Updating your Social Security card is crucial in the name change process. Their service packages provide guidance and necessary forms to help you efficiently change the name on your Social Security card.
Responsive Customer Service: The name change process can be confusing, so the customer service team can readily provide support when needed. With their higher-priced packages, you also gain increased access to our customer representatives.
Flexible Support Hours: They offer flexible support hours to make the name change experience as smooth as possible. Available when you need assistance, ensuring you receive the help necessary to complete your name change seamlessly.
In summary, they prioritize customer satisfaction and streamline the name change process by offering comprehensive services, social security card assistance, responsive customer service, and flexible support hours.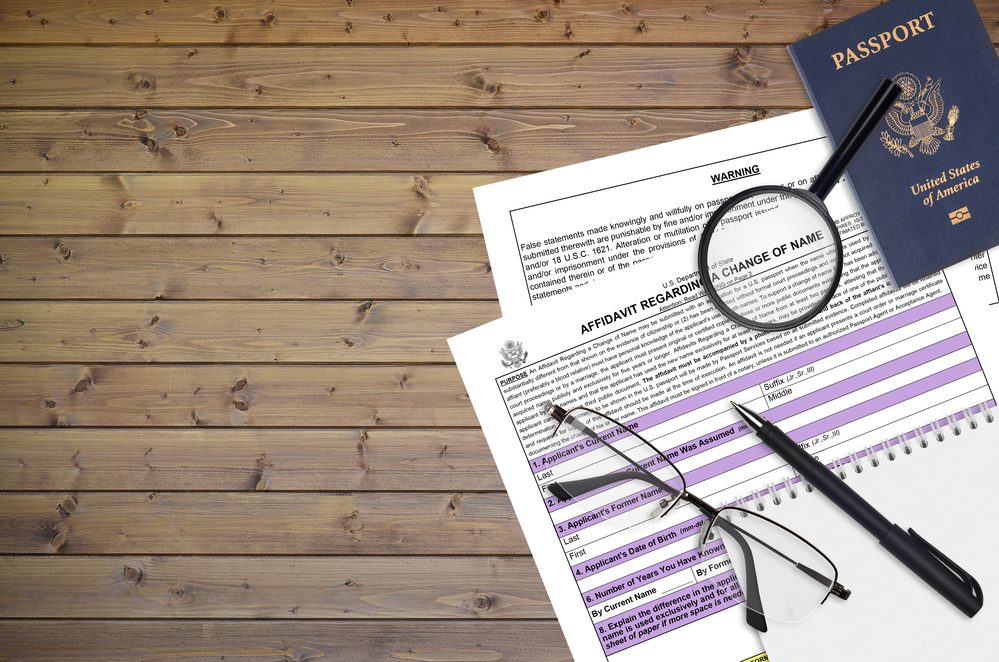 Documents and Institutions
When using HitchSwitch for a name change, we ensure you're well-equipped with the necessary documents to update essential institutions. One of the primary institutions they help you with is the Social Security Administration. The service guides you in completing the appropriate forms, such as the SS-5, to ensure your Social Security records accurately reflect your new name.
Another important institution you need to notify of your name change is the Department of Motor Vehicles (DMV). They assist you in gathering and completing the required paperwork to update your driver's license and vehicle registration information.
In some cases, it may be necessary to undergo a legal name change through a court order. While HitchSwitch doesn't provide direct legal services, they can point you in the right direction to find the necessary resources and forms for your location.
Updating your name with the IRS is essential in the name change process. They'll guide you through the appropriate forms, such as Form 8822 or Form 8822-B, to inform the IRS of your new name, ensuring your tax records remain accurate and up-to-date.
Besides government institutions, updating your name on credit cards, bank accounts, and other financial documents is crucial. They assist in contacting these institutions and obtaining the necessary forms if needed.
To make this entire process smoother, HitchSwitch offers two options for managing your documents:
The option to receive completed forms that you can print yourself
A more comprehensive option where we print the documents and mail you a complete packet
Their services cover key institutions such as Social Security, DMV, court, IRS, and credit card companies, ensuring a seamless name change experience.
Professional Licenses and Other Changes
When using HitchSwitch to assist with name changes, it's essential to consider the potential impact on professional licenses and other essential items. This section will discuss how the service can help navigate these changes.
While legally changing your name, we might need to update professional licenses. HitchSwitch's comprehensive service extends to various professional licenses, ensuring the necessary paperwork is completed accurately and submitted to the proper agencies. This helps maintain the validity of your credentials and avoid potential issues in your professional life.
Aside from professional licensing, changing your name also requires updates to your identification documents and accounts. HitchSwitch provides guidance and resources to help update critical records such as vehicle titles, driver's licenses, and passports. Our service streamlines the name change process for these items, minimizing the stress of contacting multiple agencies independently.
Here are some of the key identification documents and accounts the service assists with:
Driver's licenses
Vehicle titles
Passports
Social Security cards
Bank accounts and financial institutions
Insurance policies
By using HitchSwitch, we can efficiently update our ID and account information while ensuring our professional licenses remain current and accurate. Additionally, the service offered different package options to cater to various budgets and required assistance levels, making the name change process less intimidating and more accessible for everyone.
Reviews and Customer Satisfaction
We consider client reviews from multiple sources to assess HitchSwitch's reputation and customer satisfaction. On BBB (Better Business Bureau), HitchSwitch has received a customer review rating of 1.56/5 stars based on nine customer reviews. Although BBB gives the company an "A+" rating, users have sometimes reported issues with getting a response from HitchSwitch representatives.
On Yelp, HitchSwitch has acquired 51 reviews, with some mixed feedback. Some customers had a positive experience, mentioning receiving their paperwork in record time and successfully changing their names. Others appreciated the thorough instructions provided and found the process relatively easy. However, some customers mentioned having difficulty contacting HitchSwitch representatives for assistance.
The Knot, a popular wedding planning resource, featured HitchSwitch with a 4.3 out of 5.0 rating based on 408 reviews. Most customers who left reviews on The Knot were pleased with the service they received, highlighting the simplicity and ease of the name change process.
In terms of location, HitchSwitch operates out of Parsippany, NJ, but offers its services online to clients across the United States.
To help you better understand the factors that contribute to HitchSwitch's reputation and customer satisfaction, below are some key points from the reviews:
Positive aspects:

Quick delivery of paperwork
Easy name change process
Thorough instructions

Negative aspects:

Slow response from customer representatives
Unsatisfactory support in some cases
While customer satisfaction varies, most users on The Knot have found HitchSwitch to be user-friendly and efficient. It is important to keep in mind that individual experiences may vary, and it is always recommended to do thorough research before committing to a service.
Life Events and Other Factors
When we experience major life events such as a wedding, certain responsibilities and requirements accompany it. One such responsibility is changing our name, which can involve navigating complex legal requirements. That's where services like HitchSwitch can help simplify the process for us.
A divorce can also bring about the need for a name change. In such situations, HitchSwitch can assist in reverting to our previous name or adopting a new one. This helps to minimize stress during an already challenging period in our lives.
In addition to legal requirements, there are various entities that we need to inform about our name change. For example, ensuring that our insurance policies are updated is essential to avoid complications in the future. HitchSwitch streamlines this process, saving us time and effort.
Some of the key aspects to consider when using HitchSwitch for a name change include:
Platform costs range from $39 to $99
The service has been active since 2013
More than 500,000 people have utilized the platform for name-change needs
The process involves seamless coordination with government offices, businesses, and other services
HitchSwitch not only eases the legal process but also guides us through contacting credit card companies, updating account information, and communicating with various businesses. These tasks, as essential as they are, can be time-consuming and labor-intensive if handled individually.
In summary, life events like weddings and divorces can lead to name-change requirements. HitchSwitch alleviates much of the stress and burden associated with this process, ensuring we can focus on moving forward. The platform offers a comprehensive and user-friendly solution by addressing legal requirements, insurance policies, and other critical aspects of our changing identities.
Additional Name Change Considerations
When using HitchSwitch or any name change service, we must consider the various aspects of altering our names across different areas of our lives. While many services assist with government documentation, we should address other components such as bank accounts, investments, rewards programs, etc. This section will discuss these considerations to ensure a smooth and comprehensive name change experience.
Before diving into the process, we can save time and effort by having a "print at home" option, allowing us to print forms and documents as needed easily. This reduces logistical complexities and makes the transition less overwhelming.
As financial institutions play a significant role in our lives, updating our names with bank accounts and investments is crucial. We must inform our banks about the name change and provide the documentation to make the process seamless. Additionally, updating investment accounts (such as retirement or brokerage accounts) is equally important to maintain uniformity in our financial records.
Beyond financial institutions, we should also address the changes with various reward and loyalty programs we're enrolled in. This includes frequent flyer miles, hotel loyalty points, or retail rewards. We must inform these programs to ensure a smooth redemption process and prevent any issues with our accounts.
One significant aspect of our daily lives is our vehicle title and registration. It is vital to update this information with the Department of Motor Vehicles (DMV) to avoid any legal complications. Like other updates, be prepared to provide the necessary documentation to the DMV.
Lastly, being a responsible citizens, we should update our voter registration information after a name change. Reach out to the local election office and follow the required steps to update your information, ensuring our ability to participate in future elections remains intact.
By addressing these considerations and using a name change service like HitchSwitch, we can efficiently navigate changing our names with confidence and peace of mind.
Government and Legal Procedures
When working with HitchSwitch, they handle much of your legwork in the name change process. Our services include obtaining the necessary forms and instructions for updating your name with various government offices and businesses.
To minimize the need for physical contact, we provide most of the required contact information and guide you on approaching each entity. This ensures a smoother process while contacting government offices and other services.
Our offerings are designed to simplify the name change process and reduce the time required to complete all the required paperwork. Here are the main steps we follow when managing the process of updating your name:
We gather all required forms for the name change from relevant government offices, such as the Social Security Administration, Department of Motor Vehicles, and U.S. Passport Agency.
We provide clear instructions and pre-filled forms to make it easy for you to complete them. Customer support is available for any questions or concerns during this process.
For some cases where a court-approved name change is required, we offer guidance on obtaining a court order and completing the necessary paperwork.
By utilizing our services, our customers can rest assured that their name change process complies with government and legal procedures. We're here to help you navigate the process and make it seamless.
Travel and Name Change
As you embark on your post-marriage travels, ensuring a smooth name change process is essential. This section will cover the most relevant entities, including IRS change of address, TSA/Global Entry, and a customized name change checklist.
After tying the knot and legally changing your name, updating your details with the Internal Revenue Service (IRS) is important to avoid tax complications. Notify the IRS of your change of address by filing Form 8822. This step helps ensure you receive essential tax-related communications and that your tax returns are processed accurately.
Traveling can become a hassle when your identification documents, such as passports and TSA/Global Entry, are not up-to-date with your new name. We recommend updating your passport with your new name to avoid confusion during international travel. Furthermore, update your TSA PreCheck and Global Entry accounts by contacting them directly and providing the necessary documentation, such as your marriage certificate and updated ID.
Here's a customized name-change checklist we've put together to assist you in navigating this process:
Update your Social Security card.
Update your driver's license or state ID.
Notify the IRS of your change of address by filing Form 8822.
Update your passport.
Update your TSA PreCheck and Global Entry accounts.
Notify banks, credit card companies, and other financial institutions.
Update your voter registration.
Inform utilities and service providers.
Update your insurance policies, including health, auto, and renters/homeowners.
Notify your employer and update your payroll information.
The HitchSwitch name change service can guide in updating your documents to ensure a smooth and stress-free transition. With packages from $39 to $99, more than 500,000 people have used HitchSwitch to simplify the name change process.
Alternative Name Change Services
If HitchSwitch isn't the right fit for you, other options exist. Two popular name change companies include Newlynamed and Easy Name Change.
NewlyNamed: This service is ideal for those who want an all-in-one solution that includes government forms and paperwork that banks and other institutions need. In addition to providing easy-to-follow instructions, they also offer personalized support along the way. Prices start at $30 per package.
Easy Name Change: This company provides comprehensive packages designed to simplify the name change process with minimal effort on your part. They offer a variety of options, from basic DIY kits to premium packages, with complete customer service assistance. Prices start at $40 per package.
Regardless of which name change service you choose, all companies aim to make the process as stress-free and efficient as possible. With their help, you can easily complete your name change with minimal hassle and paperwork.
FAQs
What does HitchSwitch do?
HitchSwitch offers simplified name change services for individuals recently married, divorced, or who wish to change their name. HitchSwitch aims to streamline the name change process and save users time and effort by providing a one-stop shop for all the necessary paperwork and instructions.
What are the different packages offered by HitchSwitch?
HitchSwitch offers three packages:
Print at Home – Contains all necessary forms and instructions that can be printed out.
Full Service – Provides pre-filled forms with a pre-paid shipping envelope.
Platinum – Includes all the features of the Full Service package plus a dedicated account representative and expedited passport processing.
How secure is HitchSwitch?
HitchSwitch takes security seriously and utilizes SSL encryption to protect users' sensitive information. While no system is foolproof, its safeguards aim to ensure that your data is safe.
Where does HitchSwitch operate?
HitchSwitch services are available across the United States. However, the specific process and forms may vary depending on the local jurisdiction's requirements.
What are the customer reviews for HitchSwitch?
Based on available sources, HitchSwitch has garnered positive and negative reviews. Some users have reported the service as convenient, efficient, and easy to use, while others faced issues with getting a timely response from the customer service team.
For more specific questions or to get more clarity on any of the issues raised, it is advisable to visit HitchSwitch's official website and refer to their FAQ section or reach out to their customer support.
HitchSwitch: Simplifying the Name Change Process After Marriage