Starting an Amazon business is a great way to sell eCommerce products and launch entirely new brands. Amazon is considered the largest retail website, where people can buy anything in just a few clicks. The company offers a wide range of products and services, including free e-cards and auction sales, as well as millions of books, toys, clothing, and other consumer goods.
As Amazon is such a huge marketplace with such extensive shopping activities, many store owners would find their target group of customers here. Therefore, the return on investment could be very promising on this eCommerce website. An opportunity as big as this should not be ignored. In other words, sellers must know what activities are currently available on Amazon and consider this marketplace. If you want to know how to start selling on Amazon.com, you come to the right place! Follow the instructions provided in this article to launch your own successful Amazon business. 
What is an Amazon FBA Business? 
FBA is one of the services that Amazon offers to third-party sellers to ship and fulfill their orders easier. Its rule is easy: you sell the product, and Amazon ships it. In addition to shipping, Amazon stores your products, pack them, or even follows up on customer complaints, including refunds and returns. 
The first thing to clarify is where the acronym FBA comes from. As you can imagine, it is an acronym that means: Fulfillment by Amazon.
We can say in a nutshell that it is a system designed to make it as easy as possible for external sellers to access sales on Amazon.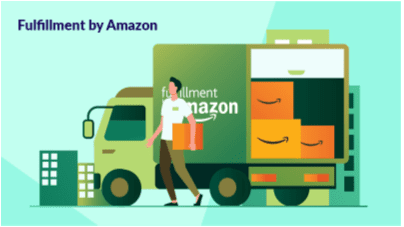 99% of the management is in the hands of the marketplace since they take care of receiving, storing, and sending the products to the buyer, processing returns, and customer service. Our role is limited to shipping products to Amazon warehouses.
It is essential to clarify doubts and emphasize what Amazon FBA is not, especially since it has nothing to do with the company's affiliate program because it can be misleading.
The main difference between the two is that, through FBA, we are selling our inventory to the customer via Amazon (being their supplier); we are obtaining a percentage of each sale that we can refer to as affiliates.
That is why affiliation is often used to get economic performance from blogs, web pages, or large communities on social networks.
Amazon FBA is a business with better margins and, although relatively controlled, has higher risks.
How Much Money Do You Need to Start Your Own Business?
You must take into account the main commissions that will be applied to your products and the procedures involved. There are various fees and commissions that Amazon claims to be able to sell through them. They are essential for calculating the profitability of the transaction.
Here, we explain the main ones:
The Referral Fee, which applies to each product you sell on Amazon, varies by item category.

Amazon Fulfillment Management Fee and Inventory Storage Fee for managing the storage and movement of the product.

The fee for closing the sale is fixed; it is 99 cents per product sold.
After analyzing the expenses you will have to invest in this Marketplace, you must analyze your business situation and assess the profit margin you can obtain.
Is It Possible to Start An Amazon FBA Business with Little Money? 
According to a survey conducted by Amazon in 2020, 1,000 sellers added in that year started with $500 or less but were able to earn money. 38% of sellers earned $5,000 and more each month, while 55% stayed in business for at least three years. Therefore, it is possible to make money through the Amazon FBA business without spending much money.
Can I Sell from Other Countries on Amazon.com? 
The requirements to sell on Amazon indicate that you can do so if you reside in one of these 102 countries:
North America:

the USA, Canada, and Mexico. In Central America, only Costa Rica, El Salvador, Honduras, Panama, and some Caribbean islands. In South America, you can sell on Amazon from Argentina, Bolivia, Brazil, Chile, Colombia, Paraguay, and Peru.

You can also do it if you live in any country of the 

European Union

 (except Malta and Romania) and other European countries, such as Albania, Belarus, Iceland, Liechtenstein, Macedonia, Norway, and Serbia, Switzerland, and Ukraine.

In

Asia

, the list rises to nineteen countries: Bangladesh, Cambodia, China, South Korea, the Philippines, Hong Kong, India, Indonesia, Israel, Japan, Jordan, Malaysia, Nepal, Oman, Sri Lanka, Thailand, Taiwan, Turkey, and Vietnam. Five

Eurasian

countries are added to the list: Armenia, Azerbaijan, Georgia, Russia, and Singapore. 

Twenty-three

African

countries (Algeria, Benin, Botswana, Burkina Faso, Cameroon, Chad, Ivory Coast, Egypt, Gabon, Guinea, Equatorial Guinea, Kenya, Madagascar, Mali, Morocco, Mauritius, Mozambique, Namibia, Nigeria, Senegal, Togo, and Uganda)

And, last but not least, two countries in

Oceania

: Australia and New Zealand.
Step by Step Guide to Start Amazon FBA Business
Here is a step-by-step guide on how to start Amazon FBA Business: 
Step 1. Pick Your First Product
As your first step, this is the hardest and most important one in the whole process. You should be very careful when choosing your first product because it can technically make or break your business. These are the points that you must keep in mind while choosing your first product: 
It should be in high demand or at least a popular product 

It shouldn't be competing in an ultra-competitive market 

It shouldn't be expensive to buy in bulk 
By taking the time to brainstorm, doing market research, and exploring different supplier options, you will be able to choose the best product for your Amazon FBA Business. Just remember that this is the start of an ongoing process, and there will always be better products to list or better ways to supply or market them, but you have to start somewhere and learn by experience. 
There are so many ideas that you can use while going over this step in the process. For example, you can go for embarrassing items people don't like to go into the shop for, eco-friendly products, everyday products that can be turned into something more, and even "bundling" your product with another item to make something unique. 
While choosing your product, keep an eye on the following areas: 
Search Volume – The number of people searching for your product

Amazon Sales – You could use some automation tools to find out the revenue that your product is generating 

Demand

Competition Levels – Is it possible to get the product to page one? 

Availability – Will it be easy for you to get your hands on the product? Can someone else copy you easily? 

Size and weight – Important for shipping in FBA

Price Point 
Step 2. Find a Supplier
If you live in the US, it's a good idea to source your products from outside the country. But if you are searching for domestic suppliers (or prefer companies in your area), you can purchase a trade magazine online or at your local bookstore. You can also use Google to find local tradeshows that plan on hosting the big hitters in the industry. By doing this, you might find the supplier that distributes precisely the product you're looking for. 
Narrow down the list of your potential suppliers and check to see if they manufacture other products you could potentially list in the future. If they do, try to establish a positive relationship with them to ensure long-term success. 
Step 3. Set Up an Amazon Seller Account 
There are two plans available when you are setting up your Amazon account: Individual and Professional plans. If you are serious about this business, it is recommended to go for a Professional plan. It gives you access to Amazon's advertising platform and can be used as a powerful tool to generate sales for your new product. 
This plan comes with a $29.99 subscription fee each month, but it doesn't include the $1.49 charge that has to be paid for each sale in the Individual plan; for example, if you sell more than 40 products a month, you can save money with the Professional plan. 
Go to Amazon Seller Central page and click "Sign Up" to open your new account. You will need a piece of ID, a credit card, and your tax information to complete the application. 
Next, you should try and learn where everything is on Amazon. The key areas include: 
Listing your products effectively 

Amazon SEO 

Amazon Deals & Vouchers (to promote your products) 

Competitor analysis 

A/B Testing 
Step 4. Make Your Products "Prime" with Fulfillment by Amazon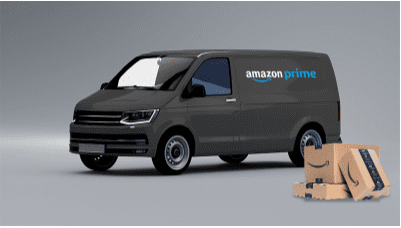 Using the FBA program, your items become "Prime," and Amazon handles everything for you, from distribution to customer service, which saves a lot of time. 
By freeing up enough time, you can concentrate on the marketing of your products and think of new social media ads, promotions, and new product ideas to expand your business. 
Step 5. Ship Your Products 
You should also consider if you can afford to source your products by boat, air, or train (which can affect whether you'll source your products domestically or overseas). 
Shipping by train is a popular method for transporting goods from a port, and it is especially helpful when transporting goods over long distances. It's worth noting that transporting items by truck is another flexible option and a land-based method for more oversized bulk items traveling domestically. 
Shipping by boat is the best option when shipping products from overseas. It is 50 percent cheaper than shipping by air, more dependable, and can help you grow and scale your business. 
Note that if you're shipping your products internationally (whether by train, air, or boat), you'll have to go through customs procedures and follow international shipping laws and taxes. But overall, shipping by boat is the best option since ocean freights is cheaper and will help you get a more significant return on your product. 
Another option you can consider is shipping your product from overseas and sending it directly to Amazon's warehouse. This is a bit risky because you can't check the quality of the product before it's placed on the Fulfillment Center shelves. There are also middleman fees if you want someone to double-check the products. 
Step 6. Marketing and Branding
While having your product listed on Amazon is already going to give it a fair amount of traffic, there is still a long way to go to market your product and increase the number of views and sales. 
Amazon has its own paid advertising service that is part of the Seller Central platform. These advertisements can help get more people to see your listings and increase your sales, and they are especially effective when you're launching your first product. 
Other than that, an excellent place to start is your product's page title. Understanding SEO (Search Engine Optimization) basics will go a long way and can help you fill your product's title with highly-searched-for keywords. 
After establishing a strong, searchable product title, you should focus on high-quality pictures for the listing and error-free bullet points to showcase the product's specific details. Keep these bullet points simple and try to explain what makes your product great. 
After that comes the product description, which can sum up all the major features of your products while painting a picture of how they can fulfill your customers' needs. 
Once you list your product, you should start looking into advertising. A great low-cost option is a Pay Per Clicks (PPC) program, which helps you reach a wider audience. Remember that no matter what ad campaign you're running, it is essential to monitor their performance. 
Step 7. Expand Your Business Internationally
Suppose you sign up to be a Professional Amazon Seller in the UK, for example. In that case, you can also have access to key European markets such as Germany, France, Italy, Netherlands, and Spain. You can start by selling your products domestically and then using the steps above to launch in new countries. 
The most significant benefit of being an Amazon FBA Seller is that it doesn't restrict you to just one country. With the FBA program, Amazon can distribute your products across the globe while you manage things from a single account in the comfort of your home. 
Amazon FBA or FBM? Which One is Better? 
Amazon FBM or Fulfillment by Merchant means that if your product is sold on Amazon, you are responsible for shipping it to the customer, packing it, and paying for the postage label in most cases. You must invest your time and resources.
Amazon FBA or Fulfillment by Amazon means that if your product is sold on Amazon, they are responsible for shipping the product to the customer. You must have all your inventory in Amazon warehouses, which automatically ship to the customer after the online purchase. They are the ones who will take care of the returns, if any. They invest their time and resources to get your product to customers. And so you avoid all the headaches, you free up your time to be able to do other things and thus manage to have a business on autopilot.
The most remarkable differences between Amazon FBA and Amazon FBM are the costs. In both business forms, you must pay 15% of your sale to Amazon because you are using their platform, their system, and their customers. But with Amazon FBA, you will pay another 15% additional costs. If you make a cost-benefit evaluation, I assure you that it will be a better business model to have your products with Amazon FBA, where you save time, effort, and money.
FBA may be better if…
Your business is just getting started

– having Amazon take care of your fulfillment and customer service allows you to focus on growing your business and minimizes the resources you need to invest.

You have small, lightweight, fast-moving products –

 Amazon's rates are based on the size, weight, and length of time your product spends in their warehouses. Fast-moving inventory allows you to avoid major expenses.

Only sell on Amazon –

 FBA is arguably the best eCommerce fulfillment service for Amazon sellers, so if you only sell on this marketplace, it's a no-brainer.

You want to transfer the customer experience to Amazon –

 This applies if your company is not particular about the brand. Fulfillment by Amazon also helps if you don't have any customer service infrastructure.
FBM may be better if…
You have the right resources –

 Fulfillment and customer service capabilities require more significant investments. It also helps if your business has those skills to start with.

You have bulky, slow-moving items, including

kitchen appliances and electronics, which can rack up more fees if you choose FBA.

You Have a trusted Fulfillment partner

– If you have a fulfillment partner that you want to use across multiple sales channels, you can build your entire inventory on one network.

You want more control over the customer experience –

 Having more of a say at every stage of fulfillment and customer service can give your customers a more cohesive brand experience.
Conclusion 
Starting an Amazon FBA business is not only possible but also has become more accessible in recent years. With less than $1,000, you can start your own business that will grow with your success and one day employ many people to help you prosper. 
Sources: 
https://sell.amazon.com/fulfillment-by-amazon