An essential part of e-store branding is product reviews. Only testimonials can help you attract more potential buyers, demonstrate the strong sides of your store, and increase your sales and conversion rate. 
Being a Shopify store owner, you may encounter problems such as getting more reviews, encouraging customers to share their experiences, and importing reviews from various resources to your website. As a result, you may also be interested in Shopify bulk import reviews faster as it allows you to get and study all the reviews at once and to use customer feedback in the future. 
In the article, we've prepared for you this step-by-step guide on reviews importing to use it in your Shopify store.
Reviews for your brand
Prior to importing reviews, you should clearly understand their importance and influence on your brand. 
A lot of studies have been conducted, and they all have shown that testimonials are critical for eCommerce stores. First of all, customer reviews influence the purchasing decision of 73% of buyers. Secondly, thanks to reviews, shoppers can easily reduce the perceived risk of the probability that they may have a bad experience. Thirdly, testimonials tell your potential customers who you are and give estimates of your products and services.
As a result, you boost your sales and maximize your shoppes' trust, improve your store trust, reputation, and social proof. 
Moreover, collecting and storing customer reviews you can export and import them any time. That's crucial because you will be able to use them for your website and on various other platforms. 
How to add product reviews on Shopify
As far as you've decided to import customer reviews on Shopify, you should know that it can be complicated but still possible. There are a lot of product reviews apps available on the Shopify app store as well as on other stores. They are easy to install and allow you to add product reviews to your e-store fast and effortlessly. 
No matter what product review app you are going to install, they all have the same installation flow: 
Select the application and click it.

Add the application by clicking the Add button. There you should read and understand permissions concerning the app.

Install the application in Shopify.

Extra code is added to your site automatically. But be attentive, as some apps may require you to do it manually.

Select and install the most attractive review widget. This step can be skipped.

Congratulations! The application is installed.
We recommend starting by installing the best free review app called Webtex. Despite the fact it's absolutely free, it can compete with any paid app. With Webtex, you can easily add reviews on Shopify and export and import them, even in bulk.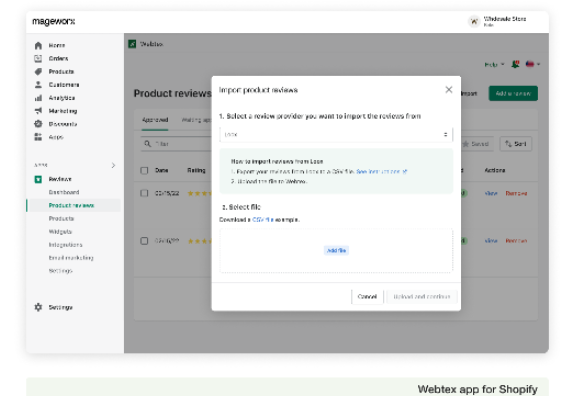 How to import product reviews in bulk
You should take into account some potential risks when importing reviews to your e-store. The first one is that testimonials can be fake and have nothing in common with your products. Secondly, you can easily damage your brand reputation with negative reviews.
Nevertheless, for importing reviews in bulk on Shopify, you should follow the next step-by-step guide.
The very first thing you should do is to prepare your review data. There should be a CSV file with customer reviews that are organized in a specific format. The product name, customer name, rating, and review text — are the columns that should be included in the file.
Your second step is to log in to your Shopify store's admin panel and navigate the Apps section.
You should find a review importing app in the Shopify app store as your third step and install it. Be sure to select an app that can import reviews in bulk.
As a next step, you'll have to connect the app to your Shopify store by following the app's instructions. Some applications may ask for access to your e-store data. 
Fifth, having uploaded the CSV file from the first step, all the review data will be processed and imported to your store. 
After that, you should verify that the import of reviews has been successful. In this case, go to the product pages in your store. Each product should have imported reviews displayed under it.
Last but not least, it's testing and troubleshooting. Just leave a few reviews on the products and check if they are displayed the right way on your product pages. Double-check troubleshooting steps in the app's support documentation if something goes wrong.
As you see, you don't need much effort to import reviews in bulk on Shopify. But one more thing to remember when adding testimonials, strictly follow the guidelines set out in the Shopify policy in order not to allow the removal of your reviews or penalizing of your store.
Wrapping up
Being a part of eCommerce provides you with a lot of opportunities. The right and thoughtful attitude to customer reviews gives you even more.
Make use of importing customer testimonials in bulk to boost your sales.