MS Exchange is a popular email server solution used by many corporates & commercial establishments. It helps connect users with an email system that allows them to perform various tasks such as emailing, task scheduling, instant messaging, etc. MS Exchange saves all the email records and data of users in an Exchange database file (.EDB). When Exchange DB get dismounted, that can obstruct the email flow and other Exchange services. 
Consequently, this could lead to a loss in productivity, financial losses, and damage the reputation of organization. Thus, it is critical to repair and recover the Exchange database as soon as possible to avoid downtime and restore email services. 
The best option is to restore Exchange database from the last backup. But when the backup is not available or turns obsolete, admins have no option but to use a database repair tool, such as Eseutil, to recover a corrupt or inconsistent Exchange database. But these proprietary tools often fail to fix the problem if the corruption is severe. 
And even if the utility fixes the problem through methods, such as Hard Recovery, it does that at the cost of data loss. 
In this case, let us review Stellar Repair for Exchange specialized in extracting the mailboxes from corrupt Exchange DB. This software has intuitive, clean interface & solve the purpose.
Stellar Repair for Exchange software helps Exchange administrators and IT admins repair the corrupt, inaccessible, or damaged Exchange database files (.EDB) when proprietary Exchange repair utilities fail to repair corrupt Exchange databases. 
Why Choose Stellar Repair for Exchange?
When the database is corrupt or inconsistent due to missing or deleted log files, the database enters into the Dirty Shutdown state and dismounts from the server. In most cases, the admins can fix the problem of database corruption by bringing the database to Clean Shutdown state. For this, they use Eseutil, a command-line based Exchange recovery utility, to perform Soft Recovery or Hard Recovery on the damaged database file. In Soft Recovery, the missing or deleted log files are restored and replayed on the database, which fixes the database corruption and brings the database to Clean Shutdown state. However, if Soft Recovery fails, you have to perform Hard Recovery via Eseutil commands on the Exchange database.
But it is always firmly advised not to perform Hard Recovery on the database as it deletes damaged mailboxes and mail items during recovery, leading to data loss. Plus, it's not possible to predict how much data might get lost in the process. You can also check the comparison of Eseutil or Stellar Repair for Exchange by me which exchange disaster-recovery tool is better.
On the other hand, Stellar Repair for Exchange features a graphical user interface that makes it much easier to use. Unlike Exchange tools, this software scans the corrupt Exchange EDB file, repairs it, and then extracts all mailboxes. It does not perform any operation on the original EDB file. Thus, it ensures maximum recovery without any risk of data loss and without changing the original data format or structure of the database. It also recovers deleted and lost mailboxes and mail items during database repair.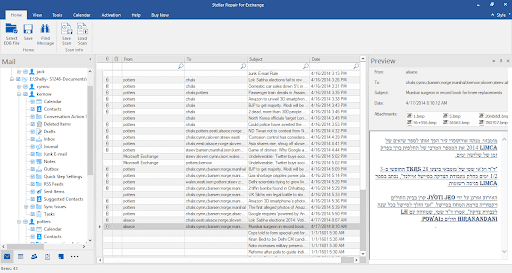 After repair, it previews the extracted mailboxes and email items. Thus, it helps admins verify that all mailboxes and mailbox items are available. Once satisfied, you can export the mailboxes to Outlook importable PST format.
Further, the software provides options to export the mailboxes, extracted after repairing the corrupt EDB file, directly into a live Exchange server or Office 365 account. It supports parallel processing for faster recovery and thus, it can export up to 4 mailboxes simultaneously to PST, Exchange or Office 365. You may also set mailbox priority before export to save critical mailboxes first by changing the priority queue order. 
Besides, you get the option to save the mail items in .EML, .MSG, .RTF, .PDF, or .HTML format.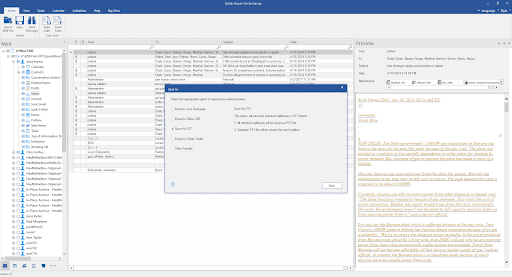 The Software supports Exchange Server 2019, 2016, 2013, 2010, 2007, 2003, 2000 & 5.5 versions. Stellar Repair for Exchange software is recommended by renowned MVPs & Admins across the globe. 
Additionally Stellar offers Exchange Toolkit that helps Exchange Admins in day-to-day activities, like converting EDB to PST, extracting data from old backup files, converting OSTs to PSTs, migrating data from one Exchange Server to another or Office 365, and the Software would be the best suite for Exchange Admins.
Verdict:
If you are an Exchange or IT admin who maintains the Exchange server, you can use Stellar Repair for Exchange tool to troubleshoot and fix various issues that may arise due to database inconsistency. It can help restore user mailboxes from a corrupt or inaccessible database within no time and thereby, reduce downtime. You can download and evaluate this Exchange recovery software for free on any Windows 7, 8, 8.1 or 10 PC.