Whether companies realize it or not, data management and recovery are more important now than ever. The truth is that it not only empowers companies to analyze information more effectively, but it also enables them to enhance operational efficiency, bolster security measures, and ensure compliance with regulations. 
However, with the multiple options available on the market, finding the most suitable solutions can be quite challenging. Nevertheless, amidst this vast selection, one product shines as a reliable and impressive contender: STELLAR DATA RECOVERY TECHNICIAN. So, today we're going to take a look at what this software does and how it can be used. Let's get started!
What is STELLAR DATA RECOVERY TECHNICIAN?
STELLAR DATA RECOVERY TECHNICIAN is an advanced RAID data recovery software meticulously designed to recover RAID data from RAID arrays and various storage devices. Developed by Stellar Data Recovery Inc. This software effectively addresses the challenges associated with accidental or intentional data loss from RAID servers and the complexities of RAID data recovery.
What makes this software stand out is its impressive ability to handle data recovery across a wide range of RAID configurations, including RAID 0, 5, 6 and Hybrid RAID . It offers support for various file systems such as NTFS, FAT,exFAT, ext4 and Btrfs  which means that your data can be recovered regardless of the storage device used. Moreover, STELLAR DATA RECOVERY TECHNICIAN keeps pace with the ever-evolving technology landscape by maintaining compatibility with the latest Windows operating systems, including Windows 11.
However, what sets STELLAR DATA RECOVERY TECHNICIAN apart is its ability to extend its reach beyond traditional hard drives. That's right! It possesses the capability to recover data from Hard Disk Drives (HDD), Solid State Drives (SSDs), and Network Attached Storage (NAS) devices configured with RAID. This wide compatibility showcases the software's potential as a comprehensive data recovery solution that can cater to a diverse range of storage devices.
When to Use STELLAR DATA RECOVERY TECHNICIAN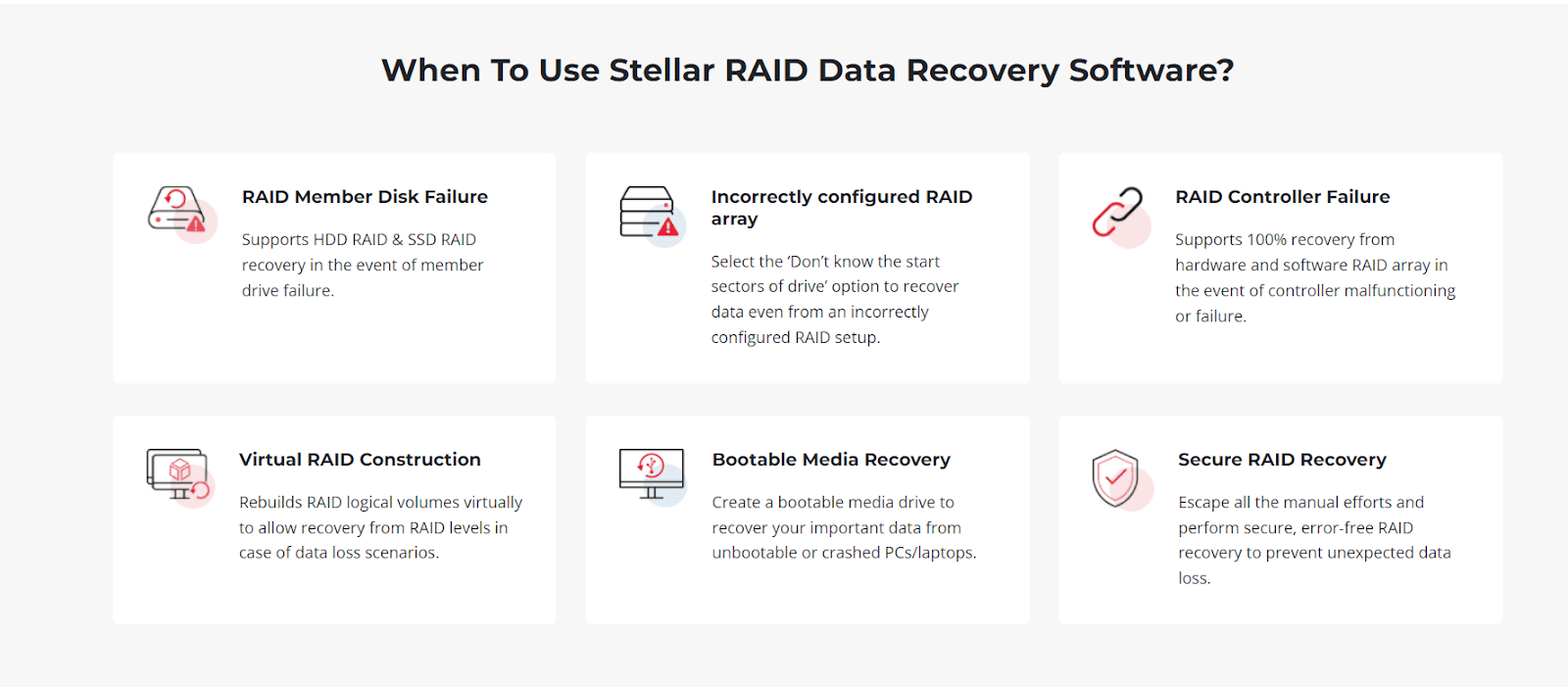 Imagine a situation where an employee inadvertently deletes critical files, leading to potential data loss and subsequent consequences for the business or in the case of RAID Server Failure. In this situation, STELLAR DATA RECOVERY TECHNICIAN may be your go-to solution. With minimal effort, you can recover the lost data while minimizing the impact and ensuring that the business continues to operate. But it doesn't stop with deleted files; the software can help with issues ranging from experiencing logical errors and fighting malware attacks to RAID controller failure.  
Furthermore, STELLAR DATA RECOVERY TECHNICIAN comes to the rescue when Virtullay RAID array rebuild attempts fail due to issues such as incorrect configuration, logical corruption, incorrect stripe size, missing disks, or incorrect disk order. 
File Recovery Formats and Options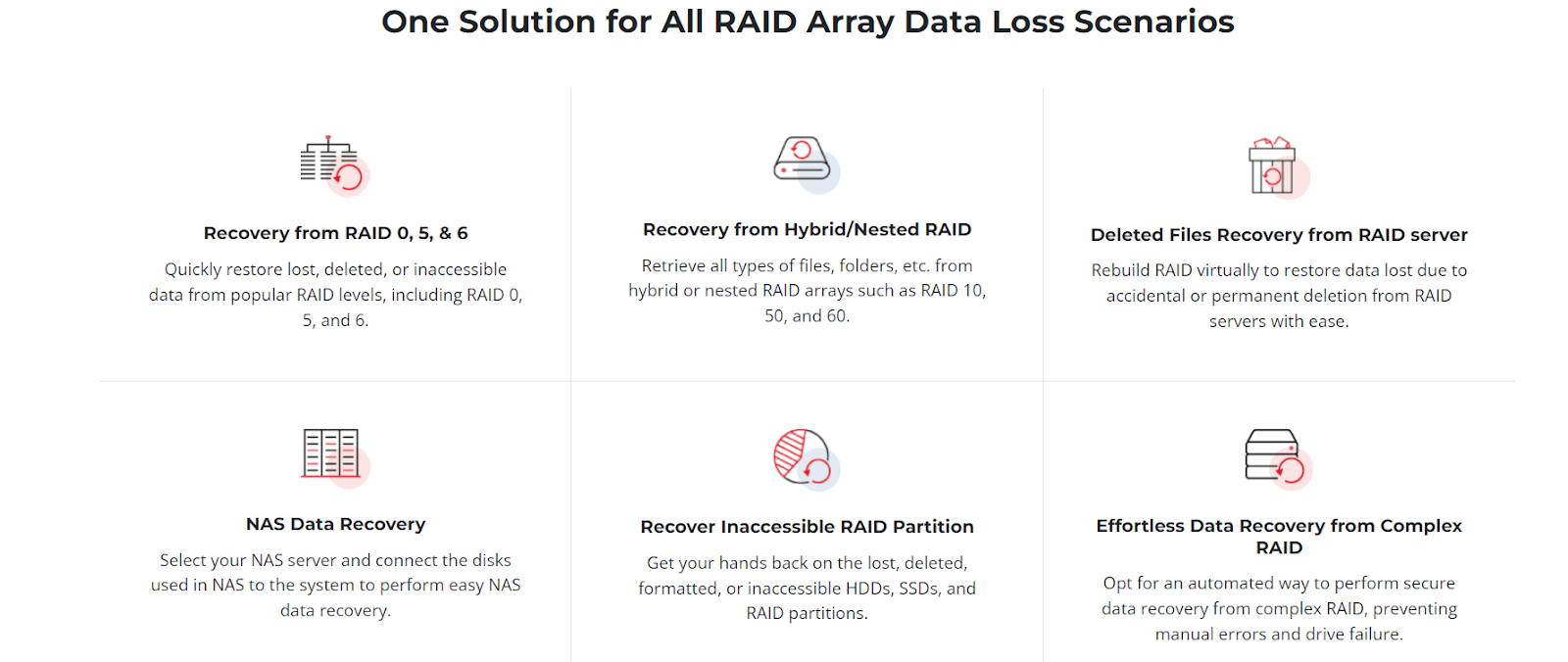 So, what types of files can be recovered using the software? We found that it supports a wide range of data formats, including business documents, photos, audio files, videos, digital folders, and emails Lost/Deleted FAT, exFAT and NTFS Volumes Recovery. And when it comes to storage devices, it works with internal and external hard drives, solid-state drives (SSDs), USB drives, SD cards, 4K media drives, HD DVD, Blu-Ray discs and Synology Drives. Yet, it also supports data recovery from drives formatted with NTFS, exFAT, and FAT file systems and Recovers APFS, HFS, HFS+ file system drives
What Makes It Stand Out?
Let's take a look at the features that make this software a good option for data recovery:
Recovery from Inaccessible RAID Volumes
The STELLAR DATA RECOVERY TECHNICIAN can retrieve data even when your RAID setup becomes corrupt or inaccessible. It works with RAID 0, RAID 5, RAID 6 and Hybrid RAID configurations. Simply put, it can bring back your data when things go wrong with your RAID setup or RAID server.
Recovery from SSD RAID Arrays
With SSDs becoming increasingly common in RAID configurations, the software's capability to recover data from SSD RAID arrays is a stand-out feature. It ensures the recovery of data from a variety of situations, including RAID controller failure or Incorrect RAID configuration and Severe Data or Drive Corruption.
Recovery from Formatted or Deleted RAID Arrays
If you accidentally or intentionally format your windows RAID array, the STELLAR DATA RECOVERY TECHNICIAN can recover the lost data. It's also capable of getting back data from deleted RAID partitions. So, no matter what happens, your data is always within your reach.
Recovery from RAID Configured NAS
The software extends its capabilities to encompass Network-Attached Storage (NAS) devices configured with RAID. This means that it can effectively recover data from NAS systems that utilize RAID technology for enhanced data protection and performance.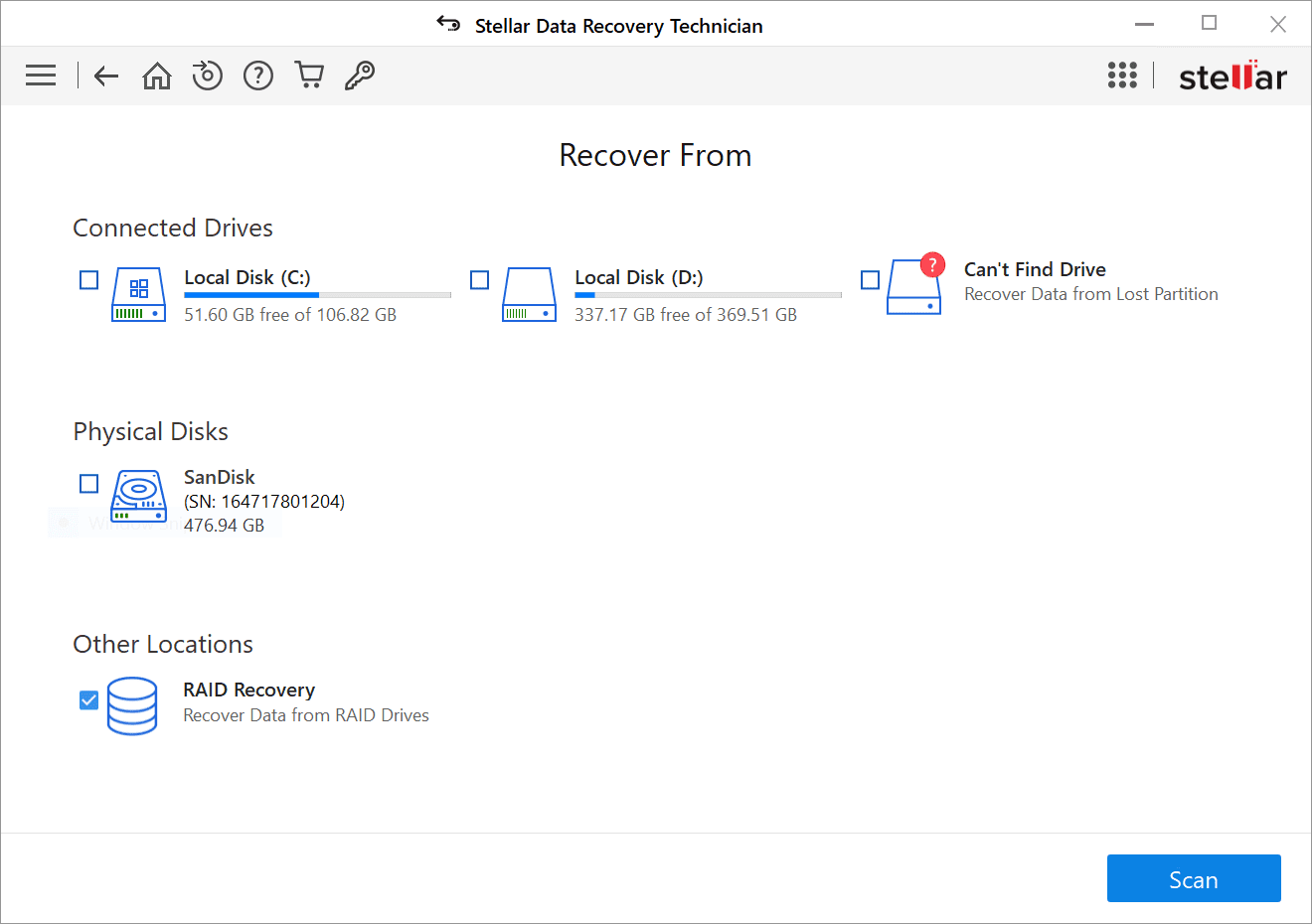 The Final Verdict
Ultimately, STELLAR DATA RECOVERY TECHNICIAN is a viable option if you need data recovery software. Between its range of features, and ability to handle various data loss scenarios, it's an effective solution for RAID data recovery. So, whether you're a professional or an amateur, this software can serve as an effective tool that helps tackle the complexities of RAID data recovery.