The global graphite market is driven by growing demand for lithium-ion batteries with a tremendous rise in the production of steel in the MEA and the Asia-Pacific. Persistence Market Research has mentioned these facts with probable calls to action in its latest market study entitled "Graphite Market".
How is the Graphite Market categorized?
The global graphite market, by type of product, spans natural (flake graphite, amorphous graphite, and vein graphite) and synthetic (graphite electrode, carbon fiber, graphite blocks, graphite powder, and likewise). By application, it's refractories, lubricants & crucibles, foundry facing, batteries, and likewise. Out of these, synthetic graphite's production is being looked into at a larger scale. Persistence Market Research has mentioned these developments and insights in its latest market study entitled "Graphite Market".
Region-wise Analysis
North America is going steady concerning the graphite market. Europe is expected to grow on a significant note in the graphite market. This could be credited to the automotive industry in the UK, Germany, and other countries shifting towards electric vehicles that have been powered by Li-ion batteries. Carbon Savoie (France) and SGL Carbon (Germany) have entered into a noteworthy battery alliance that Brussels had launched in 2020.
LATAM and MEA would be witnessing stupendous growth due to the growing demand for electronic vehicles and several electronic devices. Also, the foundry market in Brazil is expected to witness a double-digit CAGR in the next 10 years (as per Brazilian Foundry Association).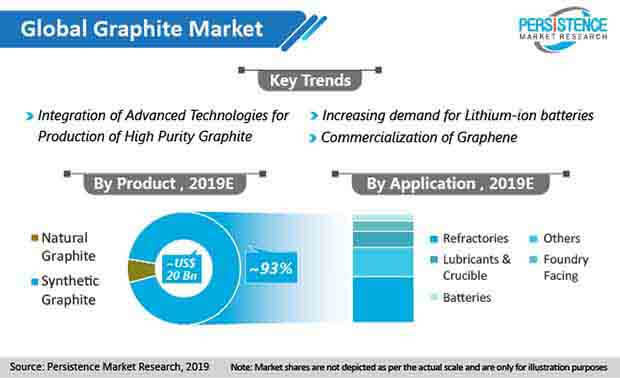 However, the Asia-Pacific is expected to grow at the fastest rate in the graphite market due to higher demand for electrodes, conductors, batteries, carbon fiber reinforced plastic, and likewise. China ranks first, whereas India ranks second in the production of crude steel. Tata Steel, since the year 2017, is implementing a process of deriving graphene in natural form from shellac resin. Persistence Market Research has delved deep into these findings with insights in its latest market study entitled "Graphite Market".
Competitive Landscape
Persistence Market Research has profiled the key players in the graphite market as AMG Advanced Metallurgical Group N.V., SHOWA DENKO K.K., Toyo Tanso Co., Ltd., SGL Carbon SE, Tokai Carbon Co., Ltd., Graphite India Limited, Nippon Carbon Co. Ltd., SEC CARBON LIMITED, HEG Limited, and GrafTech International Ltd.
Persistence Market Research has moved further with the inclusion of the latest developments in this regard. For instance – SGL Carbon, in March 2021, received IPCEI grants for GAM (Graphite Anode Products) in lithium-ion batteries. The basic objective of this project is that of making revolutionary anode materials a mandatory step in electromobility all across Europe. Imerys, in October 2020, did announce plans of increasing production of synthetic graphite in Switzerland (at Bodio) for catering to the increasing demand from the lithium-ion battery market in North America, Europe, and the Asia-Pacific.
Going to further developments, Black earth Minerals, in October 2021, inked a 50:50 joint venture with Menachem Manufacturing for developing a consolidated graphite facility in India. The plant is expected to have a manufacturing capacity of close to 2K-2.5K tons per annum in the initial run. Tokai Carbon Co. Ltd., in October 2019, completed the acquisition of COBEX HoldCo GmbH, a producer of graphite and carbon products. Westwater Resources Inc., in September 2019, inked an agreement with one of the internationally renowned companies for buying natural flake graphite for processing of advanced battery materials as planned.
The Future
The global graphite market is likely to reach the pinnacle of revenue generation in the next 10 years – Persistence Market Research
To remain 'ahead' of your competitors, click here to request a sample