The vast collection of videos present on TikTok has the potential to distract users from keeping track of time while using the app. In addition to losing track of time, excessive usage of TikTok can quickly eat up your data plan. Thankfully, there's a solution to this problem in the form of SSSTik, which allows you to download videos from TikTok.
Once you download these videos, you can watch them offline without requiring an active internet connection. This is a convenient way to keep your data usage in check. Moreover, the downloaded videos can also be utilized in ways that suit your personal preferences.
SSSTik overview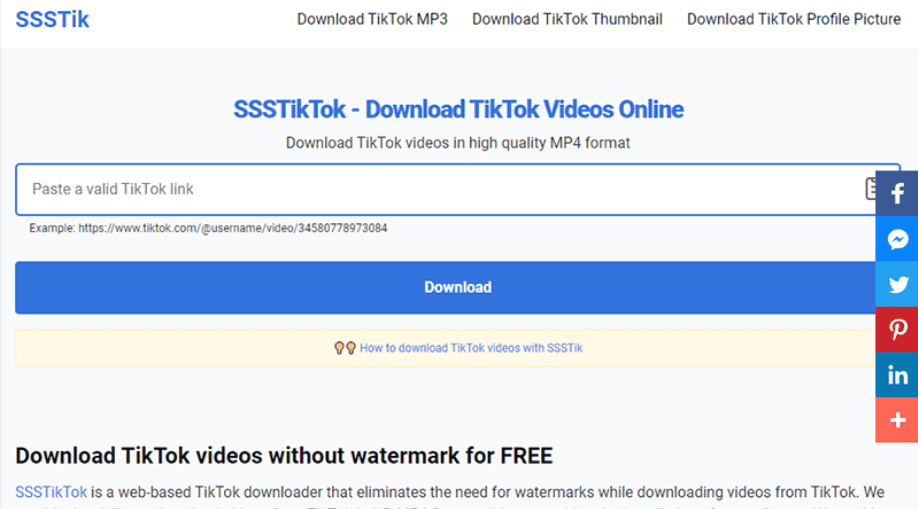 If you're not familiar with SSSTikTok, it's a website that enables users to download videos from TikTok without any watermarks. SSSTik functions similarly to SnapTik, which is a widely popular video downloading site for TikTok.
Although TikTok has its own download feature, it still has some limitations that prevent it from being used optimally. Specifically, the videos downloaded from the TikTok app include a watermark or the TikTok logo, which can be a source of frustration for some users.
To avoid this issue, users can try downloading videos from SSSTik, which offers a seamless and user-friendly experience. There are other websites that offer similar capabilities, but SSSTik is currently one of the most widely used platforms for downloading TikTok videos.
How to Download TikTok Videos with SSSTik
If you're new to downloading videos through SSSTik, don't worry – it's a fairly simple process that anyone can do. One of the key advantages of SSSTik is that the site is user-friendly and straightforward, making it easy to use for even the least tech-savvy users.
However, some people may still be unsure about how to download videos from SSSTik. It's essential to understand the complete steps involved in the process. To download videos through the site, users simply need to copy and paste the TikTok video link into the SSSTik download bar. Once the link is pasted, the download process should commence quickly.
Downloading videos via SSSTik is a hassle-free and time-efficient process that doesn't require any complex actions or long waiting times. To download TikTok videos using the SSSTik site, the following steps can be followed:
To begin downloading TikTok videos using SSSTik, the first step is to open the TikTok application on your smartphone and log in to your account. Once you've successfully logged in, browse the application to find an interesting video that you'd like to save.
Once you've found a video, click on the arrow icon located on the right-hand side of the video. This will prompt several options to appear. Select the "Copy Link" option to copy the link to your device's clipboard.
After confirming that the link has been copied, open your device's browser and navigate to the SSSTik site by typing "https://ssstik.link/id" into the address bar. Once on the SSSTik homepage, you will see an empty column where you can paste the link to the video you copied earlier.
After pasting the link, click on the "Download" button. If multiple download options are available, select "Server 1" to proceed. The download process should start shortly, and once completed, the downloaded video can be found in your device's download folder or other selected storage.
It's easy to follow the instructions on SSSTik's tutorial to download videos. You can give it a try and start downloading unlimited videos without any pesky watermarks.
Is SSSTik Secure to Use?
Whenever you are about to use a new website or application, it's natural to have concerns about its security. With the rise of fake websites and applications that can compromise your security, it's crucial to take extra precautions.
Many unsafe websites distribute harmful viruses that can cause serious problems for your device. However, with the SSSTik's established reputation and satisfied user base, it's safe to say that the site is secure to use.
SSSTik takes the necessary steps to maintain its database and provide the best service for its users. You can trust that your privacy and device security will be well-protected when using SSSTik. Therefore, users can confidently use SSSTik without any hesitation or worry.