SpringRole is a decentralized trust-based professional network that aims to address the problem of staffing and hiring employees. Several studies have shown that a majority of the employees who get hired are not always the most qualified for the job. That is because most of the employees apply for the jobs through referrals and mostly from a small network. That means most of the candidates get the job based on their reputation in that network as opposed to how qualified they are. But with SpringRole, candidates will be hired based on their professional profile.
How SpringRole Works
SpringRole objective is to replace recruitment agencies which have proven unreliable for years. As a crowdsourcing recruitment platform, the network is hoping to become the go-to source for companies and skilled professionals. Since the network will be powered by the blockchain technology, employers and employees will be able to meet on a peer to peer based platform. That way, companies will have a huge pool of workers to select from, and thus they have the advantage of hiring the most qualified candidates.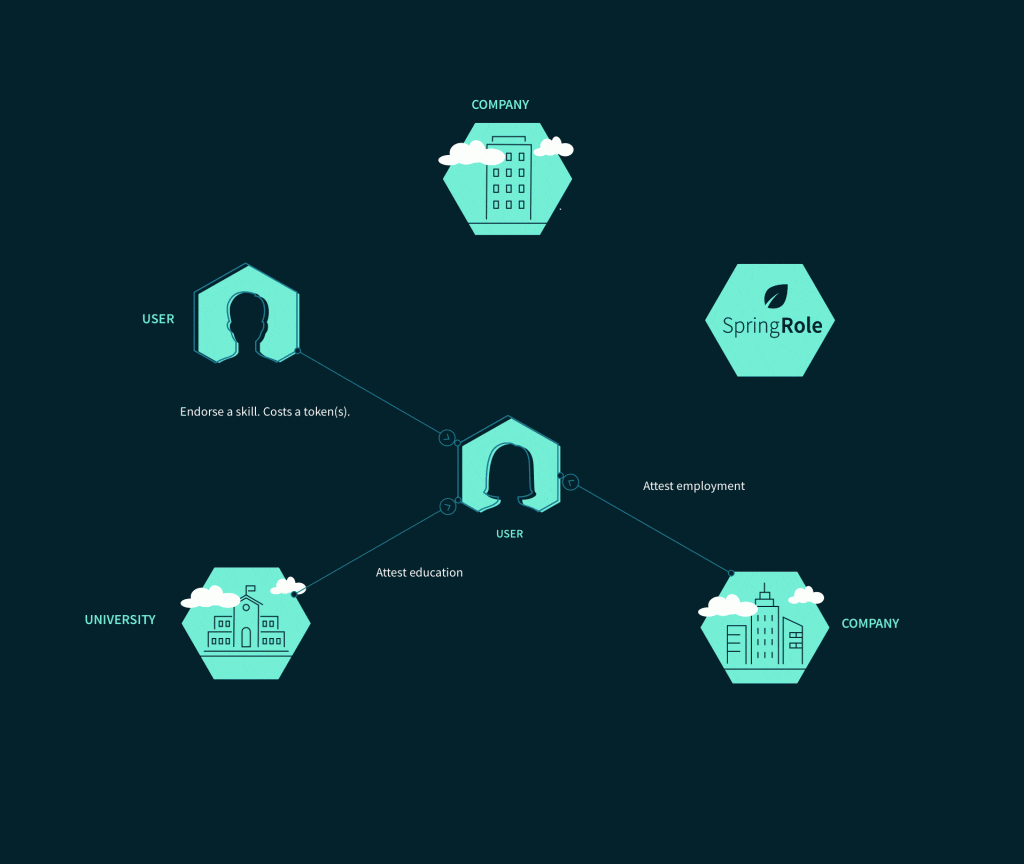 With SpringRole, users will be required to create profiles detailing their individual academic qualifications, professional experience, and proven skills. The platform will provide a way of verifying the information from the educational institutions and companies that the candidate has worked for. That means the most qualified candidate will have the job and employer will get the best employees.
Who are the brains behind SpringRole?
SpringRole is a project being run by highly qualified and experienced team of experts. Leading team is Kartik Mandaville who is also the CEO of the project SpringRole. He is a senior technical advisor at Science Inc and a founder of AutoBudder in 2010. Other members of the team include Vinay Agarwal (Head of Engineering), Shivhari Shankar (Product Manager) and host of blockchain and software developers. It is a team of highly experienced and qualified persons that will definitely deliver the project.
The platform is designed to address inefficiencies in the recruitment industry. With the coming of the blockchain and aspect of decentralization, it has become possible to eliminate middlemen in the hiring process and allow the actual parties (company and the candidate) meet directly. That way, the employer would get the best candidate for the job.
Investing in SpringRole
Investing in SpringRole is pretty straightforward. All you need is to buy their tokens called Spring Token. It is an Ethereum ERC-20 which acts as the fuel in the ecosystem. Currently, the tokens are on sale and the presale ending 31st May 2018. The company is also planning an airdrop during the ICO.
There are no significant risks associated with SpringRole, and they seem to be in line with the set roadmap. Although the actual product is yet to come, the milestones done so far are promising, and that is why the ICO presale is doing very well.
Visit the Website: https://springrole.com/
Join the Telegram community: https://t.me/springrole