There are many ways of trading cryptocurrencies, there include; spot trading (spot exchange), copy trading, contract trading (futures), P2P, etc. Bityard is a leading platform when it comes to cryptocurrency trading, they offer trading services to more than 40 cryptocurrency pairs, of which Dash is among (DASHUSDT) .
Dash can be spot-traded just like any of the other tradable cryptocurrency pairs on Bityard; this article aims at explaining in plain words how to spot trade dash on Bityard.
What is cryptocurrency spot trading?
 Cryptocurrency Spot trading is an organised type of trading where traders can instantly buy or sell cryptocurrencies at a particular market price for immediate delivery (buy) or payment (sell). Although spot trading has been around for decades, only a few trusted cryptocurrency trading platform like Bityard offers this service.
There are more than 40 spot-tradable cryptocurrency pairs on Bityard there include; DASHUSDT, BNBUSDT, BTCUSDT,TRXUSDT, ETHUSDT,CVBUSDT,ADAUSDT, etc.
NB; For spot trading, traders actually owns the coin (unlike contract trading), they tend to make profit once the price of the cryptocurrency they bought increases.
What is Dash?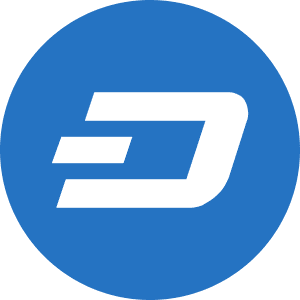 Dash is often referred to as "Digital Cash", Dash is an open source Decentralized peer-2-peer payments network and cryptocurrency, transactions on the Dash network are recorded on the blockchain. Dash aims at providing users with digital currency that is more secured, portable, fungible and very fast.
As of now Dash is referred to as being the most secured blockchain-based payment network, all thanks to the technological innovations like Chainlock and the Master node system, which ensures highly secured Dash transactions.
Dash is listed as one of the top tradable cryptocurrencies on Bityard spot exchange,contract trading and copy trade.
Some of the unique features of Dash;
InstantSend
The InstantSend feature provides a way to lock transaction inputs and enable secure, instantaneous transactions( within seconds).
Masternodes
This is the most important feature differentiating Dash payments network from other crypto networks. The concept of a masternode also servers as the Governing authorities for the Dash network. On a traditional p2p network, the masternodes participate equally in the sharing of data and network resources.
ChainLocks
Dash Network also integrated the chainlock into their system, this provides certainty when accepting payments. This technological innovation in working with InstantSend, creates an environment in which payments can be accepted immediately and without the risk of "Blockchain Reorganization Events".
Proof-of-Service
The Proof of Service (PoSe serves as a) scoring system that helps to incentivize masternodes to provide network services. Masternodes that fail to participate in dash activities are excluded from masternode payment eligibility.
These and many more are the unique features of Dash network.
HOW TO SPOT TRADE DASH ON BITYARD;

Bityard platform offers the best spot trading option for the DASHUSDT pair. Spot trading of the DASHUSDT pair on Bityard involves placing instant buy or sell orders at the best current market price of the cryptocurrency (Market), or by placing buy or sell orders at a particular market price suitable for the trader(Limit).
When buying in spot trading, traders actually buys and are in possession of the Dash coin, and also when selling in spot trading, traders actually exchange the Dash coin in their possession for the USDT coin either at the current or a fixed market price of their choice.
Traders can decide to either sell or hold the cryptocurrency their bought from Spot trading on Bityard.
Steps on how to spot trade DASHUSDT pair on Bityard;
Step1;     REGISTRATION AND DEPOSIT;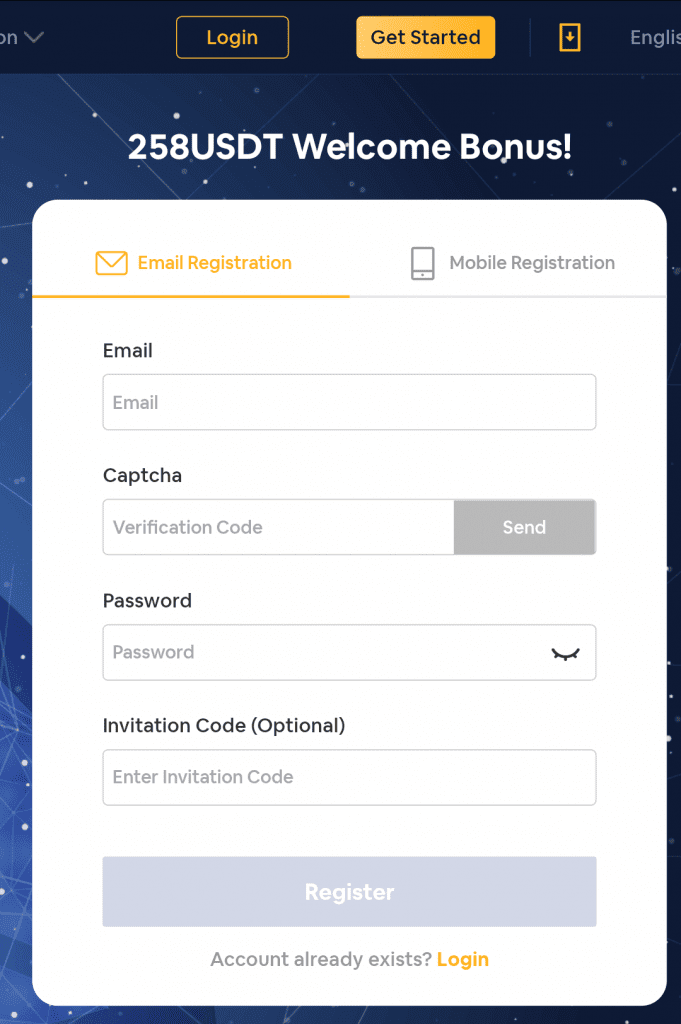 To be able to spot trade Dash or any other cryptocurrency on Bityard, users have to register by clicking on this link, then click on the Get started on the main area.
User can either register using their E-mail or mobile phone number (This takes less than
After registeration, users have to make deposit into their Bityard trading account.
– Step 2 Click on the "spot exchange" icon.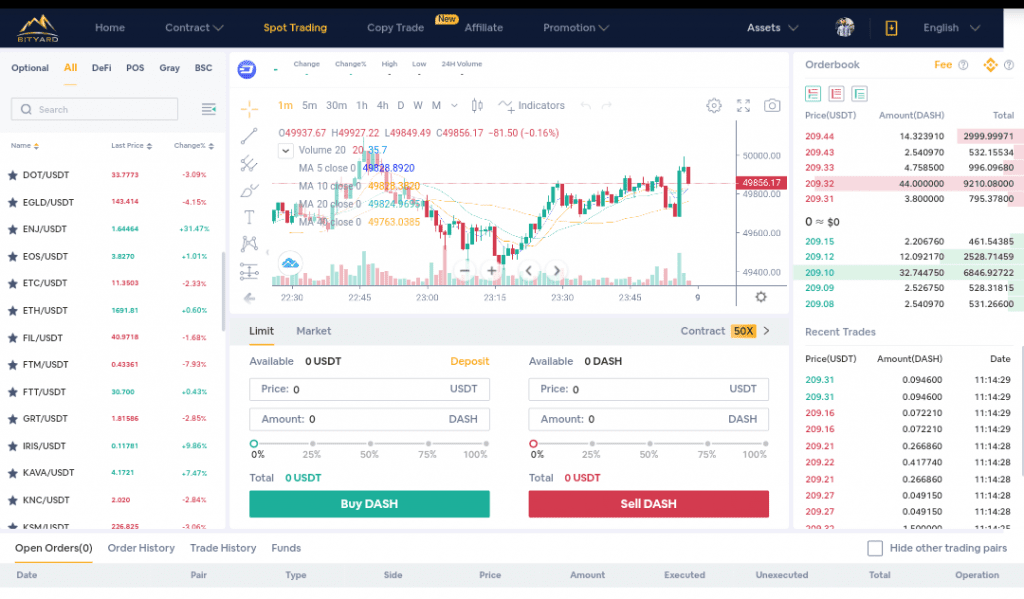 –Step3;  Navigate to the DASHUSDT pair and click on it, This will display the DASHUSDT chart and orderbook.
-Step4;  you can now input the price of USDT or the amount of DASH you want to buy or sell at the moment.
–Step5; Input the percentage of the fund you want to use from the total amount by, sliding the percentage bar above the buy or sell button either to the right or left.
–Step6;  Click on the BUY or SELL icon to enter your DASHUSDT order.
NB: Depending on Traders evaluation of the market, Traders can decide either buy or sell at the best available maeket price (Market) or at a particular market price of their choice (Limit).
– Step 7; To monitor Open orders, scroll down to bottom page to "The Open Order, Order History, Trade History and Funds".
In conclusion, Dash a cryptocurrency with high international status can be easily spot traded on Bityard.
In spot trading, traders are in possession of the actual Dash coin, and they tend to make profit with any subsequent rise in the price of Dash coin.
Bityard offers a very well leveraged spot trading market for traders. Trader's Orders are executed at the best market price without any delay.
Some of the major reasons why traders chose bityard are; user friendly interface, best trading chart,  Low transaction fee charged by Bityard unlike other trading platfprms with extremely hiked fees, etc.
To spot trade Dash or any other cryptocurrenciea on Bityard click here.