What is "Spot trading"? This article will clearly explain spot trading advantages on exchanges. 
Spot trading is a unique type in which let traders can instantly buy or sell financial assets at a particular current market price for immediate delivery, spot trading has been around for decades.
Financial assets that can be spot-traded includes; Cryptocurrencies (BTC, DOT, ETH, etc.), Derivatives (Nasdaq 100, Natural gas, etc.), commodities (Gold, silver, etc.), Forex (EURUSD, JYPUSD, etc.), Stocks (NYSE, etc.), etc.
In the past, Spot trading initially involved manual/physical delivery of the purchased financial asset which may take days to settle, but all thanks to groundbreaking technology innovations offered by the world-leading trading platform Bityard enabling automatic instant trading.
Now spot trading can be done instantly, electronically, and more conveniently from the comfort of our various homes by just a single click of the Buy or Sell button on Bityard.
For spot trading that involves cryptocurrency pairs (eg BTCUSDT) on Bityard, investors place the order to instantly buy or sell the cryptocurrency pair at its current market price(spot price) using another coin (usually USDT on Bityard), traders can decide to hold the financial assets they bought for some time before selling it.
The spot exchange is usually an instant trade therefore it is referred to as a "spot transaction". 
What are the spot advantages of Bityard?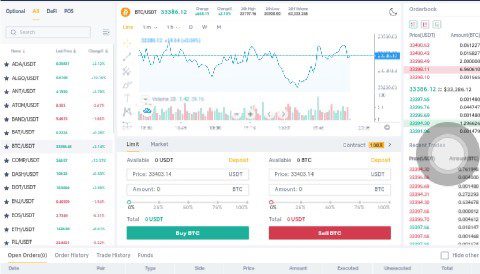 Bityard is one of the renowned spot trading platforms in the world, they are highly regulated and also compliant with international laws, having personally spot-traded on Bityard and also on some other trading platforms here are the advantages Bityard has above all other spot trading platforms;
1) USER-FRIENDLY INTERFACE
The first and foremost thing everyone notices on any platform be it trading or educational sites is the Site's-web interface (i.e how the site looks).
Bityard has the best trading user-friendly interface when compared to other trading platforms especially when it comes to Spot trading, the web design and display on Bityard make it possible for both Novices and expert to easily navigate through the site.
My personal rating for Bityard when it comes to a user-friendly interface is 4.9/5.
2) TRADABLE SPOT ASSETS
Bityard offers amazing spot trading options for its users, they are more than 33 tradable financial assets available for spot trading on Bityard, with many more still set to be added before mid-2021.
Personally, I was marveled when I saw the number of spot-tradable assets on Bityard considering that spot trading was just launched in 2020.
3) INSTANT TRADE EXECUTION
One of the qualities of a good spot trading platform is the ability of the platform to fill-in traders' orders (Buy or Sell) at the best current market price instantly without any delay, spot-traders like me will surely understand what it means to put an order just to find out later that the order price has been significantly changed due to delay from the brokers.
Bityard makes use of the best available technology for spot trading, thereby ensuring that trader's orders are filled in instantly at the best market price available.
4) HIGH 24HRS TRADING VOLUME
Bityard with more than 150 countries at its reach offers a very high 24hrs trading volume, this indicates that traders are always in the market, this is very good for business as buyers will see sellers buy from and sellers will also see buyers sell to, therefore there is increased liquidity on Bityard's spot trading.
5) BEST SPOT TRADING CHART
Bityard integrated into their spot-trade the Best trading chart analysis app (Trade view) thereby giving traders the best trading experience ever, traders can now fully analyze the market by making use of the various trading indicators on Bityard.
6) LOW TRADING FEE
One of the advantages traders get by spot trading on Bityard is the low trading fee, Bityard is among the few trading platforms that offer a very low spot trading fee, as low as 0.05%.
Majority of platform charges as high as 0.3% for spot trading.
 7) FAST RELIABLE CUSTOMER SUPPORT
Making inquiries about the latest development on Bityard spot trading is as simple as ABC, all thanks to their fast responding 24/7 customer support.
The Bityard customer support services are always available to clear trader of the various difficulties their might have encountered while spot-trading.
My personal rating for the Bityard customer service is 4.8/5.
                       COMPARISON BETWEEN SPOT TRADE ON BITYARD AND BINANCE
| | | |
| --- | --- | --- |
| SPOT TRADE PLATFORM |                 BITYARD |        BINANCE |
| SPOT TRADING INTERFACE | User-friendly and straight forward interface | Depends on the trading alternatives (i.e Basic and Advanced), can be complicated for Advanced mode  |
| 24HRS SPOT TRADING VOLUME | Very high  | Very high  |
| SPOT TRADING FEE (Industrial average 0.25%) | Very Low 0.05% for both maker and taker | Very  Low 0.1% for both maker and taker |
| SPOT TRADING FOR US CITIZEN | Allowed | Not Allowed  |
| EXECUTION OF SPOT ORDERS | Instantly, highly transparent  | Instantly, highly transparent  |
| FUND SECURITY | Highly regulated | Regulated |
Good rating
Moderate rating
Severe rating
Some terminologies on spot trading;
Spot trader; investors who either buy or sell any financial asset on spot trade.
Spot price; This is the current market price at which a financial asset can be bought or sold on spot trade.
Order book; a list that contains all spot trade entries (both buying and selling)
Spot Leverage; The leverage offered by brokers to spot traders, differs based on the cryptocurrency/Derivatives.
Spot fees; the commission charged by brokers, different trading platforms have their own unique spot trading fee.
Spot difference; The difference between the buying and selling prices of a financial asset on the spot
Maker; an investor whose order exists on the order book.
Taker; an investor who matches the makers' order to their own.
Conclusion; Bityard offers the best-leveraged spot trading experience in the world, investor can either buy or sell financial assets instantly at the current market price with ease using another coin (USDT ) on Bityards' spot trade.
They are many spot advantages for using Bityard such as User-friendly- interface, Instant trade execution, low transaction fees, etc.
Bityard has proven to be an international trading platform beyond boundaries, unlike some platforms that are restricted in some countries like the USA (Binance).
For more information log on to www.bityard.com.