According to Persistence Market Research, Europe Lithium Ion Battery Market will witness a CAGR of 8.9% between 2021 and 2031.
Europe Lithium Ion Battery Market Snapshot: Segment-wise
Europe Lithium Ion Battery Market, by type of cell, spans Pouch, Prismatic, and Cylindrical. Chemistry-wise, it's Lithium Cobalt Oxide, Lithium Iron Phosphate, Lithium Manganese Oxide, Lithium Nickel Manganese Cobalt Oxide, Lithium Nickel Cobalt Aluminum Oxide, and Lithium Titanate.
Voltage-wise, it's less than 4.5V, 4.6V to 12V, 13V to 18V, 19V to 24V, 25V to 36V, 37V to 48V, and above 48V. Prismatic lithium batteries hold more than 40% of the market share and the scenario is expected to remain unchanged even in the forecast period. This could be attributed to them being lightweight, which finds them well in medium- and high-rated power supply units. The future demand comprises portable appliances, heavy duty UPS, and powertrain units.
Application-wise, Europe Lithium Ion Battery market includes electric bikes, electric scooters, electric vehicles (passenger cars, light commercial vehicles, and heavy commercial vehicles), energy storage systems, railway systems, marine systems, military, telecommunications, industrial vehicles, aviation & aerospace, and consumer electronics. Out of these, passenger cars hold the largest market share, followed by aviation & aerospace and military systems.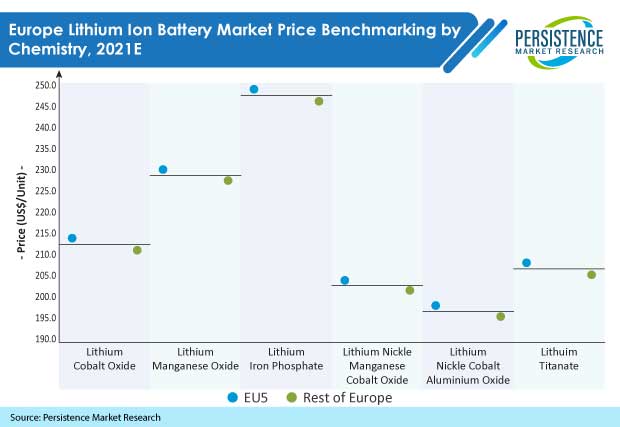 The Way the Competition is taking Shape
The key participants in Europe Lithium Ion Battery market include Panasonic Corporation, Samsung, LG Chem Ltd., Enersys Inc., SaftGroupe S.A., CATL, Ultralife Corporation, Leclanchche SA, Energizer Holdings, Inc., Northvolt ABB, Excell Battery Co., Triathlon Batteries Solutions, Inc., KAYO Battery (Shenzhen) Company Ltd., Duracell Inc., and Bestgo Battery Co., Ltd.
Coming to developments, SAFT, in January 2020, did table pilot plant for manufacturing batteries, especially for the electric vehicles all across Europe. Also, Bestgo Battery Co., Ltd. is making way to provide customized battery packs by making way for mold for plastic case along with re-engineering of the BMS abreast with Bluetooth function. The LG 18650 Li-NCM cells offering higher peak power output is being preferred.
GAIN COMPLETE ACCESS TO THE REPORT – https://www.persistencemarketresearch.com/checkout/32518
What Next?
The ongoing as well as upcoming trend implies/will imply a paradigm shift – i.e. shift towards zero emission electric vehicles (from fuel-based). As such, Europe Lithium Ion Battery Market is there to stay strong, or even come out stronger in the upcoming period. Norway, Italy, and the UK are the countries dominating Europe Lithium Ion Battery market. With the consumer electronics segments expected to grow manifold in the next 10 years, there won't be anything to obstruct Europe Lithium Ion Battery market.