Smart gadgets' increased interaction with public, private, and residential infrastructure has resulted in a surge in demand for smart locks. The introduction of smart lock systems is enabled by improved security, safety, and monitoring of properties for theft prevention. Through 2029, the worldwide smart locks market is expected to rise at a rapid 16 percent CAGR.
Countries all across the world are taking advantage of advances in infrastructure technologies including smart surveillance, better sensors, and mobile security system control. Smart locks are being intensively researched and developed by market participants in order to increase convenience and security.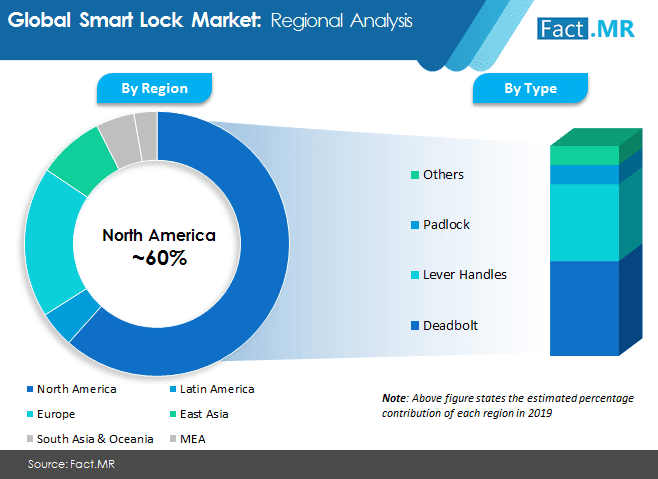 Global Smart Lock Market: In-Depth Assessment on Key Segments
The global smart lock market is segmented on the basis of type, application and region.
Type

Deadbolt
Lever Handles
Padlock
Others

Application

Residential
Hospitality
Enterprise
Critical Infrastructure
Others

Region

North America
Latin America
Europe
East Asia
South Asia & Oceania
Middle East & Africa
The Smart Lock Market Study's Key Takeaways
Deadbolt smart locks will rise over 4X during the projected period due to product features such as pricing, durability, and security.
The lever handle segment will grow at a 17 percent CAGR between 2019 and 2029, driven by consumer desire for smart hospitality and easy access to services.
The residential application market is expected to quadruple in size by 2029, thanks to millennial consumers' increased disposable income. Furthermore, in the future decade, the proliferation of smart devices in developing economies will considerably contribute to the growth of the smart locks market.
From 2019 through 2029, critical infrastructure such as server rooms and massive data centres will develop at a rate of more than 19 percent. Smart locks for vital IT infrastructures are in high demand because to the increasing digitization of company operations.
Click Here To get a Sample Report (Including Full TOC, Table & Figures):-https://www.factmr.com/connectus/sample?flag=S&rep_id=4669