With adjustable foam neck cushions, one hidden front zipper pocket for your cellphone or passport, a built-in mesh hood, and innovative light compression arm rests that keep your arms comfortably against your side and in your own space, the Travel Sloodie is so much more than those boring travel pillows currently for sale ! 
Unlike basic plane pillows that often fail to offer adequate support, the Travel Sloodie features taller and thinner cushioning that is less bulky, making it much more suitable for long flights or road trips. It is well designed for International travel, allowing for more privacy from that stranger in the seat next to you.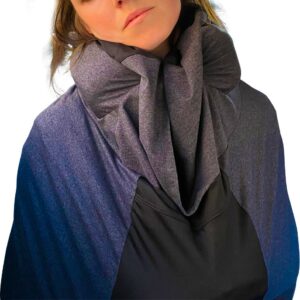 "SLEEPING WHILE TRAVELING IS A MUST FOR MANY. A TRAVEL PILLOW SHOULD BE MUCH MORE THAN JUST SOMETHING THAT KEEPS YOUR HEAD FROM FALLING TO YOUR SHOULDER."
The lightweight blanket hoodie portion fully wraps around the body similar to a hoodie, with built-in elbow slings on each side connecting to the center kangaroo pocket that supports your hands and wrist. It even has a single hidden front-facing zipper pocket for easy storage of cell phones, passports, and other everyday carry items. 
The mesh hood allows you to see out at surroundings but also covers most of the face and also allows for privacy so you no longer have to worry about your fellow passengers watching you drool on them 😊 😊 
The Sloodie is made from a combo of polyester & spandex materials that are moisture-wicking, breathable, and most importantly machine washable on gentle. It is available in three colors, all-black, charcoal gray (see image below), and toffee/white.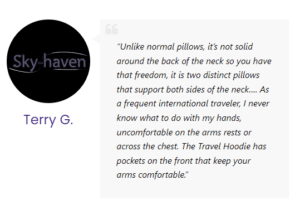 When you travel frequently, items and things you wear and use often will get messy. Per Sky-haven's website the Sloodie is machine washable and that is fantastic to hear for most travelers ! A travel pillow type device needs to be machine washed from time to time right??
This all-comfort-in-one Sloodie is the next travel companion for any frequent traveler who needs to get quality rest during flights and bus rides. Highly suggest families with young kids try it out ! It may even help the kids keep to themselves in the back seat since their arms will be comfortably positioned in the arm slings!!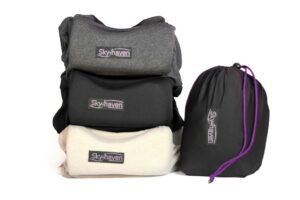 One other thing that Sky-haven Sloodies has going that is pretty unique and different !! They are allowing customers to return their Sloodie within 1 year of purchase from their website for a full refund if they tried one on 2 different flights and it was not beneficial to their privacy or comfort. And it appears they already ran a successful campaign on Kickstarter/Indiegogo. 
When shopping for a sloodie pillow/blanket, be sure to pay attention to the material and size. You want to make sure that the material is soft and comfortable, and that the size is appropriate for your needs. You should also consider the color and style, as there are many options available to suit different tastes.
In conclusion, the sloodie pillow/blanket is an innovative product that provides a high level of comfort and convenience. Whether you're snuggling up on the couch or taking a nap, this product is perfect for anyone who enjoys cozy, comfortable products. So why not try a sloodie pillow/blanket today and experience the ultimate in comfort and convenience?