The Skrumble Network is the newest blockchain based information platform leveraging the smart contract technology to break the barriers of human communication. Skrumble network with blockchain technology is decentralizing the conventional paradigm of centralized information exchange among people and organizations that deal with communication in various communities by providing a free and secured system without any third party control such as government laws and policies, without fear of your data or personal information been leaked, misappropriated or sold out to the highest bidder for personal gains.
Big companies such as Facebook, Telegram, Whatsapp, and Wechat have all abused the right of consumer data because of the centralized system they operate on. Skrumble is trying to move beyond these failures by the innovative method of decentralizing communication and giving the power of information privacy control back to the consumers.
The Mission of the Skrumble Network
They are breaking the centralized system of communication to build more stable and secure communication and conversation ecosystem by leveraging blockchain technology.
They are creating privacy and data ownership: it is no news how consumer data and profile information are been harvested by data companies without the consumers' knowledge. Skrumble Network is making communications more anonymous and private with the consumer being in charge instead of the communication giants. Skrumble Network is removing the global marginalization caused by communication breach by creating secured P2P connections.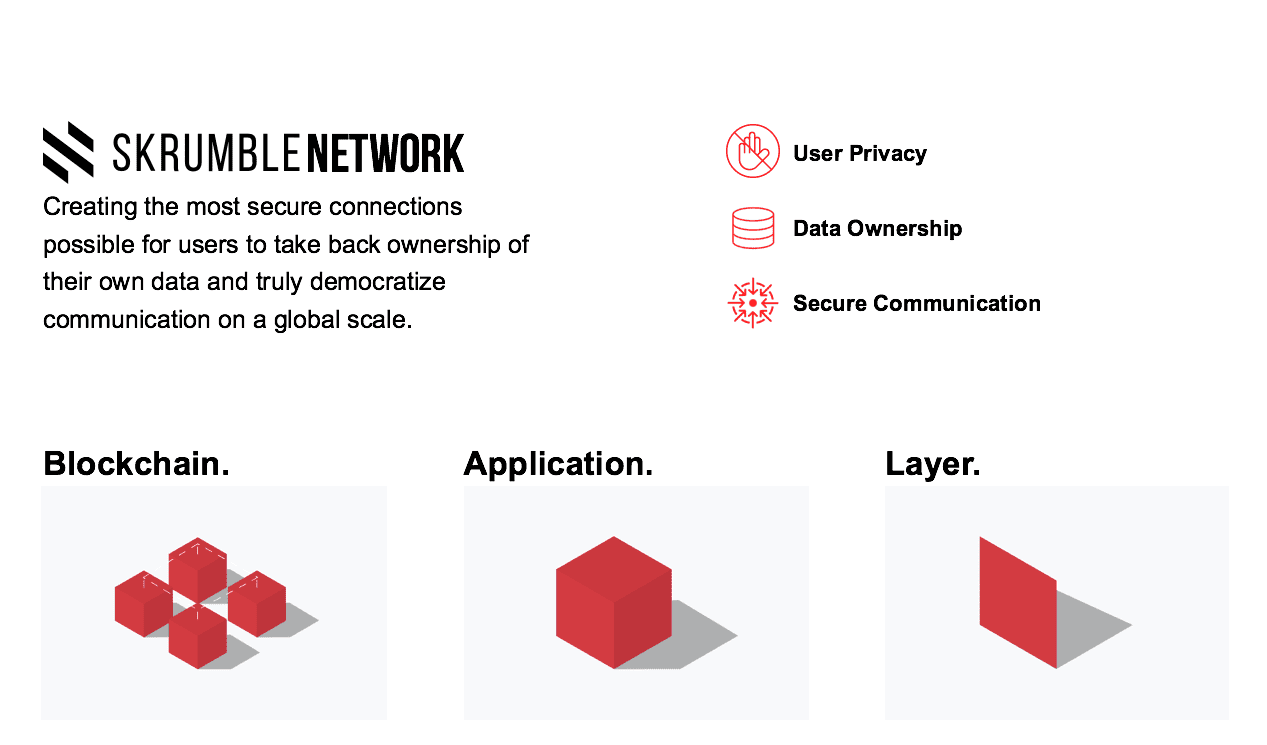 Skrumble Network isn't just utilizing blockchain technology, the company is building infrastructure for:
An open source communication-centric blockchain for other applications to utilize and build onto the network.
A decentralized communication application built on their very own blockchain.
A communication layer for developers to add Skrumble Network's decentralized communication features into their applications.
With a recently released beta version .01 of their decentralized communication application, Skrumble Network is building a full spectrum platform that will breakthrough traditional firewalls, assure user anonymity, and guarantee privacy. Including various robust features such as:
Unique, secure connections per conversation to ensure privacy
Real-time voice and video calling with up to 50 people
Edit, save and unsend messages
Large file transfers, and user-controlled distributed file storage
Wallet integrations for in-context money transfers and simple smart contracts
An SKM utility token that allows users to unlock specific features and can be used as the means of payment for interacting with Skrumble Network directly and/or for P2P user value exchanges
Open source SDKs (software development kit) that will encourage third party developers to build new blockchain technologies and applications
The Skrumble Team
The Skrumble team consists of over 40 excellent and widely learned individuals in computer and software technology, programmers, marketer, and business developers. The team is headed by David Lifson, CEO, and president of the group. Michael Dabydeen is the head developer and a wonderful adviser in the person of Anthony Dilorio, who is the co-founder of Ethereum and CEO of Jaxx & Decentral among other great minds in the industry.
The Skrumble Token
Skrumble ICO and its token SKM are offering solutions to all the lapses and loopholes that have plagued the communication industries, especially to consumers that have their data and information misappropriated by leveraging the decentralized technology of blockchain for consumers to have total control of their data on any platform. The network is very stable, viable, and worth investing in.
LEEKICO, a one time stop service platform supported Skrumble Network to reach their hard cap in less than an hour on the 9th of May 2018. The Skrumble Network achieved their hard cap of 20000 ETH and securing a total of 15 million with their token on sale for 0.04 dollars. The Skrumble token is also mineable.
The Skrumble Network has a roadmap that will transform the face of social media and data privacy.  Though some people are skeptical about the firewall aspect, which will greatly change how we all communicate, we just have to wait and see how Skrumble Network intends to achieve this goal.
Website: https://skrumble.network/