If people are Marie Kondo-ing their lives to achieve simplicity, you should do the same for your online business.
Simplifying your business workflows boosts your efficiency and productivity, so you accomplish more tasks quickly.
It frees up your time and energy, allowing you to focus on business-critical aspects without neglecting small, yet valuable, tasks.
Streamline your workflows with these eight best practices:
1) Outsource your accounting duties.
Handling accounting duties involves many time-consuming tasks: carefully cross-checking your data entries, obtaining tax declarations, processing your payroll, bills, etc.
If you're doing these accounting duties by yourself, you'll spend the whole day working on them, leaving no time for your other business needs.
Consider outsourcing your bookkeeping and tax accounting work instead.
Accounting agencies provide extensive services for bank reconciliation, tax report submissions, business analysis, and more.
You can even get competitive packages for hiring tax accountants, bookkeepers, assistants focused solely on payables and receivables, and other professionals.
By outsourcing your accounting, you spend less time crunching numbers and more on growing your business.
2) Manage your teams with project management platforms.
Managing ecommerce projects and collaborating with your team, business partners, etc. involves much work, from the planning phase to implementation and evaluation.
Streamline your project management with platforms such as Trello.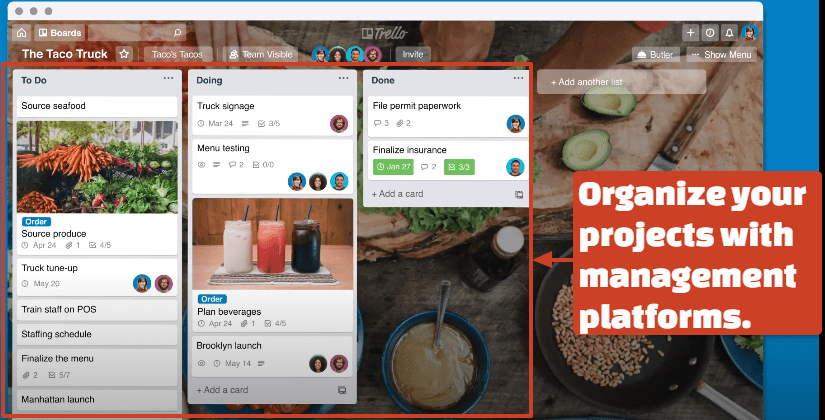 Trello lets you organize your projects and tasks, including persons assigned, due dates, etc., and see them all in one dashboard.
The tool also offers app integrations to bolster your team communication, analytics, and other aspects.
Use platforms such as Trello to ease your project collaboration and implementation.
Additional tip: to further bolster your team collaboration, use reliable webinar software for your video conferences, seminars, and meetings for much-needed audio-visual interactions.
These tools are not only practical in hosting online educational events but can even help businesses operate remotely. 
With project management tools plus webinar software programs, you can foster and streamline your team's coordination in accomplishing assignments online.
3) Leverage chatbots.
Answering several inquiries from potential customers can be time-consuming and a huge productivity blackhole.
Respond to inquiries more efficiently through chatbots. 
Chatbots give preset responses to common queries and converse naturally the way humans do. They can even reply instantly, 24/7.
Install chatbots with tools such as Intercom.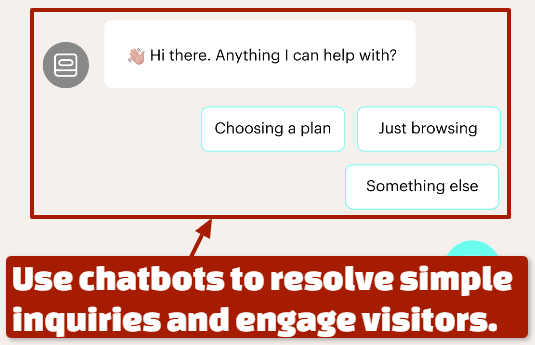 Intercom lets you build your chatbots without coding and train them to speak in your brand's voice. 
Let's say you're in the coaching industry, and a visitor wants to sign up for your life coach certification programs.
Your Intercom bot can ask for preliminary details, such as the person's name and preferred management package, and relay these to your agents.
If your customer asks about your services, your Intercom bot can study past chats, give appropriate replies, and relay unrecognized questions to the right staff.
By using chatbots, you can focus less on initial inquiries and sales interactions and more on complex concerns and qualified leads.
4) Use time tracking software.
Manually tracking your staff's attendance takes immense time and effort — the more employees, the longer it takes you to finish computing their work hours.
Simplify that task with time tracking software tools such as Time Doctor.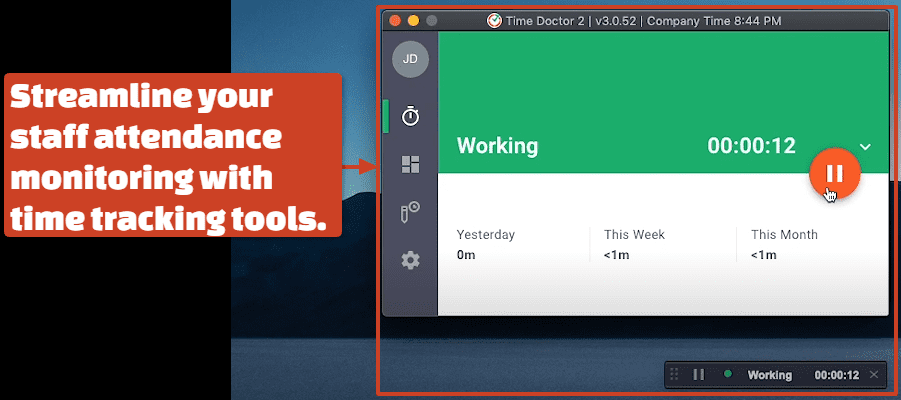 Time Doctor monitors the total amount of your staff's work time. It also provides detailed daily and weekly reports with web and app usage, project and client breakdown, etc.
It can capture screenshots on pre-set intervals, remind employees to take breaks, prompt employees on idle screen time, and more.
For payroll purposes, the tool lets you verify timesheets, customize pay periods and currencies, and integrate with your payroll software systems, among other functions.
With time tracking tools such as Time Doctor, you simplify your attendance and productivity monitoring to support payroll needs.
5) Automate marketing campaigns.
Running ecommerce marketing campaigns helps boost brand awareness and entice customers to take your sales offers — but it also consumes time and effort.
Automate those campaigns to enhance your efficiency. Use platforms with automation features, such as GetResponse for email marketing.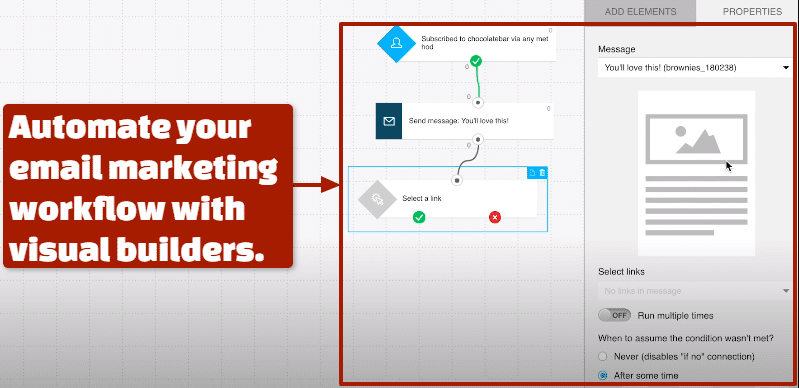 GetResponse lets you customize pre-designed templates for your email marketing workflow or build one from scratch.
Set your triggers or customer activities (such as cart abandonment), schedule for email delivery, etc., and the tool executes your campaign accordingly.
Automate your social media marketing as well with platforms such as Hootsuite.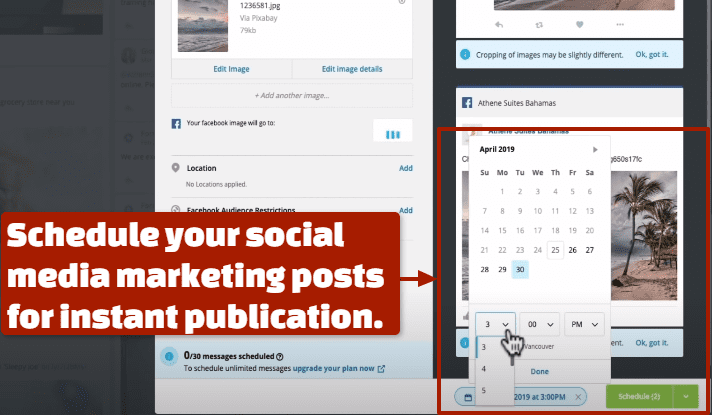 Hootsuite lets you create posts and schedule their automatic publication. It can even analyze your posts instantly after publishing, among others.
By automating your marketing campaigns, you can attend to closing sales, etc. while ensuring your daily promotional activities are running smoothly.
6) Create templates.
Producing similar documents from scratch every single time eats up precious minutes you can spend on writing, analyzing data, or other tasks.
Save time by creating templates for common documents, such as business letters, progress reports, and more.
Format your template in advance, so you can just modify the details later on.
For instance, if you're using messaging platforms such as Gmail, create templates for your welcome and thank-you emails.
Enable the templates setting, compose your email, and save it as a new template, like this: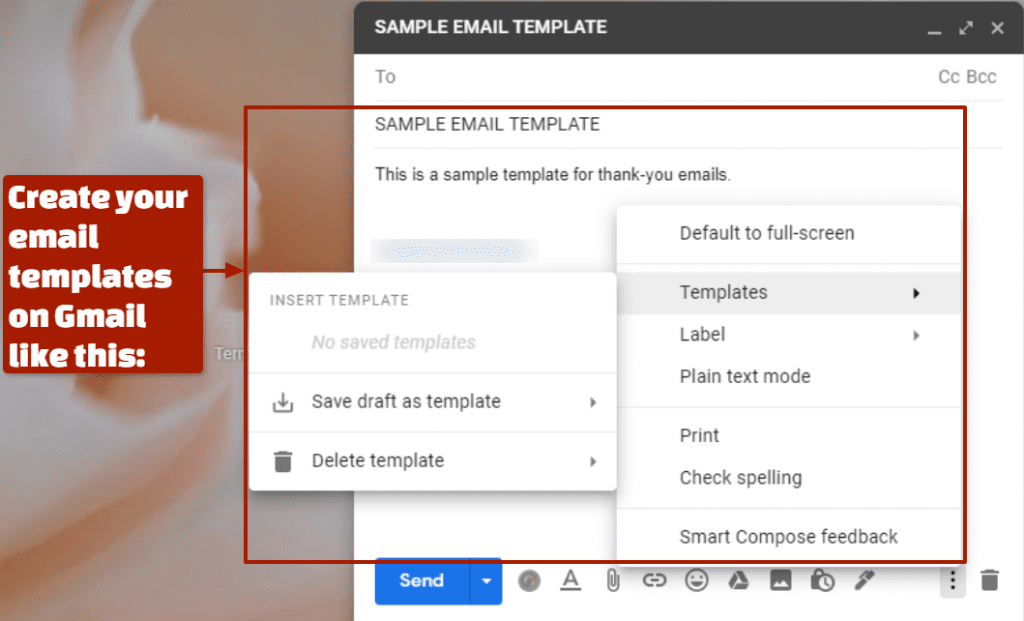 Additionally, design your visuals ahead of time with tools such as Canva.
Customize their pre-designed infographics, presentations, and others, or build your template from scratch: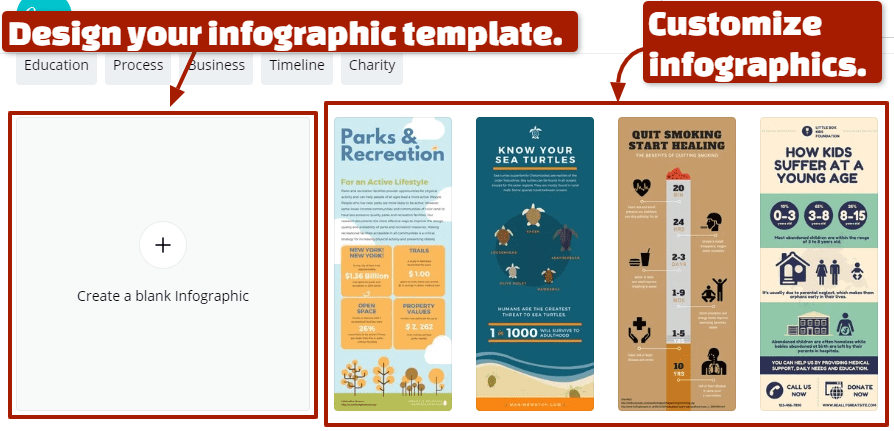 By creating templates, you can work on your document immediately and submit it to your intended recipients sooner.
7) Centralize customer records and interactions.
Place all your customer information, interactions, and journeys in one place for simpler monitoring and documentation.
Do that through customer relationship management (CRM) software programs such as Hubspot.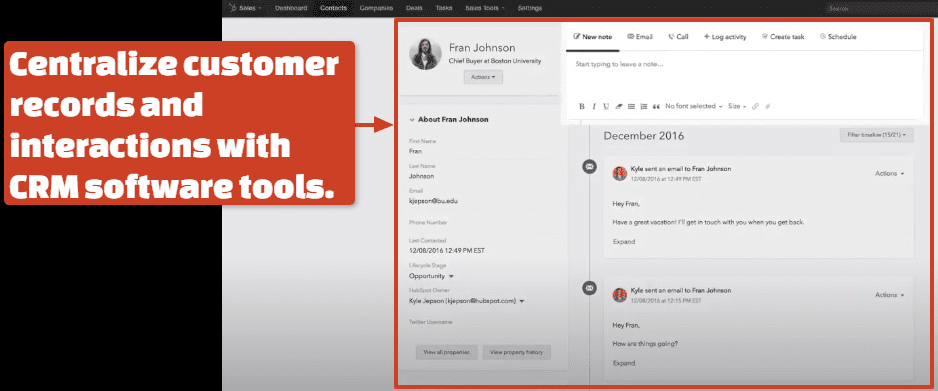 Hubspot shows you the sales pipeline updates on your dashboard and lets you organize scheduled appointments, closed and lost deals, and more.
It tracks customer dialogues across phone calls and email and social platforms synchronized with Hubspot.
Plus, you don't need to scour your spreadsheets or inbox to search for details. Everything about your customer relationship is in the person's timeline on Hubspot.
Through these CRM software tools, handling your client relationship data becomes systematic and effective for your business operations.
8) Use instant dropshipping tools.
If you're dropshipping, manual order fulfilment, product addition, and other processes are a huge timesuck.
You have to copy and paste the descriptions, etc., upload product images, and others. For five items, you may not break a sweat, but for, say, 100? It'll eat up your work hours.
Shorten your dropshipping processes by using tools such as Dropified.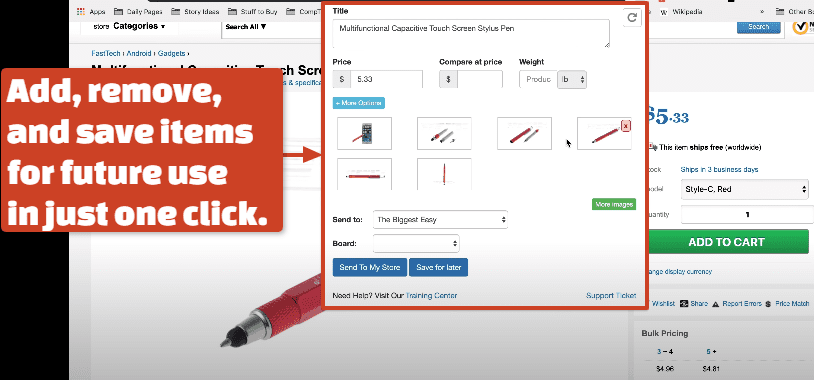 Dropified lets you add, remove, and save items for later occasions in just one click. It also auto-updates price changes, product availability, and order fulfillment. 
It even allows you to import product reviews from your suppliers' site, bulk edit similar items, and lots more.
With these energy-saving functions, you become extra-efficient, so you have more time for other dropshipping assignments.
Up to You
Don't let your work be bogged down by numerous inefficiencies in your workflows. Follow these tips to streamline your business and achieve maximum productivity.
Evaluate other processes, see how you can shorten them, and adapt and refine your adjustments. Soon, these changes will spell a huge difference in optimizing your performance.