Just over nine years ago, simpleshow began using three-minute animated explainer videos to help its clients explain ideas, concepts, and products. These explainer videos use two hands and simple black-and-white drawings to help people understand a story.
Today, the simpleshow video maker has evolved into an AI-powered tool that enables anybody to create high-quality explainer videos on any topic. Thousands of explainer videos have been created by simpleshow experts to assist clients in delivering their ideas in a simple and engaging way.
simpleshow Video Maker Integrates Artificial Intelligence 
We all know that artificial intelligence (AI) will have a significant impact on our future. In reality, we can see that AI is already operational in our daily lives and at work. Self-driving cars, vacuum cleaner robots, image analysis, and virtual assistants are all possible right now.
The fundamental premise of artificial intelligence is straightforward: a computer/machine analyzes a set of data fed into the system and solves issues. In this sense, it mimics the human brain. In fact, the more data a machine receives, the more accurately it solves problems. In other words, it has the ability to learn!
However, in order for machine learning to operate at all, humans must often assist. We must "feed" the machines massive quantities of data while also incorporating personal experience into the development process. This is the only way for artificial intelligence to evolve and produce ever more efficient solutions, as we've been doing with our simpleshow Explainer Engine over the years.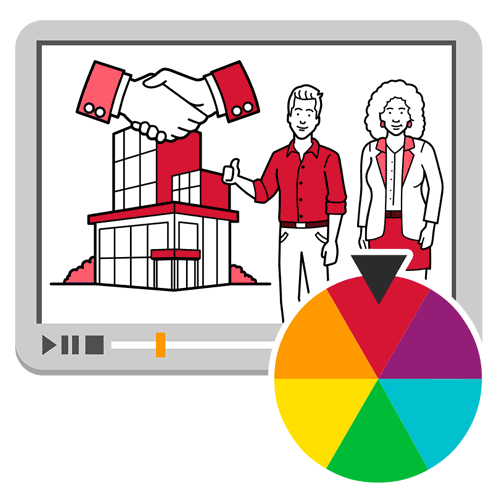 The simpleshow Video Maker is Always Learning 
We have a lot of data from which to learn and figure out how to make things better because a lot of projects have been made with the simpleshow video maker.
Our specialists draw on our years of experience creating thousands of explainer videos to teach them to our Explainer Engine, which incorporates better text analysis to filter the most relevant keywords, to further enhance the quality of the simpleshow video maker.
The Explainer Engine specifies fewer but more expressive keywords for each scene, enhancing the clarity of your message and the quality of your explainer video. The experts have also taught the Explainer Engine to better illustrate your content.
With better optimization processes, images, known as "scribbles," now better match your specific keywords. For example, our artificial intelligence bot (Explainer Engine) now reads your text and suggests photos for your videos based on what you write.
In essence, the software automatically creates a video from your keywords, but you can still edit any scribble as you see fit. The simpleshow team optimized the picture search and included new search techniques, making the system generate even more accurate results.
simpleshow provides corporate identity colors through AI
The latest update to the explainer video platform includes an intelligent illustration style that makes the simpleshow video creator, even more, CI compliant.
With the addition of a new smart illustration style, businesses, and agencies can now make videos with a modern look that fits their corporate colors with the touch of a button.
The new illustration style complements the traditional black-and-white style. If the user selects the new "clean" style, the video will be brought to life with modern and clear visuals in realistic proportions. 
The style is very intelligent since it identifies the type of illustration and automatically balances up to four CI colors, even applying the color in the correct areas.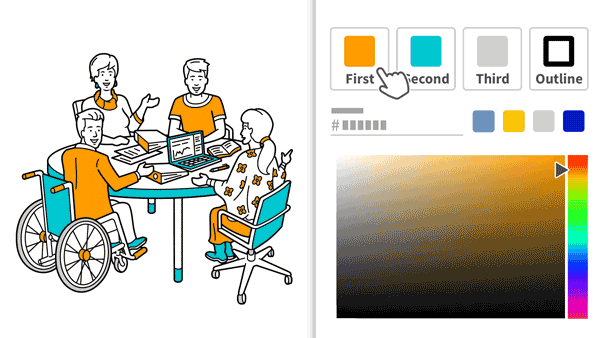 Endless CI Possibilities with simpleshow's AI-powered Video Maker
simpleshow's most recent feature update offers an intelligent illustration in a clean style, making videos, even more, CI compliant. With the click of a button and the power of AI, the appropriate corporate identity elements can be added to your video.
Furthermore, the new background function helps corporate clients keep their brand standards even if different people in different roles work for the same company. This emphasizes the idea of easy and effective individual video content development.
Clean style
Businesses can now make videos in a "clean" style beyond the popular black-and-white visuals. This new "clean style" is designed with more realistic proportions, giving your video a modern and clean appearance by adding colors and bringing it to life. Even more, your videos will all glow in your custom corporate identity colors! 
The clean style is quite smart since it automatically recognizes the illustrations you're working on and balances up to four CI colors, even applying the color in the appropriate areas.
Backgrounds
simpleshow's background function allows you to add various backgrounds to your videos. Whether you choose a background created exclusively for your business or a pre-made template, the extra touch of personalization will have a great impact on your audience.
With this feature, users can simply customize and personalize videos in any way, while enjoying the video creator's renown for simplicity and ease of use. Users can upload a personalized background to fit their CI, edit the background to match their brand colors or choose from simpleshow's pre-made backdrops.
simpleshow Launches Diversity Tools and Characters
In addition to all of the latest features and additions mentioned above, simpleshow continues to stand out from the crowd through the launch of its latest collection of diverse characters. With this latest one-click feature, content creators can now build out their own video content with characters to fit their exact demographic and target audience.
Features of this new edition include:
Powered by AI – the explainer engine does the hard work, ensuring an even distribution of diverse characters
Variety of skin tones and hair colors (turned on with an easy toggle button)
The illustration library expanded to include diverse characters:

Age
Ethnic groups
Skin tones and hair colors
Gender identity
Religion
Disability
Body types
Sexual orientation and family
And when it comes to content creation, it's not just about making sure your video content relates with all audiences possible — but also allowing for more targeted campaigns when creating individualized videos for direct audiences and through targeted ad campaigns.
We all know the importance of being able to relate to visual and video content, and this is just another step in the right direction when trying to make sure everyone is included.
Keeping the Video Making Process Simple
Making a video the traditional way can be a time-consuming and stressful endeavor. Thanks to simpleshow's AI-powered video-creation software, this is no longer the case.
The tool streamlines the video-creation process by providing script templates. So, once you've completed basic research and have a rough draft of the information that needs to be presented, the simpleshow video maker will lead you through the script-writing process for the explainer video.
It doesn't stop there. The video-creation tool also provides visuals related to the script for inclusion in each scene. You can use your own photos or use these suggested photos to save time.
You can save even more time by having the simpleshow video creation tool handle the voice-over for you. Again, you can perform the voice-over yourself, but to save time and be more efficient, you can choose one of the voice-over options provided.
The same is true for the background music. The simpleshow video maker includes a library of ready-to-use background music. Of course, you can always add your own background sound, but to save time, you can pick one of the suggested options.
Conclusion
AI has the ability to automate routine processes, allowing people to focus on more important tasks. Organizations can now create high-quality video content while spending less time on comparatively less creative activities because they have the freedom to do so. And, given the rapid evolution of simpleshow's AI Explainer Engine, there's no doubt that clients will continue to see a boost in their business operations.