Who Is TheSoul Publishing?
It is guaranteed that many people have encountered the original digital content developed and shared by the globally-based storytellers and digital creatives that comprise TheSoul Publishing. In fact, this powerhouse digital studio was honored by Tubular Labs for capturing the greatest number of unique viewers worldwide in 2020 with 644 million, tying Walt Disney Company for the No. 1 position. The company bested legacy media entities like ViacomCBS, Comcast, and WarnerMedia in total viewership.
With clever craft tutorials for the family DIYer, an animated couple that humorously teaches us about relationships, or a musical soundtrack that speaks to your inner rockstar, from the dazzlingly captivating to the funny and fascinating, TheSoul Publishing's colorful portfolio of media brands promotes uplifting, practical, and consistently entertaining content for all ages. Its collection of well-known brands includes 5-Minute Crafts, Bright Side, 123 GO!, Avocado Couple, La La Life, Slick Slime Sam, Teen-Z, Polar, and much, much more.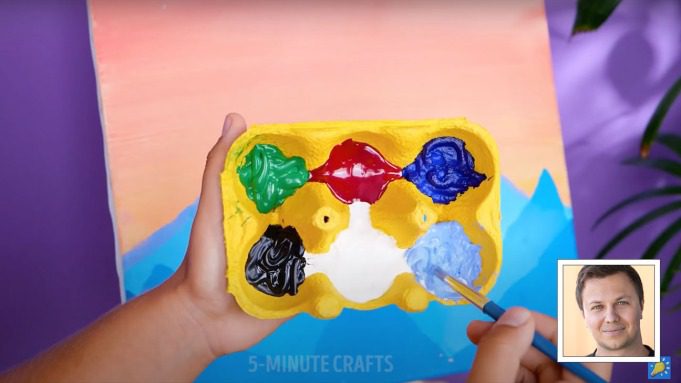 5-Minute-Crafts and inset of Arthur Mamedov. THE SOUL PUBLISHING
As one of the world's most prominent and popular online media companies, TheSoul Publishing reaches more than a billion social media users across several platforms, including Facebook, Instagram, Snapchat, Pinterest, TikTok, and YouTube. Check out a few of the content-creator's impressive numbers: 
TheSoul Publishing's Success in Numbers
500M+ YouTube subscribers 

400M+ Facebook followers

60M+ Instagram followers 

65M+ TikTok followers

500+ original videos produced monthly

Content produced in 19 different languages

2,700+ employees.

1000+ new team members joined the company in 2021
Overall Views Across All Brands and Channel
The video intelligence and measurement platform Tubular Labs places TheSoul Publishing at the top of their chart which ranks media companies with the most social media views across YouTube and Facebook.
Short But Mighty
TheSoul Publishing's most viewed YouTube Short, titled "Funny DIY Foot Soap," is 35 seconds in length and has amassed (as of February 2022) nearly 500 million views overall, making it one of the most viewed shorts of all-time. The company created the video as a part of the brand 5-Minute Crafts, and features someone using their own foot to create a life-size foot bar of soap. 
5-Minute Crafts Bytes
While the studio's creation of short-form content is a newer endeavor, TheSoul Publishing has been producing crafting-related content via it's most popular brand, 5-Minute Crafts, for over five years. In fact, 5-Minute Crafts is the only brand to consistently rank among the Top-10 of all YouTube channels and among the Top-10 of all Facebook pages. 
There are multiple factors contributing to the success of TheSoul Publishing's digital studio.
Positive. Fun. Entertaining Content.
TheSoul Publishing specializes in fun and crave-able short-form content. A recent nation-wide survey conducted by the digital studio, found 81% of respondents agreed that "fun and positive online video content will become an even more important and popular source of entertainment." 
In the weeks and months leading up to the pandemic, short-form video content shot to popularity among younger demographics. However, the pandemic served as the catalyst for much greater growth in the medium, as more than 84% of audiences reported spending more or the same amount of time watching short-form videos.
TheSoul Publishing's most popular channel 5-Minute Crafts also saw an increase in views and viewers due to its DIY-focused content. In a 2020 survey conducted by TheSoul, they found that 86% of Americans have watched YouTube, Facebook, Instagram, or TikTok videos for inspiration on home projects, crafting ideas, DIY activities, or cooking projects. In comparison to six months earlier, cooking/baking and DIY/crafting ranked among the top categories of consumed content viewers watch. Since covid limited dining and entertainment options outside the home, naturally you would see an uptick in DIY projects and 5-Minute Crafts answered the call of the pandemic DIYer perfectly kicking its viewership into overdrive.
The Appeal Is Real, and Real Big
Content produced by TheSoul Publishing has incredibly wide appeal.
Crafting content and DIY hacks, for example, presented with a touch of humor, is able to cast a wider net of appeal and thus create a demographically broader audience. 5-Minute Crafts, along with TheSoul Publishing's very first video creation, Bright Side, rank among the most-subscribed-to YouTube channels of all time. People of all genders, ages, occupations, and even geographical locations enjoy TheSoul Publishing's content for its crafting, DIY hacks, humor, or, perhaps, just pure entertainment value.
Considering the digital studio's short-form videos are consciously designed for universally global appeal, they're less likely to be hindered by linguistic or cultural barriers. The digital studio produces content in 19 languages, assuring its devoted worldwide following.
Find TheSoul Publishing All Over Social Media 
TheSoul Publishing doesn't exclusively post on a single social media platform. Like most popular digital studios, it creates content for multiple distribution platforms to successfully engage with audiences. Currently, it showcases its exciting brands across YouTube, TikTok, Facebook as well as Instagram, Pinterest, and Snap and Facebook
Short Form Video is Having a Moment
One last aspect of each channel's success to be considered is simply its timing. Short-form content continues to skyrocket in global popularity and has created an incredible demand for this sort of content generally, but more specifically for the digital studio leaders, such as TheSoul Publishing, creating the most innovative, practical, and engaging content today.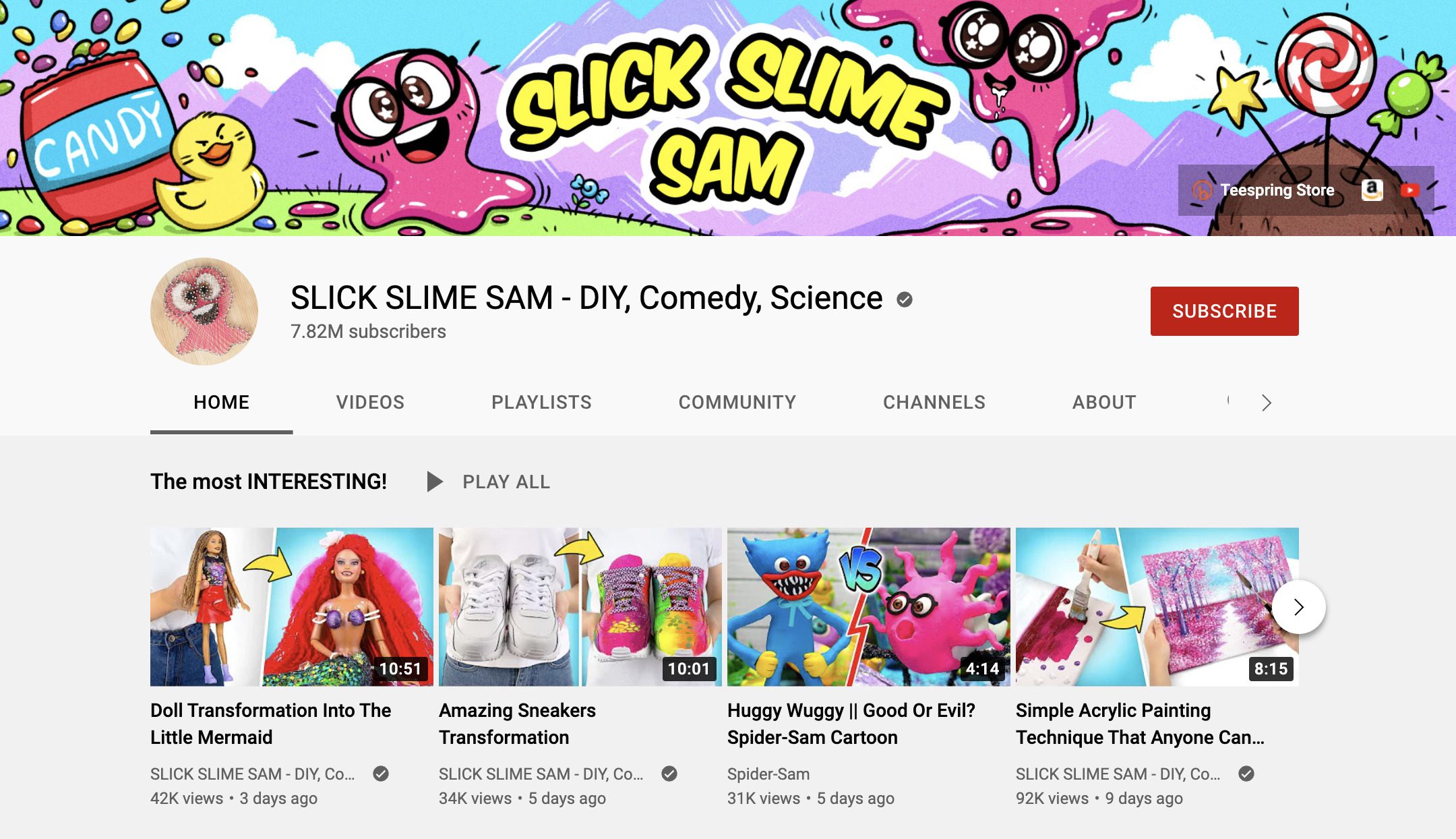 TheSoul Publishing's Channel Highlights
Slick Slime Sam
When was the last time you saw a talking slime? Now you can! Introducing Slick Slime Sam. Sam will assist you with your next DIY or life hack project and he will make sure that you are having lots of fun while doing it. He's pink, he's funny, and he's eager to help. Take a look at a few data bytes about the most entertaining slime in history: 
40M+ YouTube combined subscribers

500M+ monthly views on YouTube since the start of 2021

2.8B+ minutes watched on YouTube every month
Sam and his "pet human" Sue craft strange DIYs, cook incredible foods and bicker endlessly to establish common ground. It's just another slimy day for Sam and Sue. Come and join the adventures.
123 Go!
Do you want to know the easy way to sneak candy into a hospital? Or know the smart beauty hacks that will skyrocket your popularity? How about THE restroom hack that will save your life? 123 Go! offers you easy makeup and fashion hacks, lighthearted pranks, and funny observations. 123 Go! is the best place to watch the newest, coolest videos that are hot right now. Share 123 Go! with a buddy and learn to pull some of the coolest stunts and tricks together. Take a "byte" out of these 123 Go! transformative data points:
180M+ cross-platform subscribers

150B+ minutes viewed on YouTube since the beginning of 2021

1.5B+ views on TikTok since the beginning of 2021

Recorded in 18 different languages
BRIGHT SIDE
It was launched in July 2015 as TheSoul Publishing's first digital channel. Most of the content was originally created for Facebook. On the Bright Side, highly-entertaining narrator-helmed videos highlight travel, exploration, self-improvement, gadgets, riddles, and pop culture. Similarly, to its global audience and as TheSoul-Publishing.com perfectly puts it on their website Bright Side "provides a variety of brain-teasing, soul-delighting, and smile-inducing content". Here are a few Bright Side data bytes to drop your jaw:
150M+ YouTube combined subscribers

6.5B+ views in the first half of 2021

100M+ Facebook followers
Now, here's one last big ol' byte: Did you know that in 2020, viewers watched a collective 7.4 billion minutes of Bright Side content? That's approximately 14,000 years of Bright Side.
Avocado Couple
It's time to officially meet the tastiest couple in town, Ava and Cado. Have you ever seen two avocados in love? No? Well, cross that off the bucket list after you click here. TheSoul Publishing launched Avocado Couple on YouTube in July 2018.
They always look for adventures, and use their tasty humor to highlight and share the different aspects of a relationship. They're passionate lovers, so expect lots of spicy, sometimes awkward but very romantic stories with tons of salsa dancing. Here is a true fiesta of data bytes about Avocado Couple:
20M+ cross-platform subscribers

1B+ views on YouTube since the start of 2021

Produced in 4 different languages
Find all the videos you ever wanted to watch of two hilarious halves of one animated guacamole ingredient named Ava and Cado on YouTube, TikTok, and follow the couple on Facebook as well. 
Teen-Z
Teen-Z is all about individuality. There's no wrong way to be different, since everyone is unique in their own way. By providing colorful animation and characters, TheSoul Publishing, through the ever-angsty Teen-Z, strives to inspire its audience to take on life's challenges and always participate in the adventures. Teen-Z launched on Facebook and YouTube in November 2019.
7B+ minutes viewed on YouTube since the start of 2021

1B+ views on YouTube since the start of 2021

5M+ cross-platform subscribers
One last note: The channel of short-form videos is not pronounced Teen with a "Z" at the end. It is pronounced 'teens.' That is just a little pronunciation fun fact – as it is of the utmost importance that you look cool in front of your kids. And now, you will.
Prepare for a rollercoaster of LOL moments and relatable teenage scenarios anyone can understand! Watch Teen-Z on YouTube and TikTok from the brilliant and ultra-creative minds at TheSoul Publishing.
5-Minute Crafts
This wildly popular content channel — that would play on literally every big screen in the world upon the first weekend of its release as a feature film — was created and launched by TheSoul Publishing in April 2016. And did you know that the very first video released by 5-Minute Crafts starred flower pots!? 
TheSoul Publishing could not have known at the time of creation that 5-Minute Crafts would turn into the most-watched DIY digital brand in the entire world. Here are the data bytes that highlight the brand's enormous popularity:
350M+ YouTube combined subscribers

300M+ Facebook combined followers

55M+ Instagram subscribers

25M+ TikTok combined followers

 
This positive, fun, and quirky DIY crafts brand is sure to amaze you and make life a little easier at home, all while entertaining you to the maximum. Let 5-Minute Crafts inspire and ignite the creative sparks within all of us.
La La Life
La La Life launched on YouTube in December 2019. Now, everyone can find the La La Life content on music-streaming platforms like Spotify and Apple Music as well as many other social media outlets. La La Life is simply fun music videos about everything around us. Every moment has its own music, and we are happy to listen! Now, listen to these impressive data bytes: 
25B+ minutes viewed on YouTube 

4.5B+ views on YouTube 

90M+ monthly views on TikTok
TheSoul Publishing created La La Life and uses the channel to encourage viewers to hear themselves and to strive to be heard by others. La La Life was obviously created to be the very music of TheSoul… Publishing. 
Still hungry?
To explore all the fun, inspiring, joyful, practical, amazing, and entertaining content of the popular content channels housed under TheSoul Publishing, visit www.thesoul-publishing.com. Also, check them out on Instagram and Facebook