With rebounding investment in infrastructure in the post-Covid era, the demand for construction equipment abreast with hydraulic cylinders like dumpers, road construction planers, trenchers, excavators, and backhoes has been rising. This factor is likely to take the hydraulic cylinder market by storm in the forecast period. At the same time, the fact that inappropriate fittings along with environmental parameters inclusive of shocks, vibrations, and temperature variations could cause leakage of oil in hydraulic cylinders could not be ignored.
The ongoing trend is that of shipping industry being subject to increasing demand for hydraulic cylinders in the lifting equipment (for shipping containers of different weights and sizes). Persistence Market Research has walked through these findings with subsequent course of action in its latest market study entitled "Hydraulic Cylinder Market".
How is the Hydraulic Cylinder Market categorized?
The global hydraulic cylinder market, by bore size, spans <50 mm, 51 – 100 mm, 101 – 150 mm, 151 – 300 mm, and above 300 mm. By product, it's tie-rod hydraulic cylinders, threaded hydraulic cylinders, welded hydraulic cylinders, bolted/mill hydraulic cylinders, telescopic hydraulic cylinders, and others.
By application, it's hydraulic cylinders for industrial equipment (lifts & aerial work platforms, rams & presses, loading docks, injection molding machines, oil & gas and offshore applications, and likewise), and hydraulic cylinders for mobile equipment (agricultural & forestry vehicles, construction equipment's, mining & material handling equipment's, and others).
By operating principle, it's single acting hydraulic cylinders, double hydraulic cylinders, and multi-stage/tandem hydraulic cylinders. Persistence Market Research has glanced through these facts with future perspectives in its latest market study entitled "Hydraulic Cylinder Market".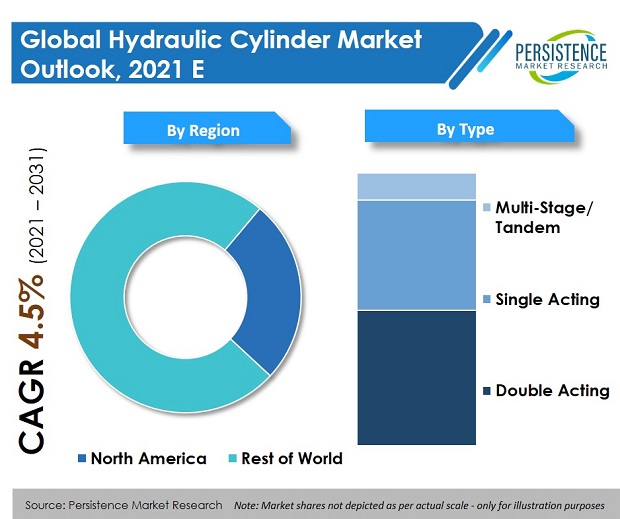 Region-wise Analysis
North America and Europe are at the matured stage of hydraulic cylinder market. They are led by the US and Germany respectively. However, the Asia-Pacific is expected to grow at the fastest rate in the hydraulic cylinder market in the near future. This could be attributed to Japan leading from the front, with China and Australia to follow suit. Improvement in infrastructure and rapid industrialization are the reasons to be pondered about. This scenario is expected to pull through even in the forecast period. Persistence Market Research has highlighted these facts with insights in its latest market study entitled "Hydraulic Cylinder Market".
Competitive Landscape
Persistence Market Research has enlisted the key players in hydraulic cylinder market as Bosch Rexroth AG, Actuant Corporation, Eaton Corporation, Parker Hannifin Corp., Caterpillar Inc., Jiangsu Hengli Hydraulic Co., Ltd., HYDAC, and Wipro Enterprises Ltd. It has also mentioned about the latest developments on this count. For instance – Hengli, in June 2019, began a new-fangled production line in its Hengli Hydraulic Casting Branch Company. On JUne 10, 2019, the company did successfully tap and pour molten metal in casting line termed as "Tokyo Moulding line".
Parker Hannifin's Cylinder division, in May 2019, did launch HAS 500, a novel Hybrid Actuation System (HAS). The basic advantage of HAS solution is that it helps in consolidating the whole of hydraulic system under a single component. The component is then hooked up to local control point on integration with actuator. As such, tubes and hoses could be done away with, thereby lowering the hydraulic system's overall cost. Bosch Rexroth, in March 2019, planned expansion of the facility in X'ian (China). The area spanning 24K square meters does feature connected manufacturing and services for supporting employees and customers.
GAIN COMPLETE ACCESS TO THE REPORT –
What Next?
The global hydraulic cylinder market is expected to progress exponentially in the next 10 years – Persistence Market Research