A new coin or token appears daily on the continuously changing terrain of the cryptocurrency market, and DigiToads (TOADS) is one of them. TOADS is a new meme coin quickly gaining attention in the cryptocurrency industry and is one of the latest competitors in this market. 
DigiToads is pitching itself as a possible challenger to well-known meme currencies like Shiba Inu with a forceful marketing plan and distinctive tokenomics. In this article, we'll examine DigiToads in more detail and see whether it has what it takes to become a crypto moonshot. 
DigiToads (TOADS) has made headway in the cryptocurrency industry as a newcomer to the realm of meme currencies. DigiToads has attracted much interest on social media, with increasing followers on websites like Twitter and Telegram. This has raised interest in the project and prompted a rise in demand for TOADS. The initiative has already generated over $300,000 in its early presale rounds, encouraging future development.
But besides stating the numbers, let's say a few words about its features. DigiToads is a unique gaming experience that merges the power of blockchain technology with fun, engaging gameplay. With its toad-themed NFTs and dynamic staking pool, DigiToads offers many opportunities for community members to participate in in-game combat, on-chain trading competitions, meme contests, charity events, giveaways, etc.
Notably, each BUY and SELL Tax of 7% is applied on all transactions, of which 2% is handed to the NFT Staking Pool, 2% is burnt, and the remaining 3% is used for treasury and liquidity pool. This fee structure encourages holding since owners may profit from dispersed benefits as a passive income. In addition, the burn process gradually decreases the supply of TOAD, making it more scarce and perhaps raising the price.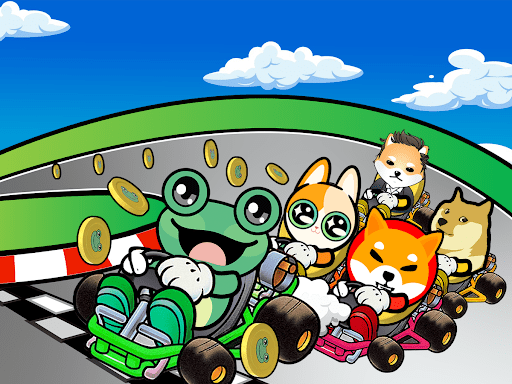 Inu Shiba (SHIB)
Shiba Inu has long been causing a stir in the cryptocurrency industry. The Ethereum-based currency was introduced in August 2020 to develop a decentralized substitute for well-known centralized exchanges like Robinhood. Shiba Inu, like DigiToads, is a meme currency with a dog, notably a Shiba Inu, as its mascot.
SHIB's main feature is Shibaswap, its decentralized exchange (DEX) built on the Ethereum blockchain, which allows users to trade SHIB and other ERC-20 tokens. It also has liquidity pools, staking options, and yield farming opportunities.
Notably, SHIB is also considered a deflationary token. However, as its total supply is one quadrillion, reducing this amount with tiny burn fees and maintaining a stable growth pattern in the bear market is highly challenging. Currently, the market sees DigiToads as one of Shiba Inu's most realistic rivals, anticipating this new crypto to initiate 100x growth.
Final Takeaway
Although Shiba Inu has a proven track record and a loyal community, DigiToads has all the ingredients to be a crypto moonshot with its smaller token supply, distinctive tokenomics, and strong community backing. And the rivalry between DigiToads, Shiba Inu, and other meme currencies is evidence of the rapidly evolving and active cryptocurrency industry.
For More Information on DigiToads visit the website, join the presale or join the community