The SEO world is full of self-proclaimed experts. You see their ads, you get their emails, and you may have even bought their products. But when it comes to actually improving your website's ranking in search engines, who can you trust?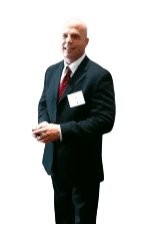 Clint L. Sanchez is an SEO expert with over 20 years of experience in the industry.
He's the founder of BlakSheep Creative, an SEO and content marketing agency that has helped hundreds of businesses improve their online visibility.
We sat down with Sanchez to get his advice on how businesses can improve their website's ranking in search engines.
Here is the interview:
What are some tips for improving a website's ranking in search engines?
You can do some things to improve your website's ranking in search engines. The most important thing is to make sure your website is optimized for search engines. 
This means ensuring that your website's title, description, and keywords are relevant to your business and what people are likely to search for when looking for your products or services.
Another critical factor is the quality of your content. Search engines favor websites with high-quality, relevant, and keyword-rich content. So make sure that your website's content is well-written and informative. 
Finally, building backlinks from other websites can also help improve your website's ranking.
What are some common mistakes businesses make when trying to improve their ranking?
One of the most common mistakes is thinking that they can simply buy their way to the top of search engine result pages. This is not the case. 
Search engines favor websites that offer valuable, relevant, and high-quality content. So, while buying backlinks can help, it's more important to focus on creating great content that people will want to link to.
Another common mistake is banging out blog posts without doing any keyword research. It's important to target keywords that people are actually searching for. 
Otherwise, you're just wasting your time writing content that no one will ever see.
On the flip side that is something we see all the time.  A business owner will have a website created, throw up a few blog posts, and never touch their website again. 
If you want to improve your ranking, you need to create new and fresh content constantly. Search engines love websites that are regularly updated with new content.
What are some easy things businesses can do to get started with SEO?
Contrary to popular belief, you don't have to rush out and hire an expensive SEO agency to get started with SEO. There are several things you can do on your own to improve your ranking.
But the first step is realizing the importance of SEO.  
We actually just recently studied 100 companies and found that only 33% said that digital marketing was a top priority for their business.
This is a mistake.
Digital marketing, and SEO in particular, should be a top priority for any business that wants to succeed in the modern world.
If you have the time and willingness to learn, you can do a lot of the work yourself. Start by doing some research and reading articles (like this one!) to learn more about SEO and how it works.
Here are some other things you can do to get started:
Build Citations:
Citations are mentions of your business name, address, and phone number on other websites. The more citations you have, the higher your website will rank in search engines. You can build citations by claiming your business listing on the directory and review sites like Yelp, Google My Business, and Facebook.
Create High-Quality Content:
I know I'm sounding like a  broken record here, but high-quality content is essential for good SEO. When creating content, be sure to target keywords that people are actually searching for.
But don't sacrifice quality for the sake of keyword stuffing. Your content should be well-written, informative, and relevant to your business.
We keep up with a lot of SEO gurus, including Google's own John Mueller, and the consensus is that businesses should blog at least once a week to see any actual results.
But he also said not to get too wrapped up in word count.  In a somewhat heated Twitter exchange, he said that Google doesn't use word counts for ranking: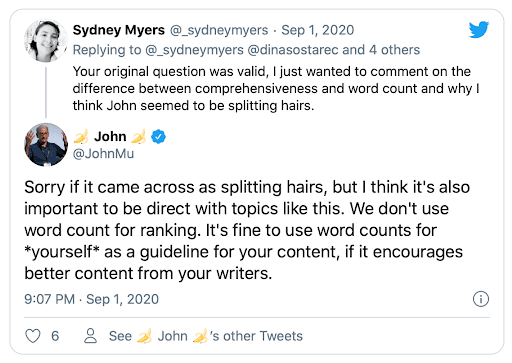 I agree with John. I wouldn't focus on the word count. If you have a good topic, write about it in detail. It's more important to be relevant & detailed than to artificially hit a minimum number of words.
Get Listed in Local Directories:
This is essentially the same as citations, but it's worth mentioning separately. Local directories are websites that list businesses in a specific geographic area. Getting listed in these directories can help improve your website's ranking in search engines, especially if you're targeting local keywords.
Some popular local directories include Yelp, Yellow Pages, and Foursquare.
Claim Your Google Business Profile:
Your Google Business Profile (formerly known as Google My Business) is one of the most important things you can do for your business. It's essentially a free listing on Google, and it allows you to control how your business appears in search results.
And don't forget to publish your free website that comes with your Google Business Profile. This can help improve your ranking in search results as well.
Schema, Schema, Schema:
Schema is a code that you can add to your website to help search engines understand your content. It's a fairly technical topic, but essentially it allows you to provide additional information about your business to search engines.
Adding schema to your website can help improve your click-through rate (CTR) in search results, which can, in turn, improve your ranking.
There are several different schema markup types, but some of the most common ones for businesses are LocalBusiness and Organization.
Wrapping Up
SEO can seem daunting, but it doesn't have to be. These are some easy things you can do to get started. If you're serious about improving your website's ranking, invest in a good SEO tool like Moz or Ahrefs. 
Clint can be reached at clint@blaksheepcreative.com or on Linkedin.  You can also contact him through any of BlakSheep Creative's social media accounts: